5 Personalized Photo Calendars 2020 – Inspiring Designs for All Occasions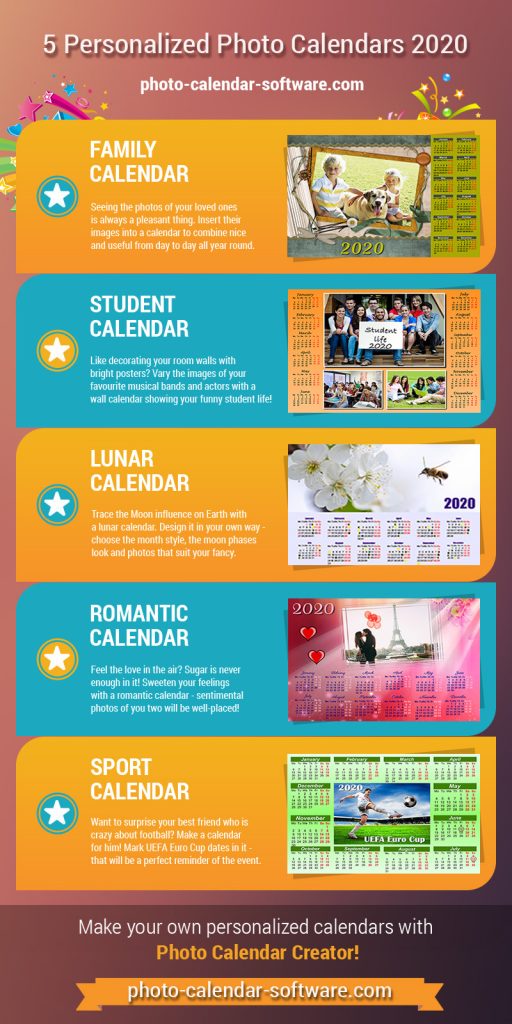 What do you usually use to keep track of days, weeks, and months? How do you plan your time to organize it effectively? As for me, I use calendars. But not electronic ones that you can find in your computer or smartphone. They might be convenient at times, but way too universal and totally impersonal. I prefer making a personalized calendar and,so to speak, put my soul into it – add the most cherished photos, design the pages in my own way, mark significant dates and so on.
Of course, you could use an online service for creating a calendar, there're plenty of them on the web these days, but if you really want to get unique high-quality calendars and save your money, download Photo Calendar Creator. With it, you can create as many calendars as you like without the need to pay for each of them. Learn more about it here: http://photo-calendar-software.com. You'll appreciate its easy-to-use interface, numerous design possibilities and a free trial to see the program in action. Now, when you know where to make personalized calendars for 2020, I want to show you a few designs that I've made in Photo Calendar Creator to inspire you!
Family Calendar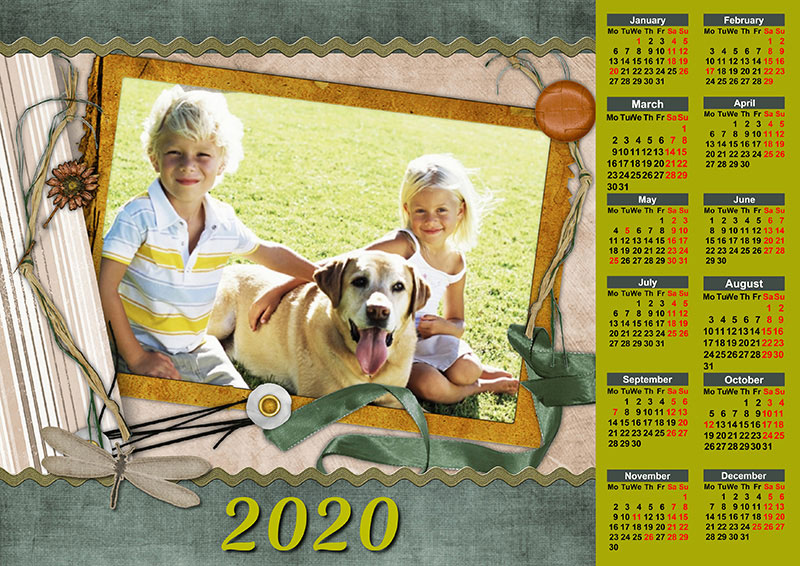 Let me guess which of your family members require a lot of care and cause the warmest feelings. Kids and pets, right? I bet having a calendar with their photos in front of your eyes all year round will bring joy to your heart. By the way, if you have a dog, pick their best photo to add to your calendar right now!
Student Calendar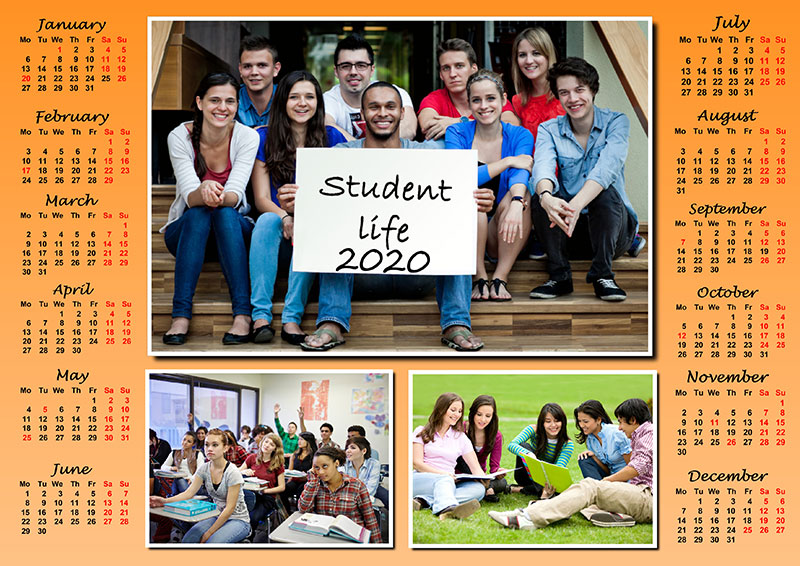 Are you a student? Then make a personalized calendar with the photos of your friends and college friends – it will become a stylish and cool decoration of your dorm wall. My example above is rather simple, you can use more editing options of Photo Calendar Creator and mark some important days, for instance, your roommates' birthdays or your exam & sport events dates.
Lunar Calendar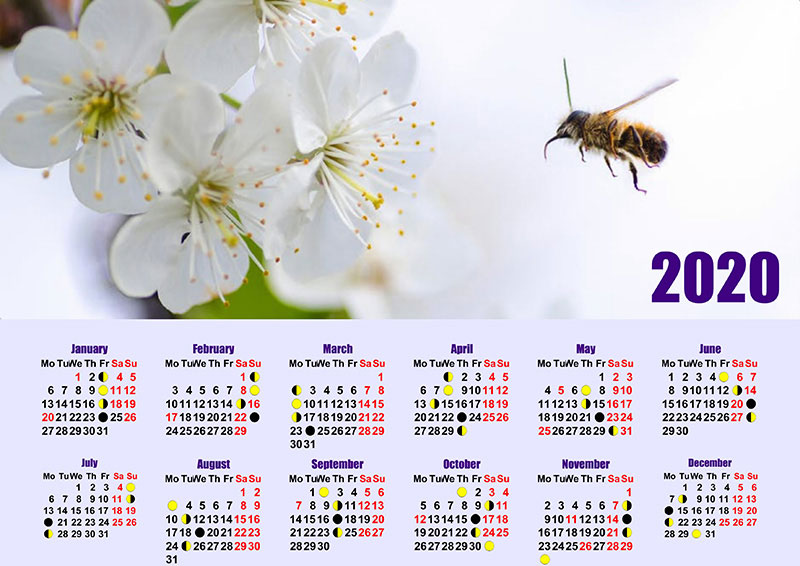 Fond of astronomy, astrology and enjoy studying the stars' influence on our planet? I'm sure you're familiar with the calendar showing moon phases, also known as the lunar calendar. And viola! – Photo Calendar Creator allows you to create your own lunar calendar. The obvious advantage of making a personalized calendar with this software is your own design of each and every detail, you can even choose the style of moon phases in your creation.
Romantic Calendar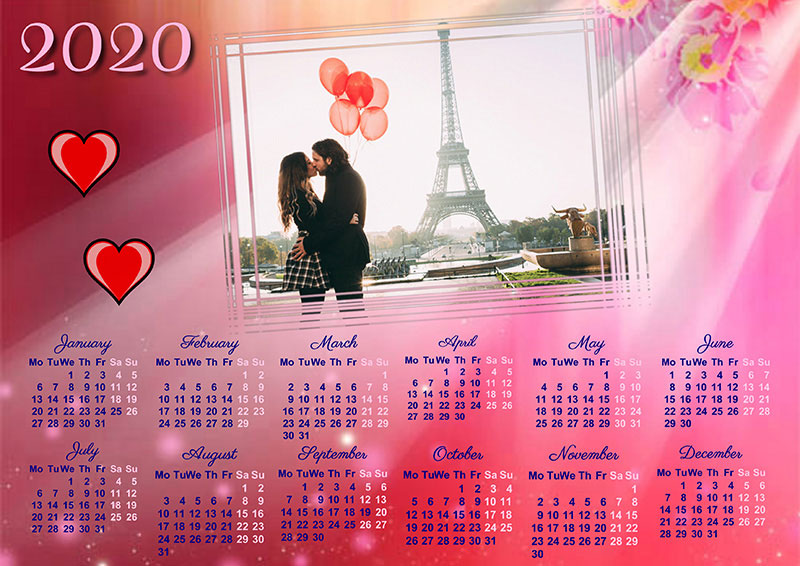 All the lovers in this world like to see their love reminders here and there. Go creative! Make your own personalized calendar with a picture of your sweetheart as the background or liven up the page with a photo collage capturing the most memorable and precious moments of your love story. Consider presenting it to your best half, a calendar like this will touch their heart – how do you like this gift idea?
Sport Calendar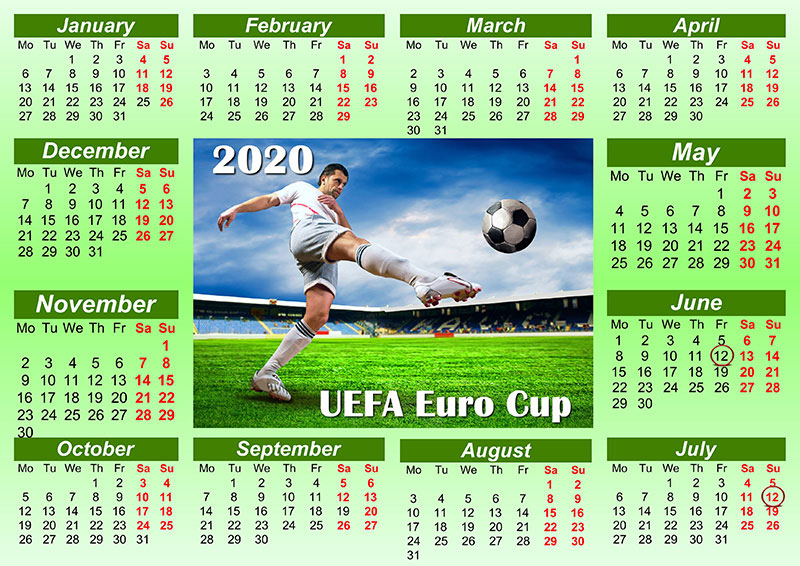 Every soccer fan is looking forward to the next FIFA World Cup. Are you one of those or maybe your friend is? Make a personalized calendar with themed images! That'll be a real strike for someone who's going to visit match games of their favorite team – a lucky chance to get all the players' autographs together on one poster.
Check out more customized photo calendars ideas and put your creativity on test – download Photo Calendar Creator and start making personalized photo calendars 2020 like a real designer!