Image Sizes for Instagram, Twitter, and Other Networks
By
Robin
/





5.00
/5 (
1
votes)

Loading...
/

No Comment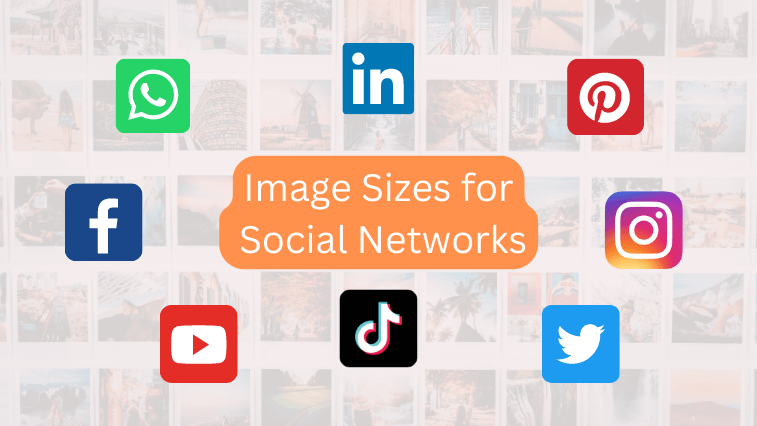 From time to time, social networks change their standard dimensions for images in posts, ads, cover photos, or avatars. That's no secret. And we know how important it is to use different models depending on the type of content you're planning to create. That's what helps you attract and engage your audience, right? Instagram has a range of standard sizes when it comes to images. Everything from vertical dimensions for stories and square, horizontal, or vertical posts for your feed.
So, for business and content producers, it's fundamental to stay informed about each network's recommended sizes and how they boost follower engagement.
This article gives you a comprehensive, handy guide on the best-performing image sizes for Instagram, Twitter, Facebook, YouTube, and other social networks. Keep reading and stay in the loop!
Why Worry About Image Sizes on Socials?
Before diving into our guide on image sizes, you'll want to know a little bit more about how relevant this is to the social media managing routine.
As you're probably aware, these networks are based on algorithms that dictate how content is distributed. And while we haven't figured out everything about these algorithms, we do know that properly sized, high-quality images are key when it comes to attracting users.
High-quality content in line with a brand's persona stands a much greater chance of promoting engagement. And one thing is for sure: high-engaging posts equal higher reach on just about every network.
Here's where image size comes in and what makes it vital. The closer you are to what each network recommends, the higher your chances of reaching the right audience and boosting likes, comments, and shares.
Handy Guide for Image Sizes on Social Networks
Now that you know the importance of image sizes on social media, let's dive into our guide of recommended dimensions for the main networks: Instagram, Twitter, Facebook, LinkedIn, YouTube, WhatsApp, Pinterest, and TikTok.
Instagram
Instagram is one of the most popular social networks and has modified standard image dimensions the most.
That's because along with its increasing range of features for content (feed, stories, reels, and IGTV) comes the need for new standard dimensions, resolution, and video time for better content performance.
Just scheduling square posts for your feed isn't enough anymore. Even horizontal images come with recommended dimensions. Check out the list below!
Profile:
Profile: 720 x 720 pixels.
Feed:
Square: 1080 x 1080 pixels;
Horizontal: 1080 x 566 pixels;
Vertical: 1080 x 1350 pixels.
Stories:
Dimensions: 1080 x 1920 pixels (recommended ratio 9:16);
Photo display time: 5 seconds; video display time: up to 15 seconds
Reels:
Dimensions: 1080 x 1920 pixels (recommended ratio 9:16);
Feed layout and covers: 1080 x 1350 pixels.
IGTV:
Dimensions: 1080 x 1920 pixels (recommended ratio 9:16);
Video display time: 60 seconds to 15 minutes.

Twitter
While Twitter modifies its standard sizes less, using the recommended dimensions is still crucial when posting in different formats.
Check them out:
Profile picture: 400 x 400 pixels;
Cover: 1500 x 500 pixels;
Posts with images: 1200 x 1200 pixels or 600 x 335 pixels;
Posts with images + links: 800 x 800 pixels or 800 x 418 pixels.

Facebook
Like Instagram, Facebook has a wider range of dimensions for images. That's because it's not just about content for feeds and stories, but ads as well. Here's the list:
Profiles and covers:
Profile photo: 180 x 180 pixels;
Profile cover image: 820 x 312 pixels;
Events cover image: 1920 x 1080 pixels;
Groups cover image: 640 x 334 pixels.
Posts:

Images: 1200 x 1200 pixels;
Links + images: 1200 x 628 pixels;
Stories: 1080 x 1920 pixels.
Ads:

Single image: 400 x 500 pixels;
Links + images: 1080 x 180 pixels;
Carousel images: 1080 x 1080 pixels.

LinkedIn
This business networking platform has fewer standard sizes. Makes life so much easier for social media and design managers, right?
Actually, LinkedIn's company page is pretty close to what we've seen on Twitter. You will notice a couple of differences, though:
Profile photo: 300 x 300 pixels;
Cover: 1536 x 768 pixels;
Posts with images: 1200 x 1200 pixels;
Posts with images + links: 1200 x 627 pixels.

YouTube
YouTube is also among the most popular social networks worldwide. Besides video sizes, you also need to consider covers (thumbnails) to optimize content performance on different screens.
Standard thumbnail dimensions are 1546 x 423 pixels, but here's how cover dimensions change to adapt to different screen sizes:
Smartphones: 1546 x 423 pixels;
Computers: 2560 x 4230 pixels;
TVs: 2560 x 1440 pixels;
Tablets: 1855 x 423 pixels.
And the recommended size for profile photos is 800 x 800 pixels.

WhatsApp
WhatsApp is hands down one of the most relevant networks when we talk about business/client relationships, right?
That's why knowing your standard WhatsApp dimensions is crucial if you want smoother communication with clients and more attractive messages. Here are the best sizes to use:
Profile photo: 192 x 192 pixels;
Status: 1080 x 1920 pixels;
Images to send: 600 x 600 pixels.

Pinterest
Being such a visual network, you can find all sorts of image sizes on Pinterest. However, some are highly recommended to give your performance a boost.
Check them out:
Profile photo: 720 x 720 pixels;
Folders: 200 x 200 pixels;
Pins: 1000 x 1500 pixels (recommended ratio 2:3).

TikTok
And last but not least, we couldn't possibly leave out TikTok, the worldwide sensation! While this network has few recommended image dimensions, size is a huge part of high-quality content production.
Profile:

Recommended image size: 200 x 200 pixels (20 x 20 pixels minimum);
Videos:

Dimensions: 1080 x 1920 pixels (ratio 9:16);
Video time: up to 3 minutes.
Ads:

TikTok Video Ads: 1080 x 1920 pixels (ratio 9:16) or 640 x 640 pixels (ratio 1:1). Recommended time: 9 to 15 seconds (though, they can be up to 60 seconds);
News Feed: 720 x 1280 pixels (9:16 ratio) or 640 x 640 pixels (recommended ratio 1:1). Recommended time: 5 to 60 seconds, though there is no established limit.

How to Analyze Your Social Media Post Results
You can see why it's important to pay attention to image sizes on social networks – they help your content reach users.
But though important, they're not the only thing that will make your content a success. Image dimensions go hand in hand with creating high-quality content that speaks to your persona.
So it's also a must to keep track of the content you post, its performance, and factors that promote engagement. But with so many different networks to monitor, what's the best way to do that?
The solution is actually pretty simple: use automated reporting software like Reportei.
It's a tool that not only lets you analyze your general engagement rates on social media but engagement on individual posts as well. You can keep up to speed on your highest-performing content and formats with the highest reach and follower interaction.
The idea is to help you save time by giving you one place to look at your data from Instagram, Facebook, LinkedIn, YouTube, Twitter, TikTok, and other networks!