7 Dos & Don'ts of a Wedding Photo Slideshow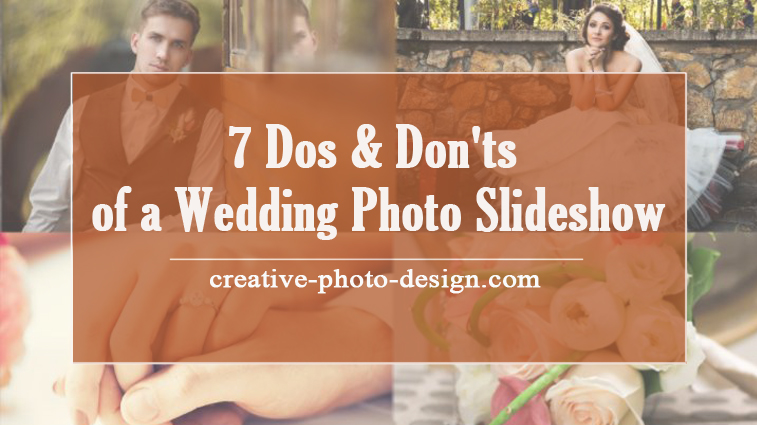 Today wedding slideshows have been gaining popularity all over the world. It comes as no surprise – slideshow is probably the best way to share wedding photos and video clips with a newly wedded couple and their guests. Do you want to make a great-looking presentation for a client, a family member or your friend but don't know where to begin? Want to learn how to make a wedding slideshow so that all your viewers feel blown away? Keep on reading and you'll discover some tips to follow and mistakes to avoid while creating a wedding photo presentation.
1. Create a Storyline
Think over an engaging plot. Hardly anyone will enjoy watching photos simply coming and going one after another. It's dull no matter how awesome the images are. Tell your Love Story to the guests. You could start with a few pictures showing how the whole thing began in case someone's never heard but wants to know where this hearts connection started.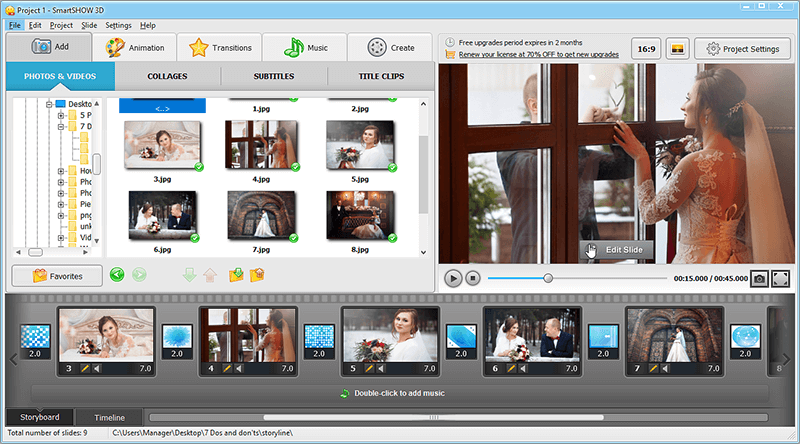 2. Decide on the Slideshow Design
Decide on the style of your wedding slideshow and select the embellishments & set of colors to use. I'd recommend that you download SmartSHOW 3D http://smartshow-software.com – this convenient wedding slideshow maker provides tons of ready-made templates. You can choose from Romantic, Elegant, and Vintage templates or create your slides from scratch to decorate them as you like.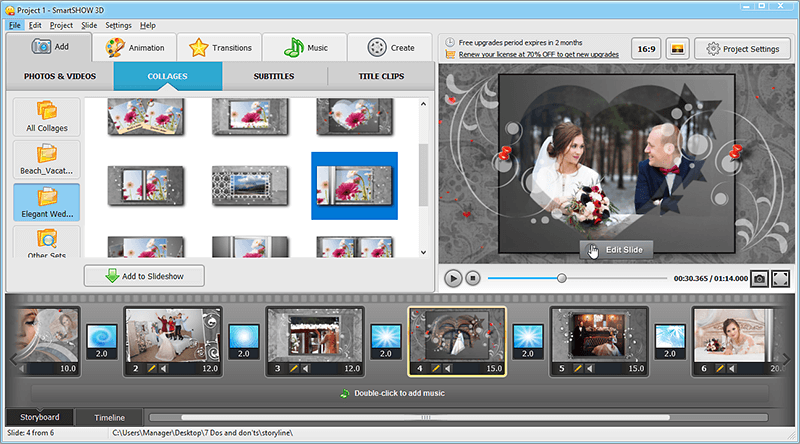 3. Use Short Videos to Add Dynamics
A few video clips included in your wedding slideshow will add more dimension to it. Don't shoot them unreasonably long, 7-10 seconds are enough. Pick the most significant moments filmed both at the ceremony and reception to make this day really unforgettable.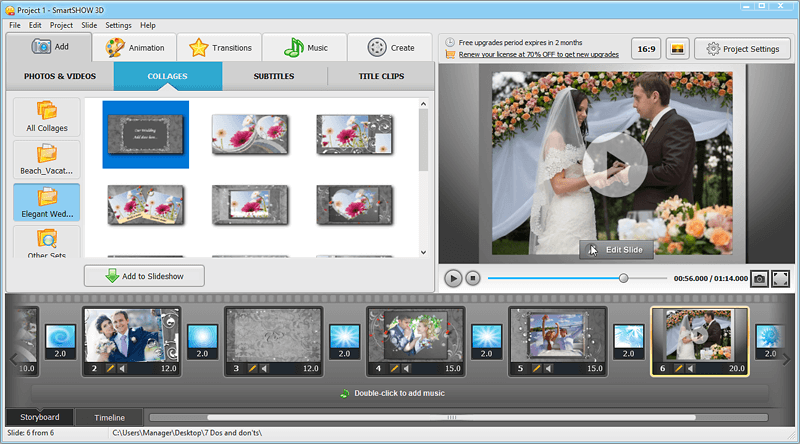 4. Don't Make It Too Long
I understand that there are probably hundreds of photos and you find all of them amazing. Still, try limiting yourself to 30-40 shots and pick only the best images. Otherwise your wedding picture slideshow can be tiresome. Also, find a middle ground between traditional posed photographs and natural spontaneous images.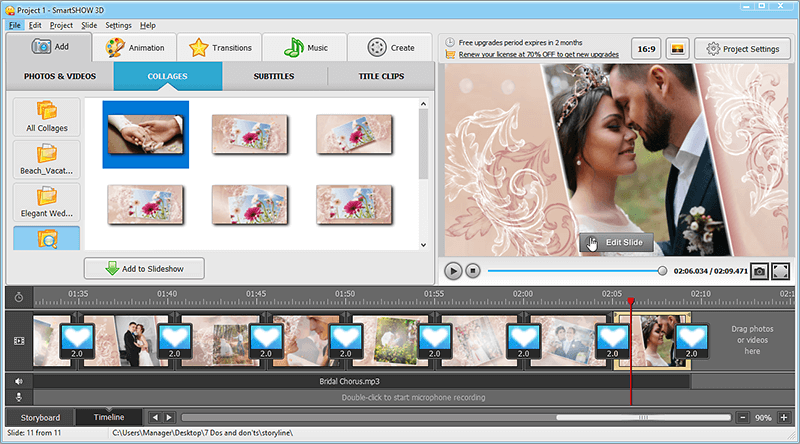 5. Choose the Right Music
Picking a music track for a wedding video slideshow is worth special attention. It should fit the whole story. Say 'No' to slow songs – they will lullaby the audience. Surely, it's difficult to keep the yawning viewers interested. Some good choices would be the traditional wedding march or the newlyweds' first dance song applied to your slideshow.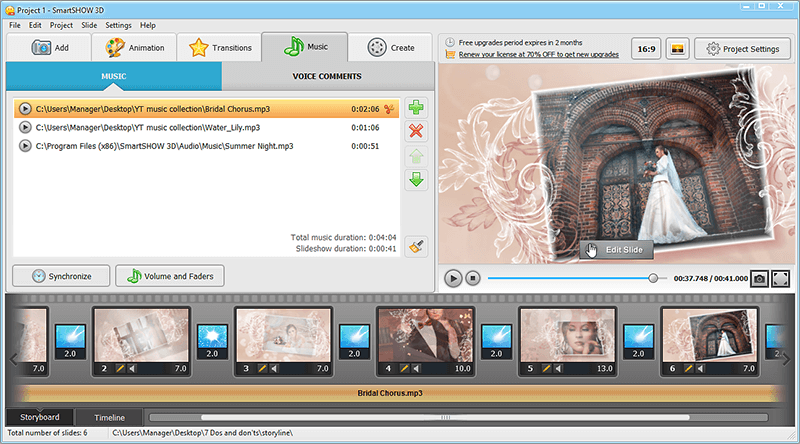 6. Don't Overuse Animation Effects
Of course, animation is what differs a slideshow from a traditional photo album. But too many special effects can mess up your slideshow. Create a wedding slideshow with smooth gradient transitions between the slides so the viewers don't get dizzy while watching your creation. In SmartSHOW 3D collection, there are a couple of heart-shaped transitions, I think they absolutely suit a wedding presentation.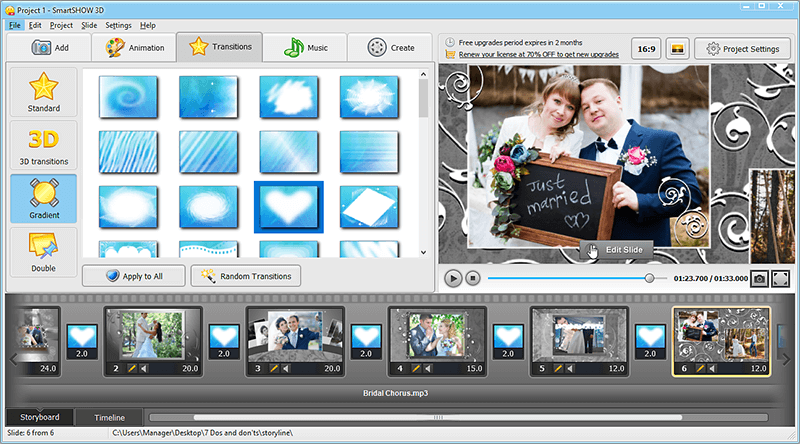 7. Measure Thrice & Cut Once
Now, you've selected the best photos, found the perfect soundtrack, made a heartfelt love story – your wedding photo slideshow is ready. The last thing left to do is to convert it to video and share with a newly wedded couple, their relatives and friends. Before you do that, watch your masterpiece again after a short break. You might see some details you'd like to improve. For instance, change a photo, remove unwanted cliparts or add 3D effects. Happy with the result? High time to create a movie!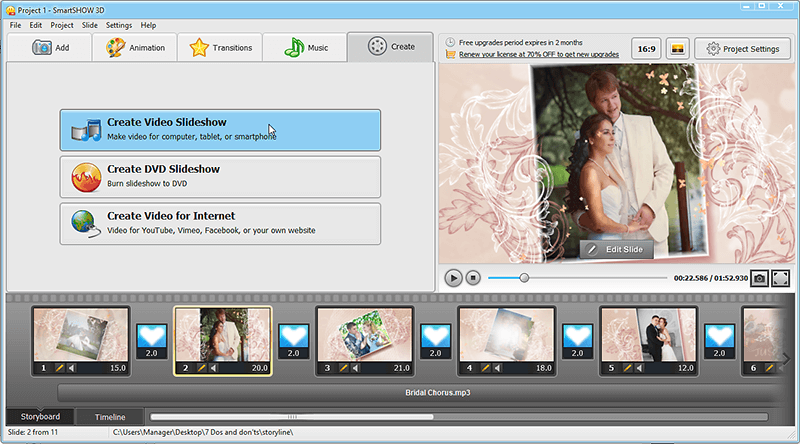 Now, when you've learnt 7 pillars of the best wedding slideshow I've got something for you to inspire. Watch the video below – it's a fantastic example of what you can create with SmartSHOW 3D.
Some professional photographers today create wedding slideshows as a compliment to a just-married couple and a nice bonus to a wedding photo set. And if you rack your brains on what to present to the newlyweds, make a slideshow, it's a win-win solution! For more wedding photo slideshow ideas, check out this guide: http://smartshow-software.com/wedding-reception-slideshow-ideas.php and who knows, maybe you'll get a new hobby.