Five Impressive Photo and Video Montage Tricks
How to arrange your photos, videos and text messages into one stylish and attractive movie? Experiment with photo and video montage software like SmartSHOW 3D http://smartshow-software.com and create a visual story that will be worth a thousand words! You can make an eye-catching promo video, a professional photographer portfolio or a touching family video album, if you learn how to master the art of presentation making. And to do that, you just need to "read more" and discover the fascinating tricks we have prepared for you!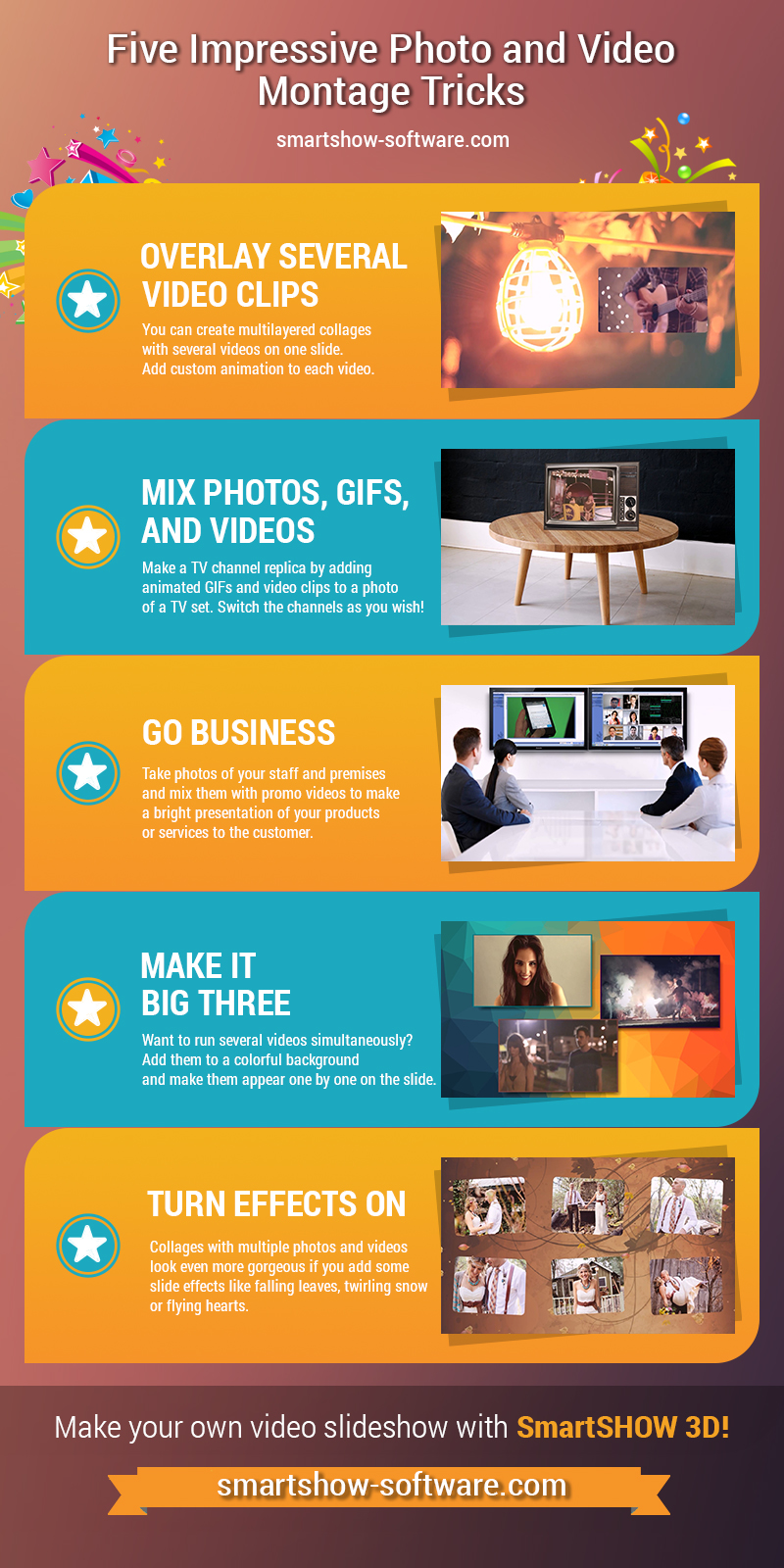 Overlay Several Video Clips
If you have numerous video clips that you want to combine into one multimedia project, a standard piece of software allows you to arrange them in a simple sequence. But with SmartSHOW 3D you can do more than that – you can put videos one on top of the other and add custom animation to them like rotation, zoom or different opacity styles. Mix the videos like cards in the pile or make them appear out of nowhere on a plain background – the options are unlimited and you can give free rein to your imagination!
Mix Photos, GIFs and Videos
As you may know, a GIF is an image that has animation. What's cooler – some GIFs have transparent background, so you can apply them to almost any picture or video without the "stamp" effect, i.e. without making the GIF look like an intruder in your slide. Try this funky trick – insert your photos, videos, and GIFs into a picture of a TV set. Adjust the opacity settings of each layer and enjoy watching a TV show starring your friends and close ones during the summer holidays or family weekend!
Go Business
Improve the sales on your site or attract attention of potential investors or customers with a professional promotional slideshow. Take some photos of your staff doing their work or premises where you produce or store your goods and mix them with video footages showing positive feedback from your customers, your achievements and proposals. It is a great trick for business owners and entrepreneurs who want to boost their income and expand their customer base.
Make It Big Three
Or four, or five or even more! SmartSHOW 3D allows you to create a photo and video montage with an unlimited number of layers per slide. Just make sure that you don't make a muddle out of it. You can place each video or photo layer separately, without overlay, and run them simultaneously. If you limit your choice to three, the viewer's eyes will have enough time to pay attention to each video piece. It's also a gorgeous idea to make a video collage for a family slideshow if you combine three videos shot in different years to show how much your kid has grown or changed.
Turn Effects On
And allow the snow to dump on the landscape photos you took or make the burning hearts fly around the newly-weds that have just come out of church. Slide effects are easily customizable; you can apply them to certain layers, for instance – to the background only. Slides with effects look more refined and accurate if you adjust the number of the snowflakes or leaves, their speed and size. Perfect for love stories, family and wedding photo movies!
It is no secret that visually pleasant video is the best way to gain and keep the attention of the audience. By creating and publishing proper photo and video montage, you can attract more visitors to your blog or company website, make a memorable photo story for your family or friends, and surprise your Facebook folks with a stunning manifesto of your adventures or talents. The tricks presented above may serve as a guideline in the absorbing process of slideshow making. However, you can always leave the beaten path and experiment with SmartSHOW 3D to make something really unique and unrivalled. So don't lose a minute and make your slideshow a success!