Corporate Calendar Design – Five Expert Tips
Seeking ways to improve your business and attract new customers? Modern marketing agencies offer you plenty of promotional strategies, including brochures, postcards, greeting cards and flyers. But there is a sure-fire way to be remembered by your clients throughout the year – all you need is to distribute a promotional calendar! Photo Calendar Creator (http://photo-calendar-software.com) is easy-to-use software that enables you to produce a corporate calendar design with a unique company logo, print it in-house and present to your loyal customers.
As I've already mentioned, a promo calendar is a powerful marketing tool that can be used by virtually every business. Its eye-catching design will make clients remember your brand throughout the year. If you're thinking about raising people's awareness and gaining competitive advantages, you should definitely design an advertising calendar to thank your loyal customers or attract new ones. Here're some expert tips on how to make a great calendar with your company's logo.
Optimal Calendar Type
The language of line, color and form speaks on a level that words alone can't, and a good calendar can advertise your products and services much more efficiently than regular ad targeting. There're several calendar types, including wall, pocket and desk calendars for a month or the whole year. I'd go for a yearly calendar of any size as it creates a favorable image of your company, and in addition helps to remind customers about their everyday routines for twelve months in a row.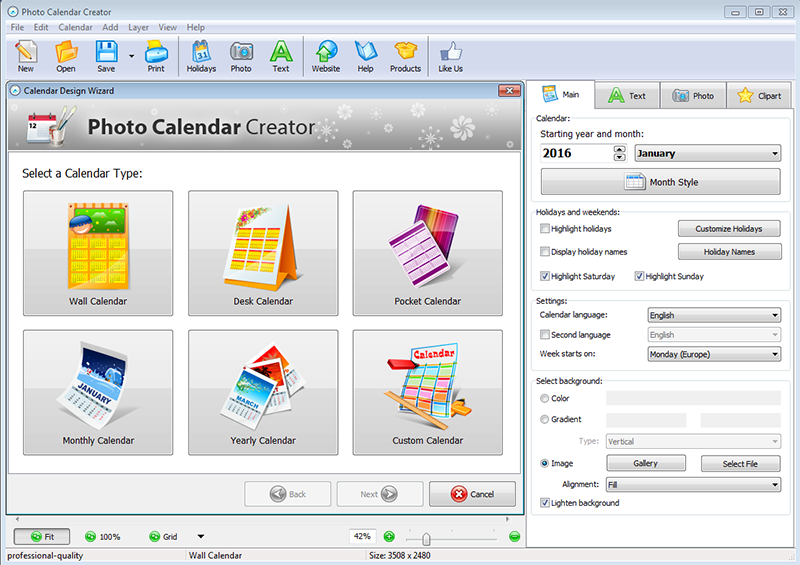 Engaging Images
When I seek suitable images for a corporate calendar design, I always face a problem of choosing the right ones. It can be quite challenging to find an engaging yet neutral picture that will present the sphere of your business without "hogging the cover". My main advice is to decide in favor of mild colors and moderate effects. For example, add a simple outline to highlight the photos rather than intricate masks or artsy-craftsy effects. The background image is also of great importance. If you want a calendar to look professional, choose a hi-res whole-colored picture from the default gallery or your private collection.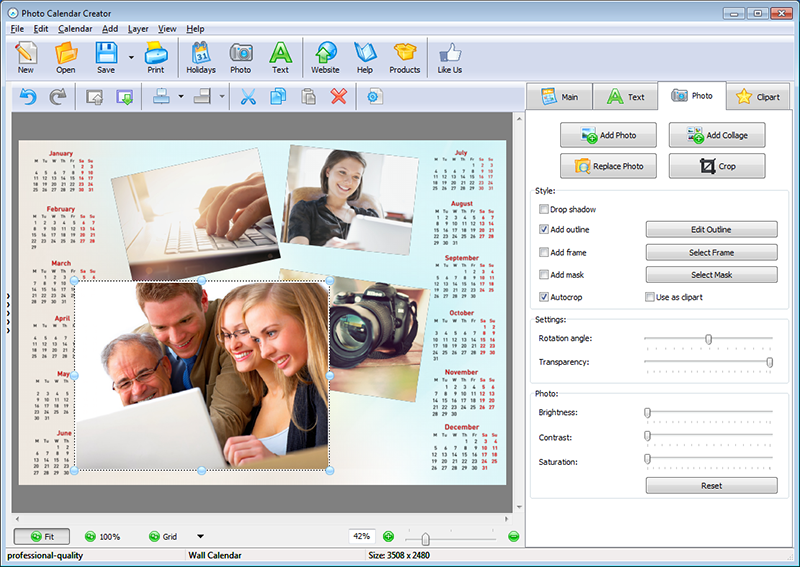 Usable Month Grid
One crucial thing in corporate calendar design is paying attention to what people need. It's easy to get lost in intricate masks and stunning effects, but you shouldn't forget about the calendar usability. Another tip is to lay out the days of the week and numbers in a simpler font to give your logo or slogan the spotlight. It's also important to make a calendar that has some blank space where people can put their personal information and details of their own schedule. Think about leaving white areas in your month grids so that calendar users can write notes there.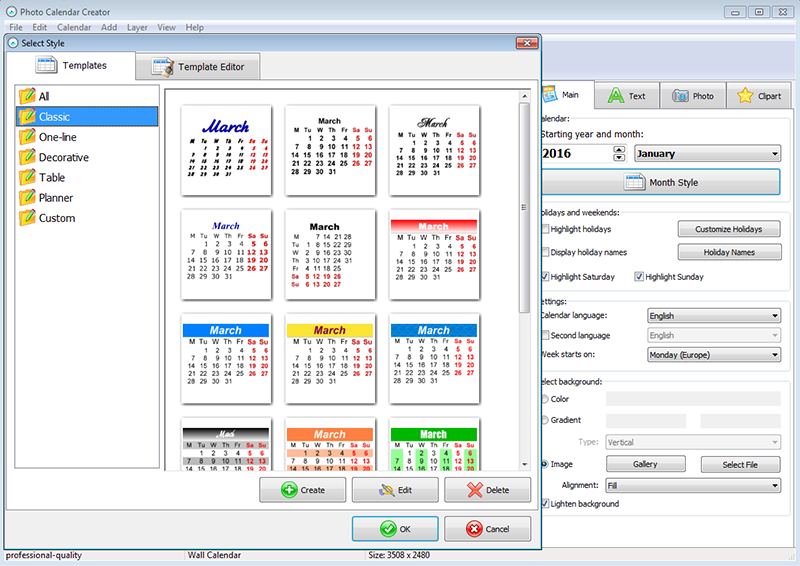 Distinctive Logo
While working on the design don't forget that your promotional calendar should mostly revolve around an eye-catching logo and grasping slogan. It's as much about making a useful planner as sending a powerful message. Combine an extraordinary calendar type, an efficient month grid layout and words of wisdom to inspire both sides of the customer's brain. As a finishing touch, add your contact details to this giveaway so your clients can keep them at hand.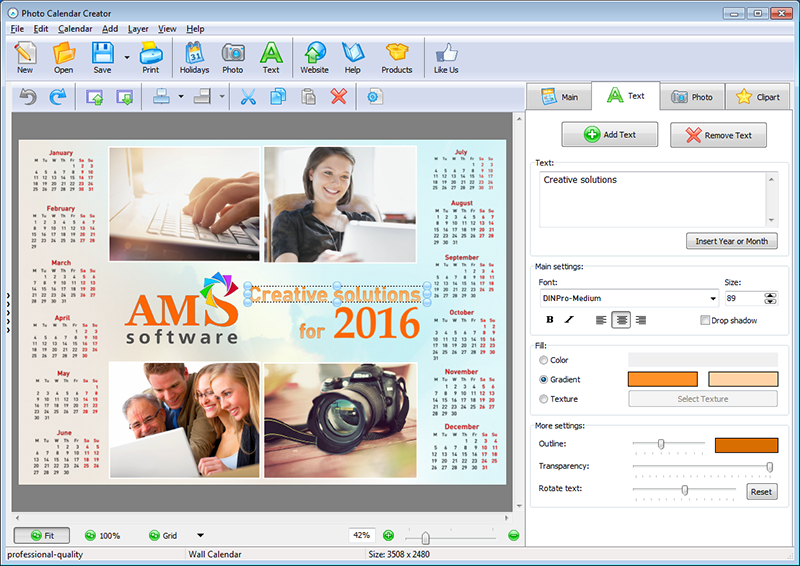 High-Resolution Print
However good your corporate calendar design may be, it won't be appreciated by demanding customers if it consists of dull colors or is printed on low-quality paper. Basically, there're two options – either to save the calendar as a CMYK image and take it to a special facility or to print it in-house provided that you own a photo quality printer. One way or another you'll get a premium calendar that can sky-rocket your business and promote your company on new markets.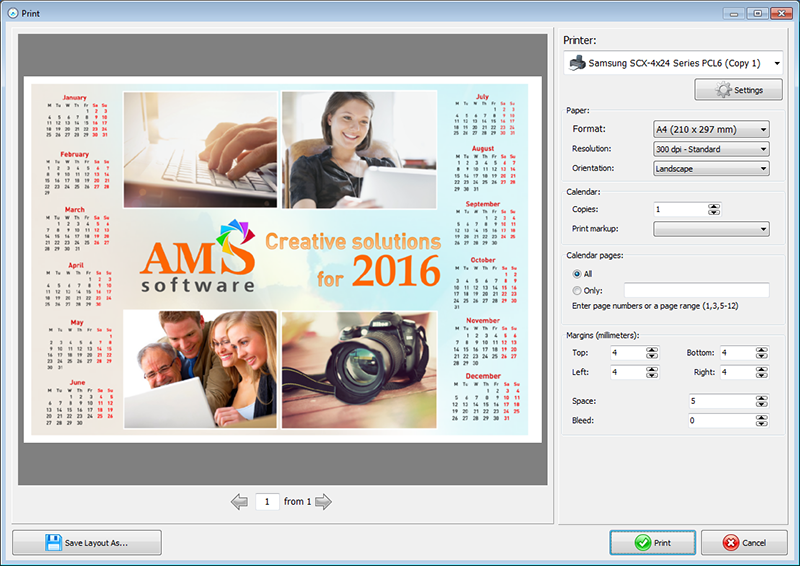 If you are a seasoned entrepreneur, you surely realize that making a solid customer base is a challenge that must be addressed by every business owner. Today, retaining the existing clients and attracting new ones is not an easy thing to do considering tight competition. You should make some effort to win the hearts of your customers and convince them that your products or services are the best on the market. One of the surest and simplest ways to do it is an extensive promotion. Create awesome promo calendars and hand them out to grasp an efficient marketing opportunity!