Best Photoshop Alternatives – Top 6 Easy-To-Use Photo Editors
We all really love expressing ourselves through photography but even a professional can't make a perfect shot on the first try. That's why more often than not the pictures we took need some editing to conceal small imperfections and correct bigger errors, and this is where image editing programs come in handy. Is there an app as powerful as Photoshop but not so hard-to-grasp? Here I've put to the test several programs and tried to find the best Adobe Photoshop alternative. Keep on reading this review and find your ideal tool that will make your photos look more charming!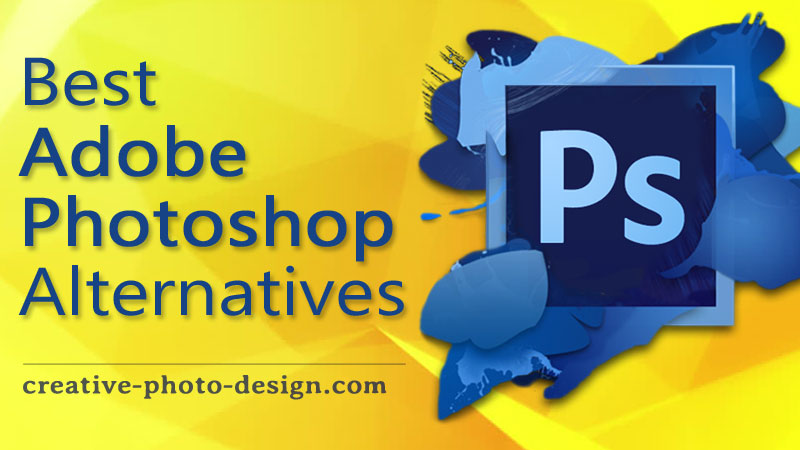 1. Wondershare Fotophire
This Photoshop substitute is developed by a well-known software company and is equipped with a powerful photo editing toolkit. If you launch this program, you'll see that it divides basic functions into the following three categories: Photo Editor, Photo Cutter and Photo Eraser. Switching from one module to the other, you'll be able to adjust the color balance of your photo, completely erase the background or replace it, and remove unwanted elements like odd objects or skin imperfections. Try the free version here: https://photo.wondershare.com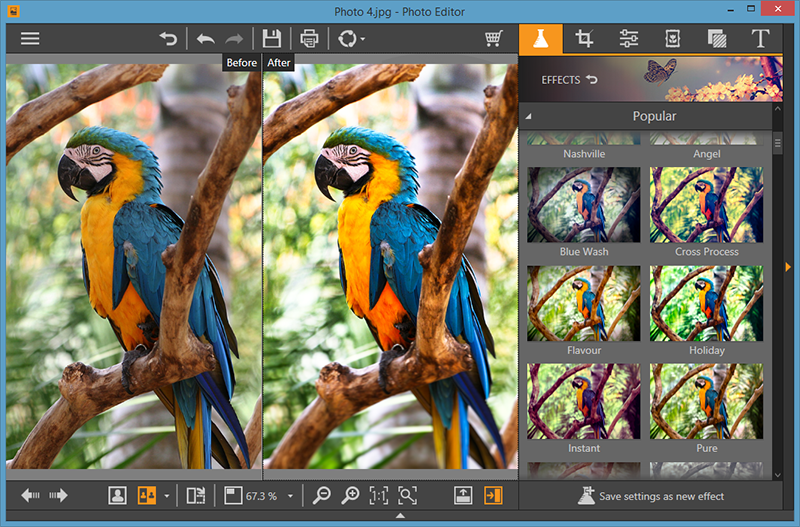 Pros
Intuitive animated interface
Gradual photo tweaking in 3 modules
Convenient before & after views
200+ creative effects and filters
Automatic color detection
Available image editing extensions
Cons
Too slow to switch among the modules
One-year license for quite a price
No cheaper versions with basic functions
2. PhotoWorks
This all-in-one photo editor is like a cheap Photoshop which can make your pictures look more professional as well as visually appealing. Do a lot of necessary photo tweaking in a few clicks – right from boosting the colors, eliminating distortions and any other imperfections to applying creative effects and adding captivating captions. There's also a great feature that allows you to undo any action without losing the rest of your work. Click here: https://photo-works.net and download the demo.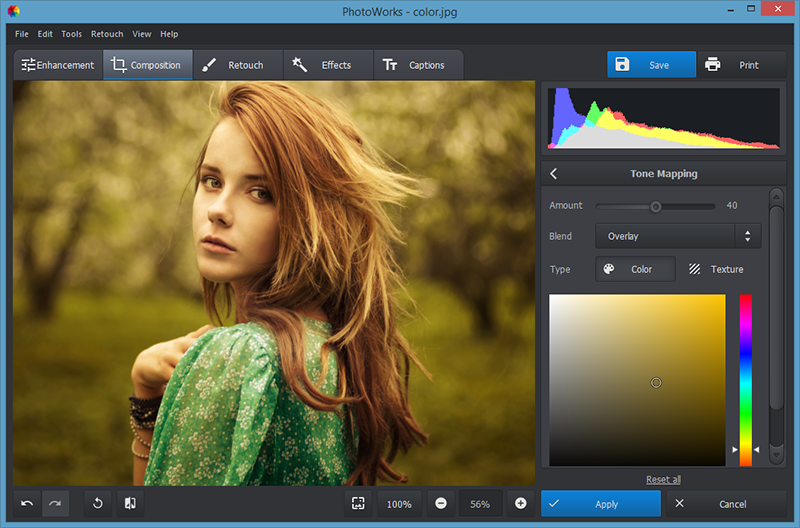 Pros
Absolutely user-friendly interface
Non-destructive photo editing process
Auto color & quality enhancement
Awesome one-click photo effects
Magical brushes for smart retouching
Smart lens distortion correction
Pop-up tips for key tools
Cons
Some options are hard to find
Could be more text styles
3. PhotoPad
This Photoshop replacement is probably the easiest program to grasp for novice photo editors in this list. It provides all the necessary tools for image editing and retouching like AutoFix for quick auto enhancement, Crop to put the best parts into focus, Red Eye Removal to retouch your portrait shots, and many more impressive features. Personally, I like this program for a great combination of basic and advanced editing tools. If you want to give it a try, get the free version of the program here: https://www.nchsoftware.com/photoeditor/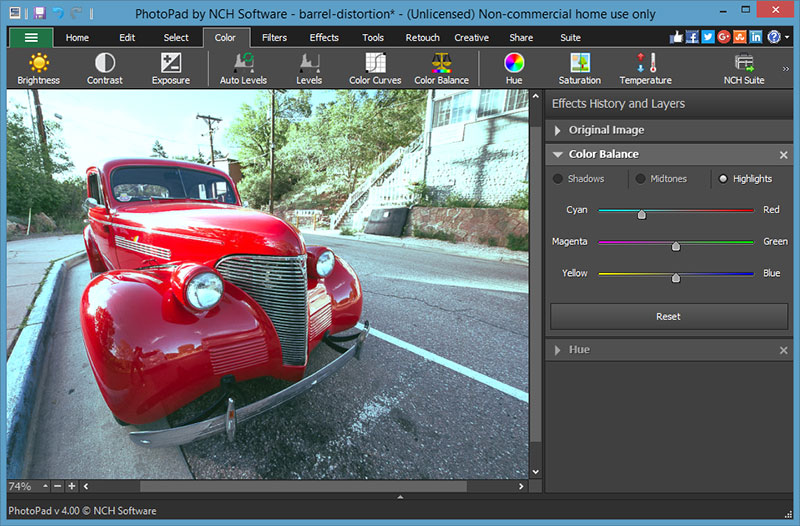 Pros
Batch photo editing process
Regional effects to selected parts
250+ fonts inside
Built-in collage generator
Share right from the app
Available mobile versions
Cons
Old-fashioned interface
Sometimes hard-to-navigate
4. Zoner Photo Studio X
I'd recommend this photo editing program for both hobbyists and advanced users as it gradually offers plenty of tools ranged from simple ones to more sophisticated. The interface of this Photoshop substitute is split into four sections: Manager, Develop, Editor and Create. The first one is used to navigate through your photo collection, the second offers global editing options, the third provides filters and effects and the fourth shows ways to save your picture. Learn more about the software and get a free trial here: https://www.zoner.com/en/spectacular-free-photo-editor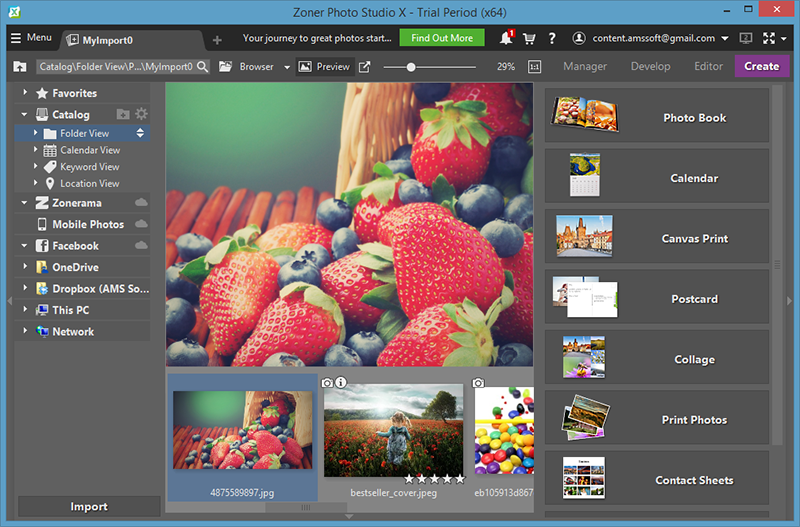 Pros
Full-featured system for organizing photos
Easy to switch among sections
Ability to hide unused drop-down menus
Batch photo editing process
Save the photo as collage/postcard
Built-in video & slideshow maker
Cons
A little bit overstuffed interface
No forum to share ideas or communicate
5. ACDSee Photo Editor 10
In fact, this software is the closest alternative to Adobe Photoshop in my list. Having a similar interface, it still works well for users who do not require or can't get the hang of advanced image manipulation features. With so many impressive features, such as erasing unwanted objects, adding various effects and filters to your photo, and targeting only the chosen areas, this image editor is worth the value. Download the free demo here: https://www.acdsee.com/en/products/acdsee-photo-editor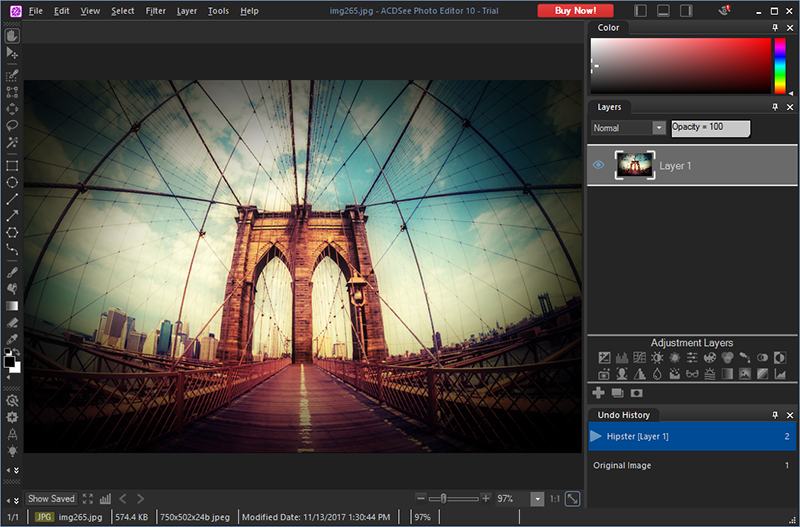 Pros
Customizable panes and toolbars
Non-destructive adjustments
RAW files support
Layered retouching & photo repair
Additional Photoshop plug-ins
In-application support
Cons
Need some time to grasp
No HDR & lens distortion correction
6. ON1 Effects
Among the best Photoshop alternatives, this software is the newest one but it certainly has plenty of editing functions to offer. The toolbars are so well-positioned that you always have everything necessary at hand and don't have to tiresomely search for some particular feature. Alongside a vast collection of ready-made effects and presets, the program gives you a chance to tweak the photo by yourself with an array of special brushes and masks. Check out the free version here: https://www.on1.com/products/effects10/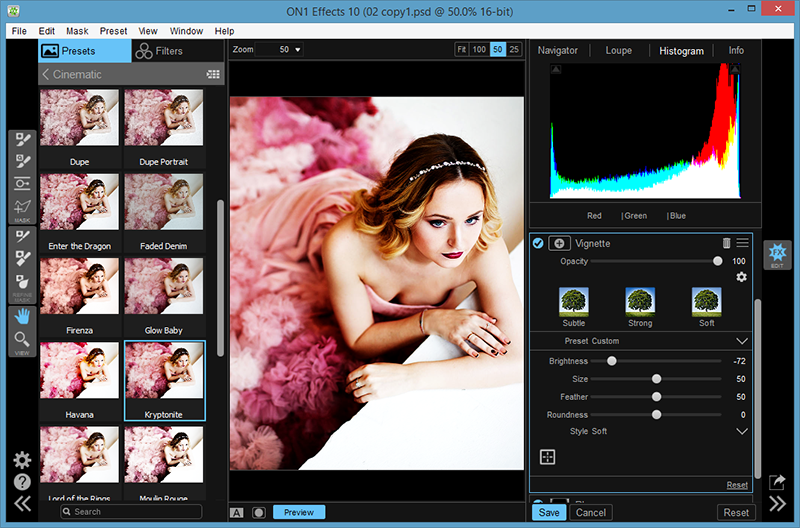 Pros
Albums to organize photos
Great range of artistic filters
Non-destructive editing option
Works with layers & masks
Blend mode for collages
Edit a copy with no harm to the photo
Cons
Demanding on hardware
Extra pay for RAW support
Whether you're looking for instant enhancements or you're willing to put in a little more effort, you can do all the necessary image tweaking in a few clicks using photo editing software like Photoshop. Fix poor lighting, improve composition, remove odd objects and blemishes, add creative effects like filters, frames, and vignettes – explore your creativity and go through an astonishing photo editing experience!