Video Scrapbooking Ideas for Family Photos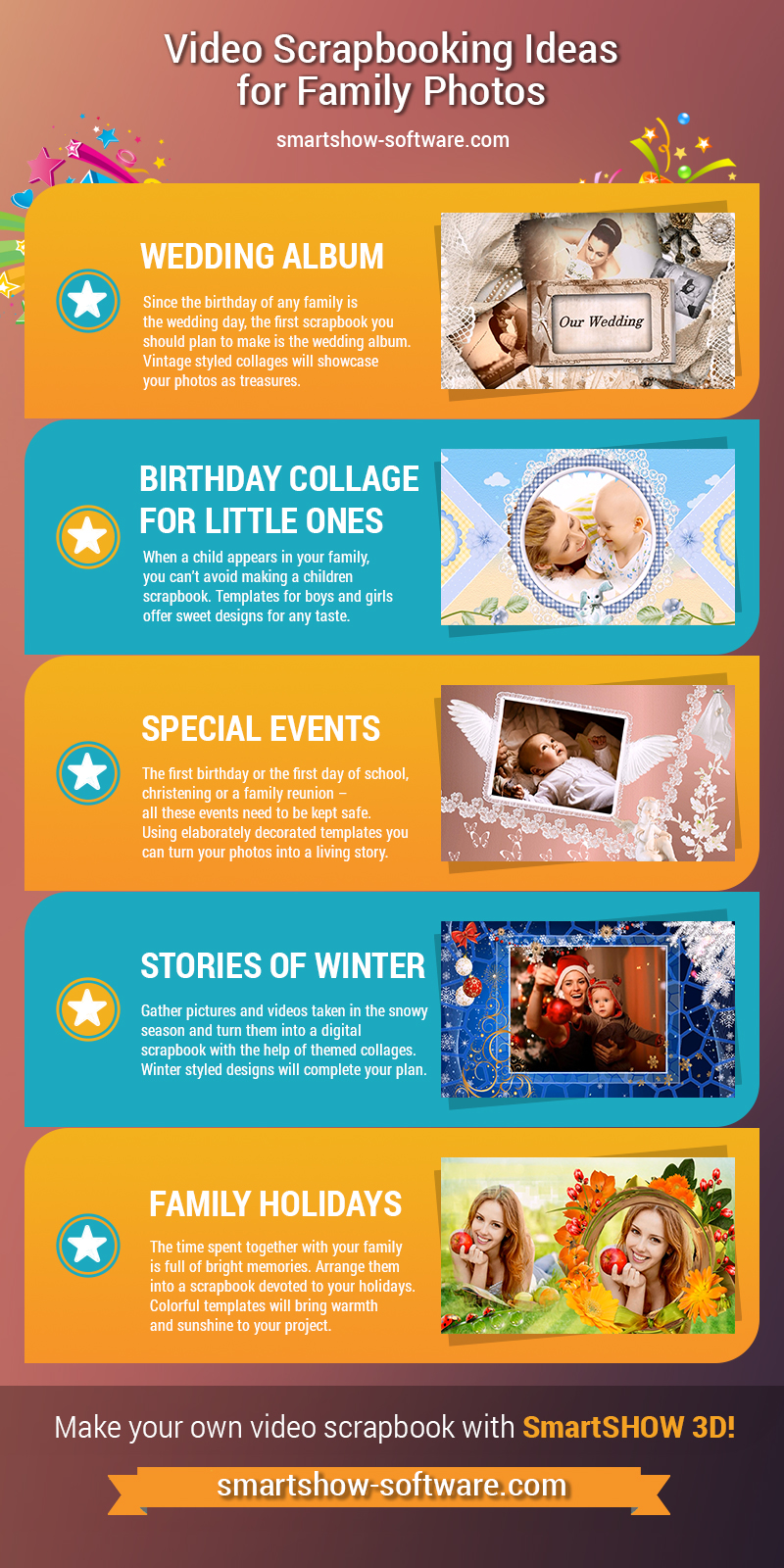 Want to forget the slowness of traditional scrapbooking and create a digital video album in minutes? Then I have something exciting right for you! If you are a beginner in digital design, video scrapbooking ideas listed below will both attract and inspire you. And if you feel like a professional in this field, study the design tricks of the templates I have picked to illustrate each idea. Plunge into the world of video scrapbooking and discover lots of ideas worth trying!
Wedding Album Idea
Any family has a photo archive with an innumerable amount of wedding shots. Here are two great ideas you should pay attention to: making a wedding album for your parents (scan their pictures if they are printed ones) and creating a digital memorial for your own family. In both cases, vintage wedding scrapbook designs will provide the necessary elegance and charm.
Birthday Scrapbook for Kids
Be it the first birthday or the 10th – your kid deserves an album to display the yearly achievements and adventures. Study the preferable color palettes, because they are different for boys and girls. For a little princess, opt for tender pink and violet colors. If you have a future Superman, seek for blue or yellow shades. Templates like baby boy scrapbook styles offer a variety of pre-adjusted animation effects too.
Scrapbook for Family Events
Different events happen in the life of a family almost every week: there can come a wedding anniversary, an ice-cream date or school graduation, christening of a newborn or the first day with a pet. So many reasons to start video scrapbooking, so why miss the chance? You can customize your album with animations, captions and embellishments or use a ready-made template and make a christening slideshow in mere minutes.
Collages of Winter Memories
Christmas and the New Year day, winter break and visiting grandparents – the blast of these occasions is sure to make you want a scrapbook for keeping the magic of these days. Designing such a video album is easy enough because the Internet is full of winter themed cliparts and backgrounds. If you don't have enough time to google for them, get some templates pack like the New Year effects and save time for customizing the design.
Family Travel Journal
Spending time together with your family during a holiday brings a huge amount of joy, energy, new experiences and photos. To gather it all into one family treasure is to build a powerful magic portkey that will help you out during routine work and school days. You can use professionally designed summer vacation templates or make your scrapbook from scratch, the choice is up to you!
Video scrapbooking tends to become more and more popular. Software like SmartSHOW 3D makes it possible to design a digital album easily even for a novice. And when family members unite to watch the created video collages, what can be the best pay-out than their tears of happiness and increasing admiration? Go in for the absorbing process of video scrapbook making and amaze your family with great designs!