Family Birthday Calendar Ideas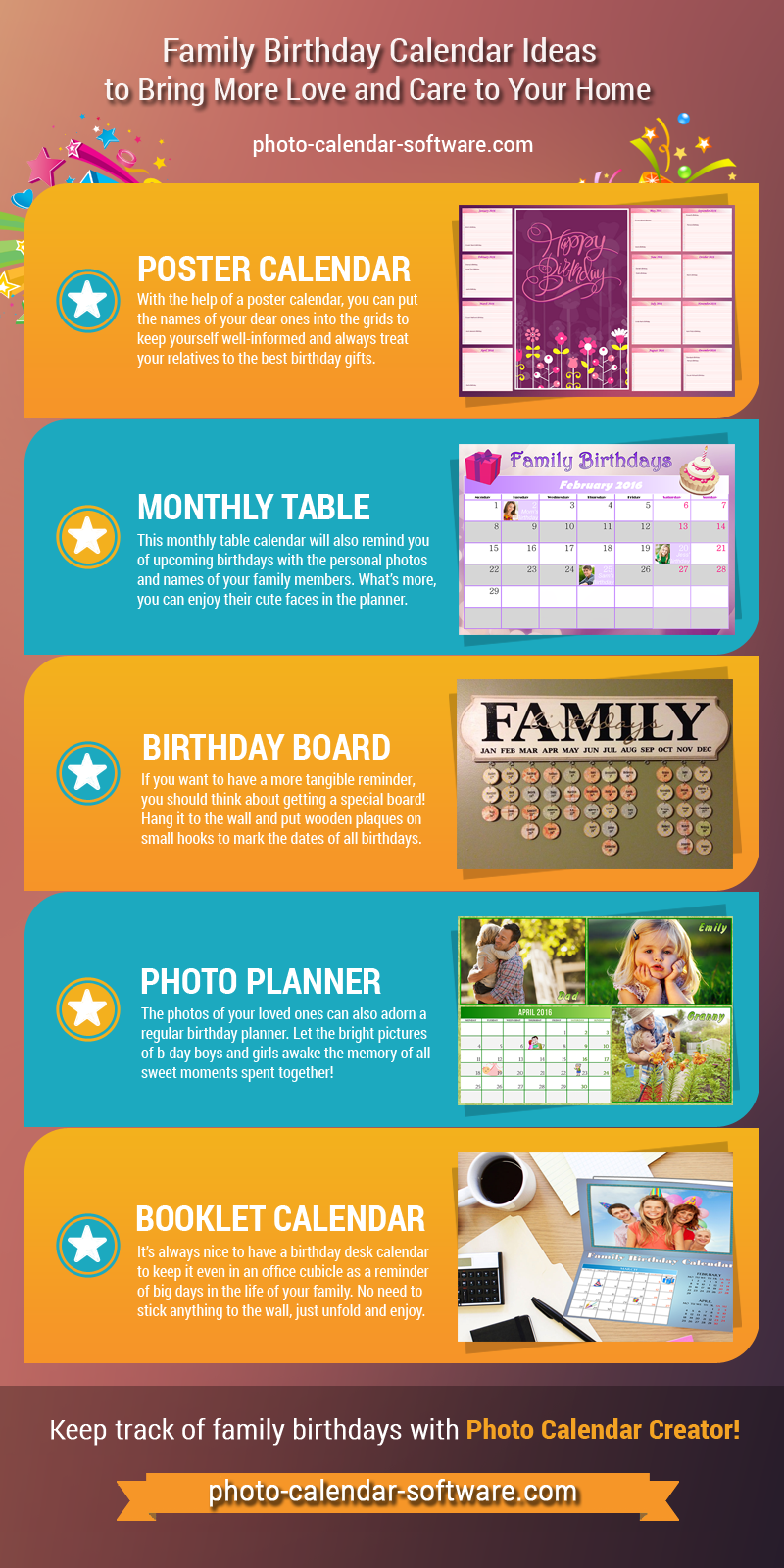 Have you ever experienced a kind of hustle connected with snatching a last minute gift? I don't know about you, but I'm terrible at remembering my family's birthdays. I have a little notebook with all the important dates but I simply forget to check it. This bugs my relatives to no end, so I've decided to find a solution. Thankfully, there's an easy way to keep the birthday dates of all your family members before your eyes all year round with a collection of one-of-a-kind calendars!
Poster Calendar
If you think the bigger the better, then try making a poster calendar to put the birthday dates of your family members on a single page. You'll need a proper app such as http://photo-calendar-software.com and your own unlimited imagination to create a perfect design. I'd use grids with lines as they're small but hold all the necessary information. Keep in mind that the main image should be nice but simple to leave enough space for writing down the names of your dear ones in the corresponding lines.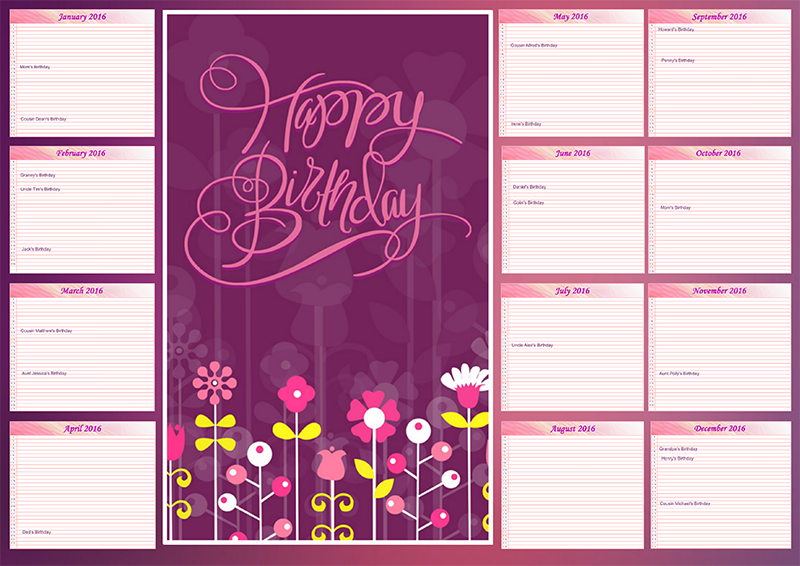 Monthly Table
Another way to remind you of upcoming birthdays is to make a monthly table calendar with small photos in the cells, along with the names of your family members who are celebrating their birthdays this month. It's a perfect opportunity to enjoy their cute faces and keep your mind off everyday stress and work-related duties. Just add the chosen pictures into the grid cells and make a new group of holidays to be shown in the table.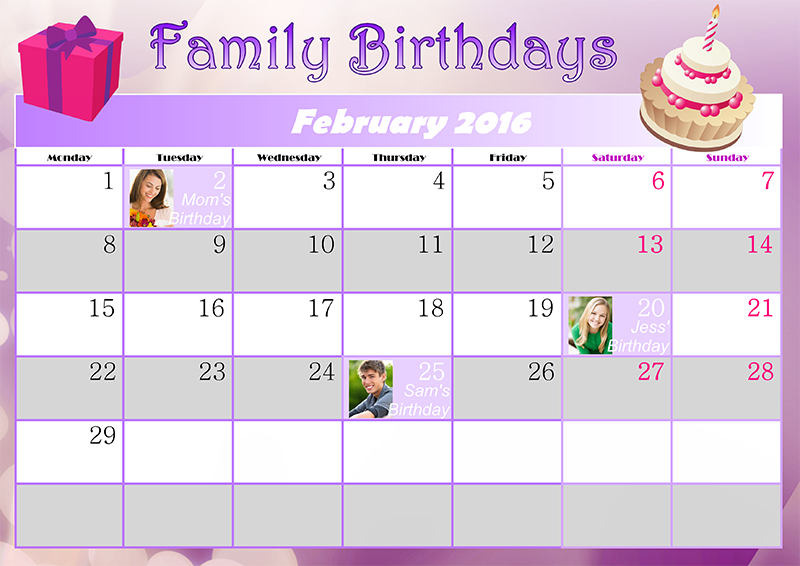 Birthday Board
An awesome birthday board with twelve hooks underneath, one for each month, can become a more tangible reminder of big events in the life of your family. On these hooks, hang small plaques with your relatives' names and the day their birthday falls in the month. What's even better, you can customize this project whatever you like! Try different shapes and colors for each gender or family side, but make sure that the chosen visual style suits your family.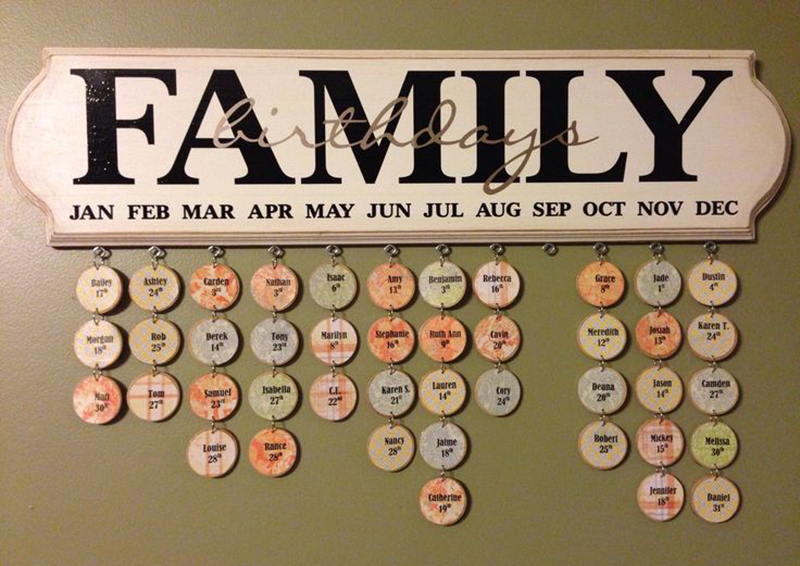 Photo Planner
Like the monthly table, this photo planner is perfect for those who'd like to admire the faces of their loved ones the whole month. Here you can see a collage of cute photos depicting the ones who are about to celebrate their birthdays. Funny cliparts are inserted into the table grid to mark the corresponding days. This photo planner will look equally good hanging on the wall of your private office or your child's bedroom.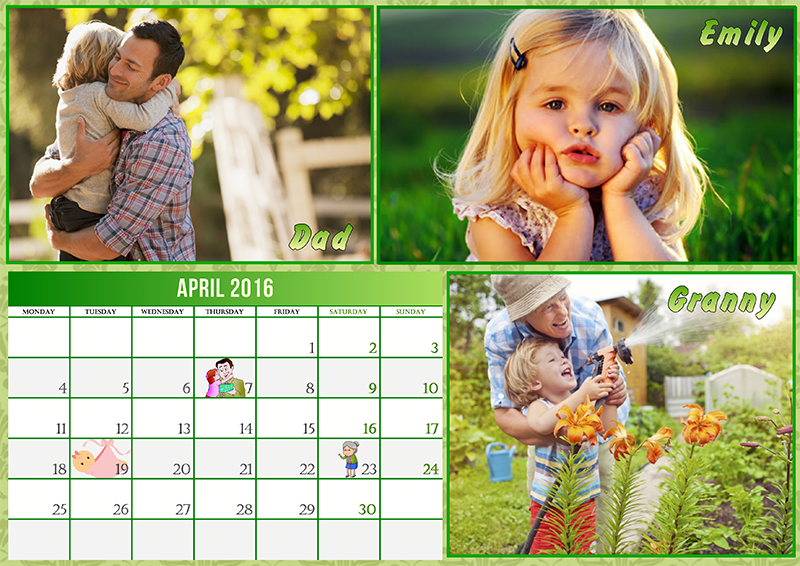 Booklet Calendar
When hanging a calendar on the wall is out of options, you can always make a booklet planner to put it on your office desk. However challenging its creation may seem, with the right software it becomes easier than ever. All you need is to choose a template you like and then customize it to your own taste. You can even make a collection of booklet calendars either in one style or a unique design for each month.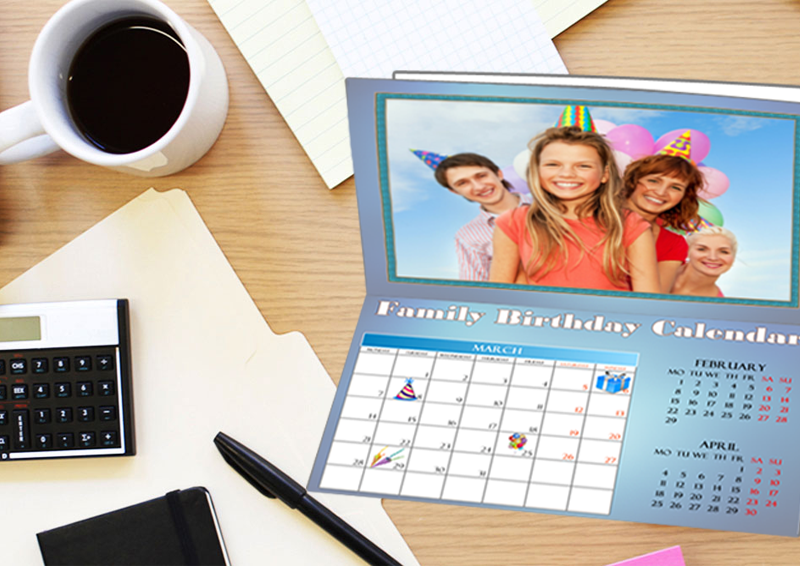 With the help of Photo Calendar Creator software: http://photo-calendar-software.com/download.php you're free to create tons of personalized calendars for the whole year and don't worry about forgetting the dates of your family's birthdays ever again!