5 Outstanding Wedding Invitation Card Ideas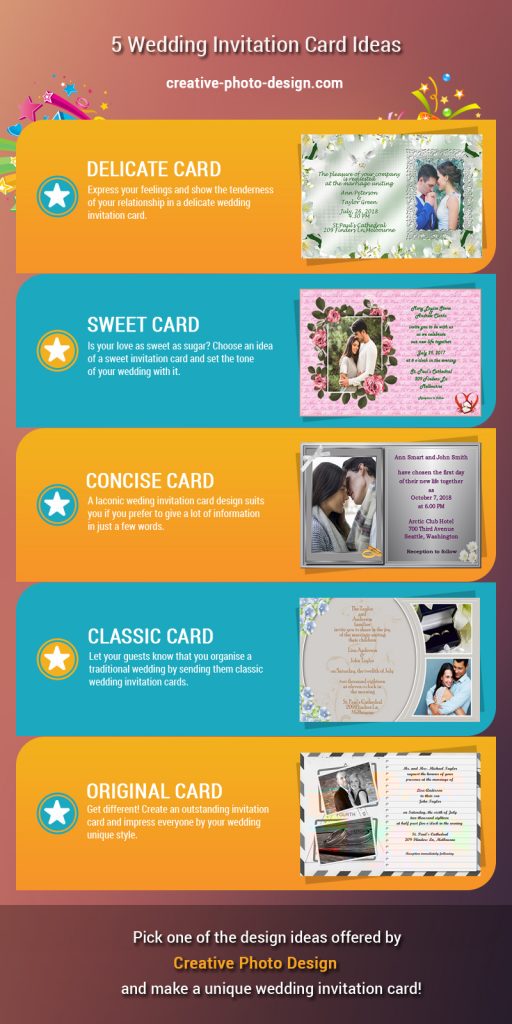 Starting a new life together with your love soon? Congratulations! Then you must be looking for wedding invitation card ideas. A wedding opens a new chapter in your life and invitation is the first step towards the most important event for you two. Each love story is special so creating personalized invitation cards is the best way to show the uniqueness of yours. An individual invitation card style will go to your guests' hearts and no way will they decline. Read on to find that very design idea.
Now, how to make a personalized wedding invitation? These days there're plenty of invitation and holidays cards creators online, but I would recommend downloading Photo Collage Maker. With the help of this powerful program you'll design fabulous wedding invites in a few minutes, and personalize them as you like – add your photos, change backgrounds, write any text in, and beautify the cards style by yourself. Download the software http://ams-collage.com/ and pick one of the ideas below to make your wedding invitation card. Delicate Wedding Invitation Card Delicate Wedding Invitation Card
Delicate Wedding Invitation Card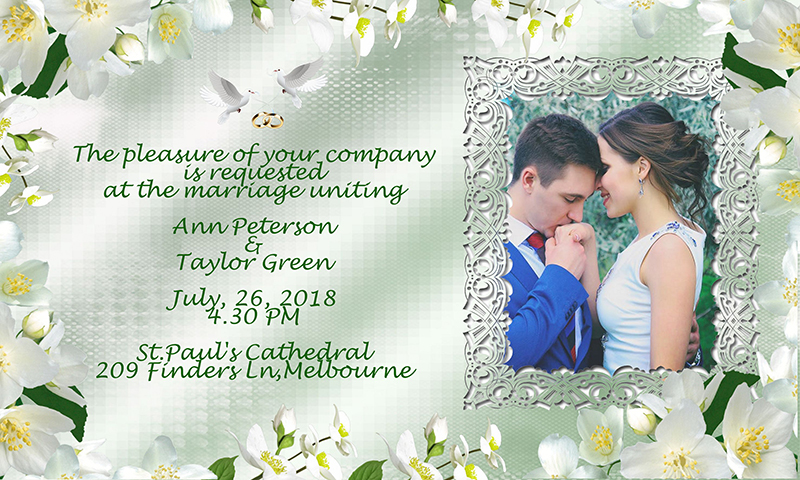 A delicate style is like a breath of fresh air among wedding invitation design ideas. Put all your tenderness into a delicate invitation card design. A sentimental photo, subtle warm tints, and gentle flower cliparts – you can add all those elements to your invitation card in Photo Collage Maker. Choose a ready-made template or edit it and show how affectionate your relationship is. It's up to you to set the delicate tone of your uniting ceremony and let the guests know it.
Sweet Wedding Invitation Card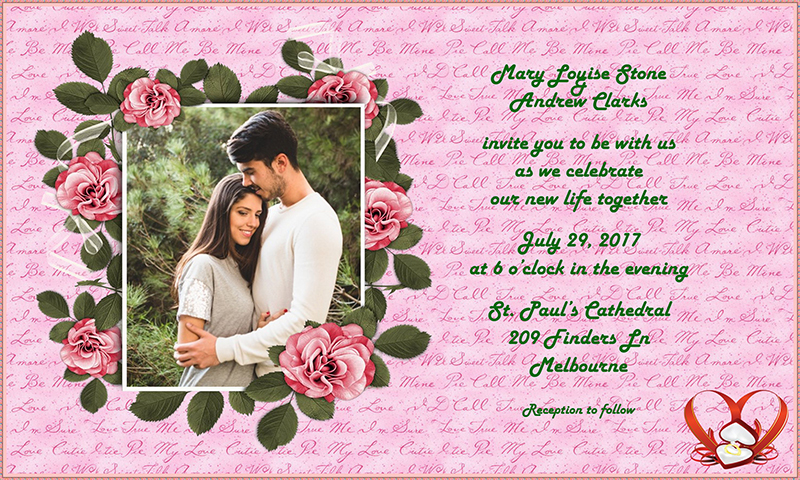 Is your love as sweet as honey? Opt for a sugary invitation card design. Photo Collage Maker comes with a pack of templates and all you need is just to select the most suitable template and apply a personal touch to it. Put a charming photo of yours into a delightful flowers frame, add some sweet color background, and decorate your wedding invite card with suitable pieces of clipart. I can feel the sweetness of this design, and how about you?
Concise Wedding Invitation Card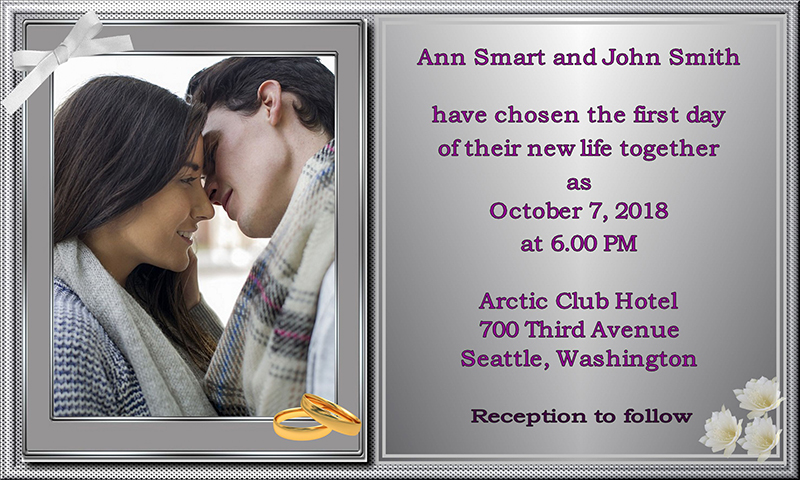 Your wedding style should express your personality. You prefer to speak short and to the point? Then you'll love this laconic wedding invitation card example. This invite design is brief but comprehensive, and a few simple details tell everyone just everything about your couple and the big event that's about to happen. Plain neutral colors and neat fonts suit this style the most.
Classic Wedding Invitation Card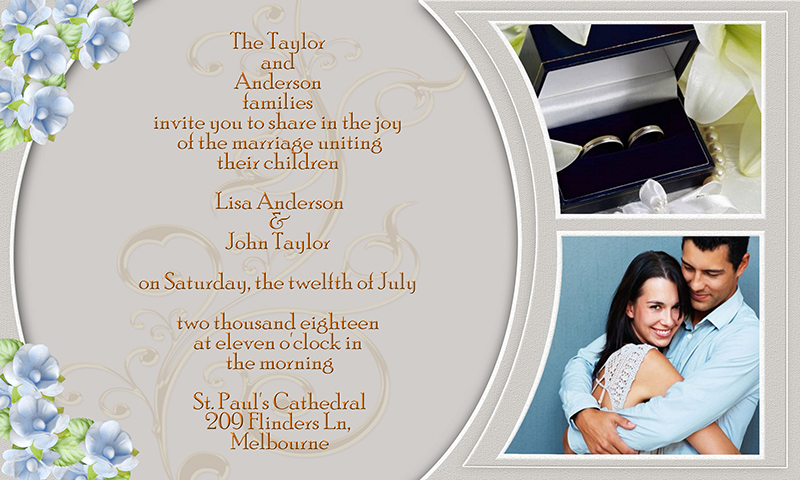 Are you fond of classicism? Want to organize a customary wedding with a traditional ceremony and classic outfits? Pick this idea to make beautiful wedding invitations. You can choose one of Photo Collage Maker templates, use it as it is or customize it. Add your images, write the invite text in, and embellish the card if you feel like it. A classic style is timeless and always in place so its popularity amongst soon-to-be-married couples isn't surprising.
Original Wedding Invitation Card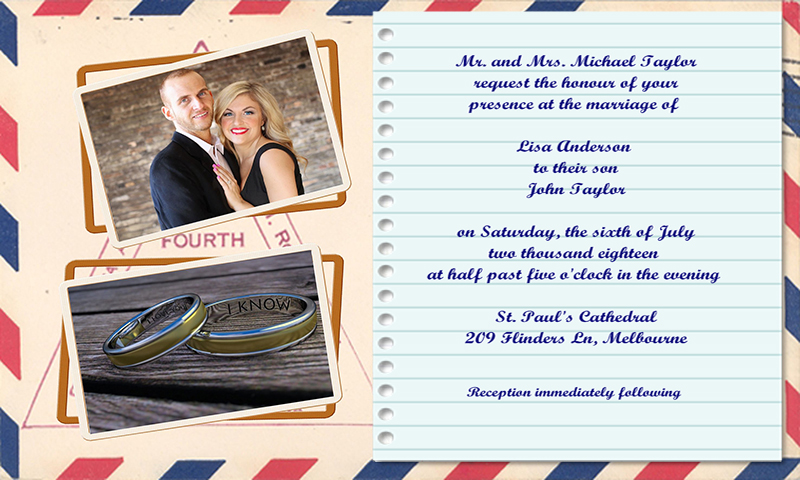 If you are the one who considers the classic design to be boring, feel free to get creative and prepare something truly exclusive. Dress your wedding invitation card as a letter, a plane ticket or a vinyl record. Original invites are well suitable for a themed reception – write the details about it on your cards and the guests will know what to look forward to. A unique creative invitation card definitely stands out of those that blend together after a while and look the same.
Happy Wedding Day!
I sincerely hope that you got inspired by the selection above and have chosen one of the ideas for wedding invitations and those cards will impress your guests. As for me, I wish you both a happy wedding and may your joining together bring you more joy than you can imagine. Still need more wedding-themed designs? You'll find plenty of them in this post: http://www.creative-photo-design.com/best-wedding-photo-frames-online-great-choice-of-romantic-designs/.