Christmas Color Schemes for Your Holiday Cards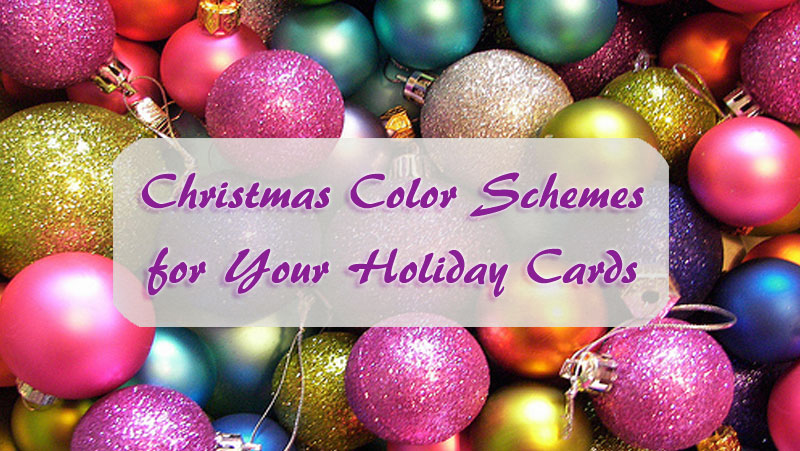 Each year I somehow fail to enjoy the festive atmosphere as I usually hunt for perfect Christmas gifts or even craft them myself. This time I've decided to prepare presents in advance and spend more time with my family rather than in front of my computer or in a long queue in some shopping mall. If you've found yourself in the same kind of a jam and want to send some good cheer to your loved ones, I'd be glad to share my creative experience with you. Why not make personalized greeting cards that hold the beauty of the season and express your sweetest wishes? Browse through this collection of the best Christmas color schemes and the card designs made with the help of these palettes until you find something that will perfectly match your preferences!
If you want to deck the halls of your house, you won't need any special tools besides gorgeous decorations and skillful hands. Xmas card design is a different story, though. In order to create a personalized seasonal card you'll need proper software like Photo Collage Maker (check out this application: http://ams-collage.com). The designs you'll see below are based on the ready-made templates that come with the app. Take a look at these cards and get inspired to make your own.
Traditional Color Scheme
What colors come up to your mind when someone asks you about the best holiday palette? Most likely you think of rich red, pine green and deep gold that form together a beautiful and well-balanced combination. It's one of those traditional Christmas color schemes that will look great in any design. Whether you make a greeting card with the photos of your baby dressed like Santa's elf or the family pictures taken during New Year celebration it will radiate the festive atmosphere and put a smile on the face of anyone receiving such a DIY gift. Those who are drawn to classic Christmas cards will surely adore this design and the chosen color palette!

Violet Color Scheme
Do you prefer designs that feature clean lines and exotic colors? This violet Christmas card looks really refreshing and brings an unexpected twist to the holidays. Combining bold colors and eye-catching embellishments, this design stands out from traditional ones and reminds us that Christmas is the holiday filled with joy and laughter. What's more, this card can be both frisky and elegant depending on the photos you've picked. If you're a fan of daring color schemes and patterns that really pop, try creating your own festive design based on this stylish palette.

Vibrant Color Scheme
As I've already told, Christmas is associated with bright colors like dazzling red, brilliant gold, shimmer silver and stunning green. I'd like to offer a bit of a different take on this traditional holiday color scheme. For example, you can use a red that is more orange or purple, a lime or apple shade of green, and add the blue color to your festive palette. Blue hues fill your card with the illusion of frosty air and crispy snow shining in the sunlight. While incorporating these cheerful colors directly into your holiday cards you're guaranteed to get a joyous design that encourages a feeling of energy and excitement.

Pastel Color Scheme
If you're sick and tired of trite Christmas hues that are used on every second card, check out this pastel palette that you can also employ in your festive designs. However modest and subdued this vintage card may look, it practically drips with charm and classic sophistication. A simple change of traditional reds and greens to softer tones can do the trick and lend your design a unique appeal that marks it out in the bunch of other cards and earns more attention from happy receivers of this custom gift.

Silver Color Scheme
Gray has lately become one of the hottest 'neutral' colors. It not only makes your greeting card look sleek and polished, but also can create the magical atmosphere that is so typical of Christmas. When traditional holiday colors like red and green doesn't work for you anymore, try using silver for a festive sparkle with some pretty accents of blue and white. You can also use silver-hued snowflakes, candlesticks, silk ribbons, wrapped Christmas gifts and frosty white snowmen as additional design motifs. Although white and silver tones can be quite tricky to work with, don't be afraid if they pop up in your holiday design and give it a winter touch.

Christmas is the most wonderful time of the year to take a stroll down memory lane and let your loved ones know you care about them most. Handing personalized Christmas cards to your family and friends is a great way to do it. For your inspiration, consider trying these five Christmas color schemes I've gathered here. Filled with traditional seasonal colors and rather unusual tones, this collection of palettes will make you fall in love with Christmas and New Year all over again!