Falling Snow Animation Secrets
Snowing! Who doesn't love snow? It adds a calm nature to everything it touches even in the digital world. If you just can't get enough of snow, reflect the cooler season in a great slideshow. To give your photo movie that wintery look, it is enough to add a few special effects, such as falling snow animation. It's a simple technique that doesn't require any specialized knowledge, and you're absolutely free to customize the chosen effects to your own liking. So, are you ready to let it snow? Then get your snow shovels and let's see how to funk up your winter slideshow with amazing natural animation.
Why Use Falling Snow Animation?
Imagine a winter without snow – what a gloomy and sad time it will be. Same is true for seasonal photo movies. It's really easy to spice up your slideshow if you just use special effects. In this small piece of tutorial I'll walk you through natural animations that allow you to create snowflakes in any photo movie. With a bit of creativity and an original idea you can create amazing scenes in slideshow making software, for example, SmartSHOW 3D: http://smartshow-software.com.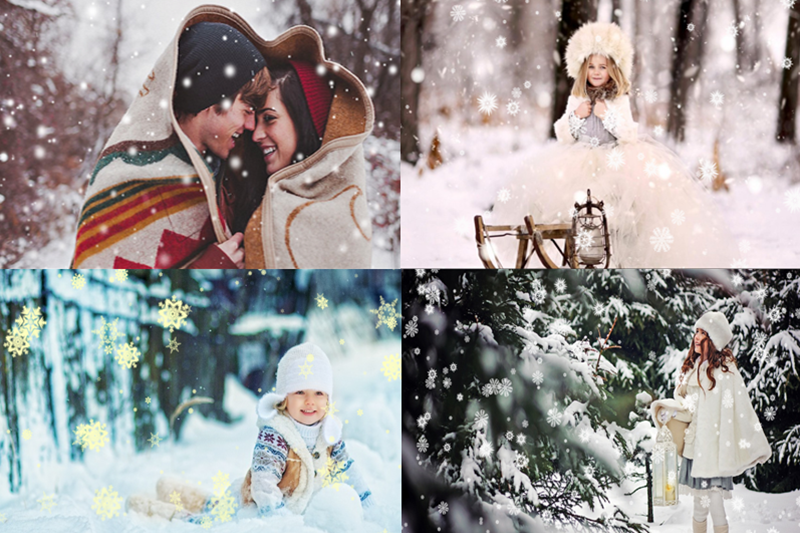 Whether it's a stand-alone slide or a Merry Christmas slideshow, falling snow animation brings out the cool feel even when you use photos or video clips taken during another season. All you need to do is choose which animation effect to apply. The next step is to play with the settings by changing the number of snowflakes, their size, direction and manner of their falling. The resulting snowy scenes are hard to count!
Add Fairy-Tale-Like Snowflakes
Basically, there're two types of falling snow animation in SmartSHOW 3D software – natural looking and fairy-tale-like. You can find both pre-made effects by clicking on the Animation tab, and then try each of them in your own slideshows. Just choose some pre-designed animation and throw it on your slide as a foreground or background movie clip, combined with your photos or text captions.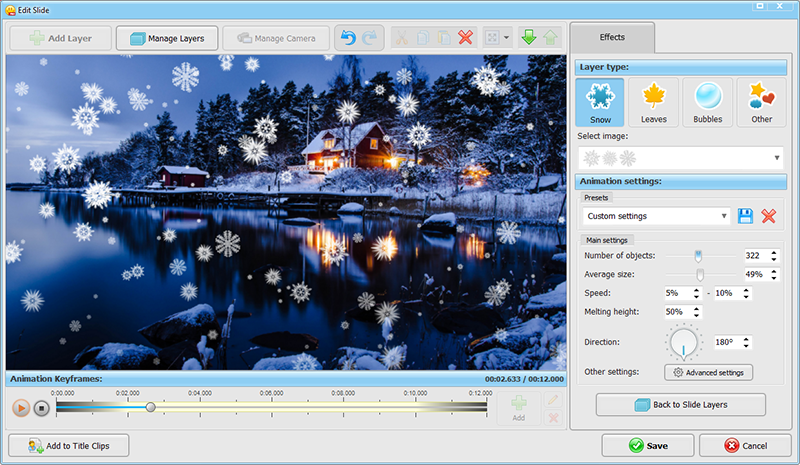 In the screenshot above, I've made an additional layer of intricate snowflakes on top of the chosen picture. Together with the dark landscape image, they create a rather magical atmosphere. I'd recommend using this snow effect if you want to make your photos look romantic or enchanting. This house powdered with snow looks like it's come from good old-fashioned fairy tales.
Create Realistic Snow Effects
In this section, I'll show you another technique and one more type of falling snow animation. If you're a down-to-earth person who's overgrown fairy tales, you might want to create natural looking snowflakes. The key is to keep things random so that it looks like it does in everyday life. To make the scene more realistic, you'll need a photo with a dark background and a new layer that you can customize in the slide editor.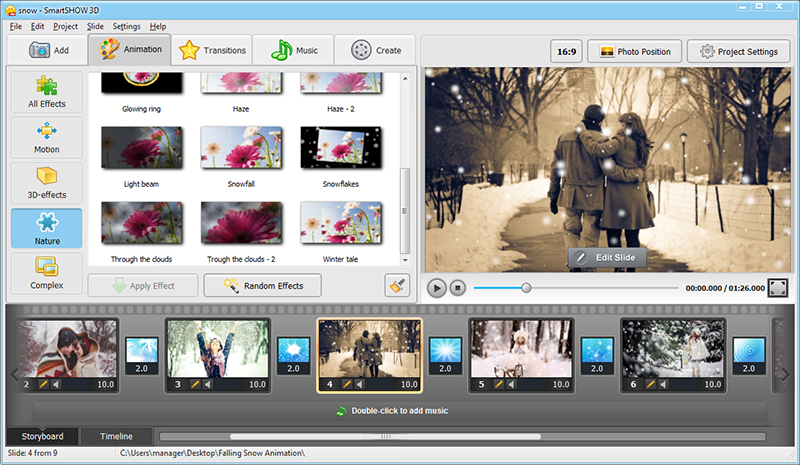 Vary the size of the flakes and their density to make a gentle snowfall or a raging blizzard. Have fun with it, but keep your message in mind. Take a look outside and get inspired by a majestic view given by the last winter days and capture the beauty of this moment in a slideshow with enough snow to last a lifetime!