Graduation Photo Collage Ideas – 4 Designs to Enjoy This Day Even More!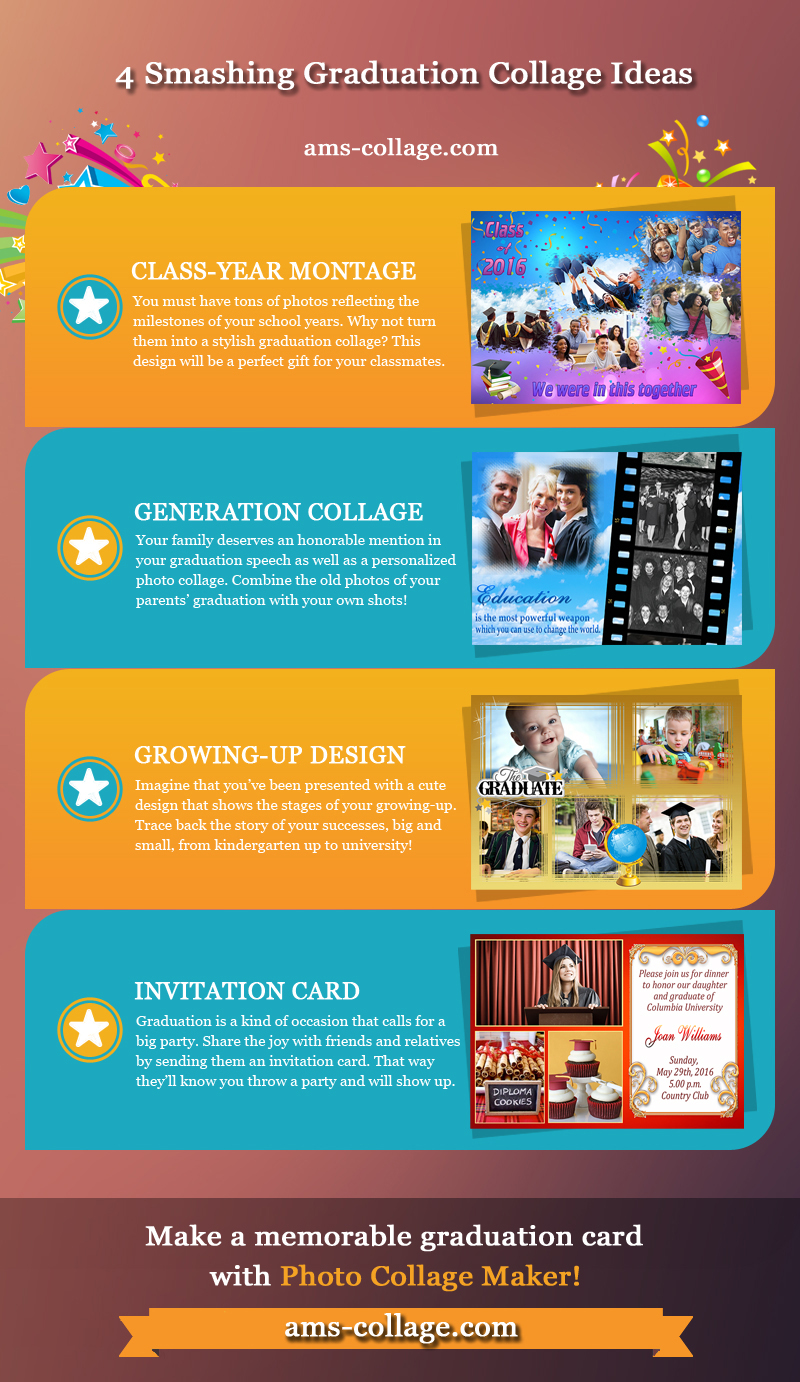 Engaging lectures, wild dorm parties, brain-cracking tests, heated club debates, and college football matches – everything is left behind. School's out and it's high time to celebrate! Whether you're a teacher's pet or a class jester, a bright and colorful graduation party will let you know the tassel was worth all the hassle. And how to add a splash of color to the overall celebration? Browse our graduation photo collage ideas below for drawing inspiration.
Graduation only lasts a weekend, but the photos taken during the celebration will be bringing a smile to your face in years to come. While looking at these small tokens of remembrance, you'll bring back the most significant days of your life and a feel bit nostalgic. Photo Collage Maker app (download here: http://ams-collage.com/download.php) enables you to make a bang-up design out of these pictures and say "see you later" to university in style.
Class-Year Montage
If I could travel back in time, I wouldn't even doubt whether to present a personalized graduation collage to my classmates. We went through thick and thin together and took hundreds of pictures that reflected all the important events throughout our school life, so that these shared emotions could be captured into a smashing design. Pick the best shots and ginger them up with funky cliparts, like a graduate cap, a pile of books, a blackboard covered in complex formulas or something else that has a special meaning to your fellow students and you.
Generation Collage
Graduation is also a perfect time to thank your parents for believing in the power of your dream and supporting you on the way to achieving it. Here I've decided to try another graduation photo collage idea and create an asymmetrical picture compilation to show the continuity of generations. On the left side you can see a recent family picture taken on the G-day, while the right part showcases older images of your parents' graduation framed by photo film. Have your relatives take a trip down memory lane with a cap-and-gown portrait collage!
Growing-Up Design
With kindergarten, high school, college, university and everything else in between safely behind you, it's time to look back and say you've done it! One more graduation photo collage idea is to make a compilation out of the pictures taken throughout the years. If you have snapped images of your friend or a child as they moved among academic levels, fill a future collage with photo milestones to show all the changes a graduate has gone through. Be sure that the pictures you've picked will make a hero of the occasion wonder if they were really so cute and little a long time ago.
Invitation Card
What's the best way to honor a person who's successfully graduated from university and opened a door to a new adult life? Of course, you should throw a grand party and invite all the relatives and friends. A custom invitation card adds a classy touch to this event and brings a star graduate into the limelight. Besides the graduate's photo, you can build your card collage around the pleasures of the table the guests will be treated to. After that, there's hardly anyone who'll miss the occasion!
DIY Gift to Hold Dear for Years to Come
Anyway, a keepsake picture collage is guaranteed to be one of the most meaningful gifts that your classmates or children will receive on this remarkable day. With Photo Collage Maker software (http://ams-collage.com), you'll be able to realize these graduation photo collage ideas and be "grad" that you tried them out!