Looking for a way to surprise your friends and teachers during the graduation party? There is no better way to do that than a video presentation with photos, videos and voice commentaries that you can share with your classmates. The first step to a superb and high quality video is getting some user-friendly slideshow maker like SmartSHOW 3D: http://smartshow-software.com. If you are a parent in search for a tutorial on how to make a graduation slideshow for your kid, the info below will be helpful for you as well!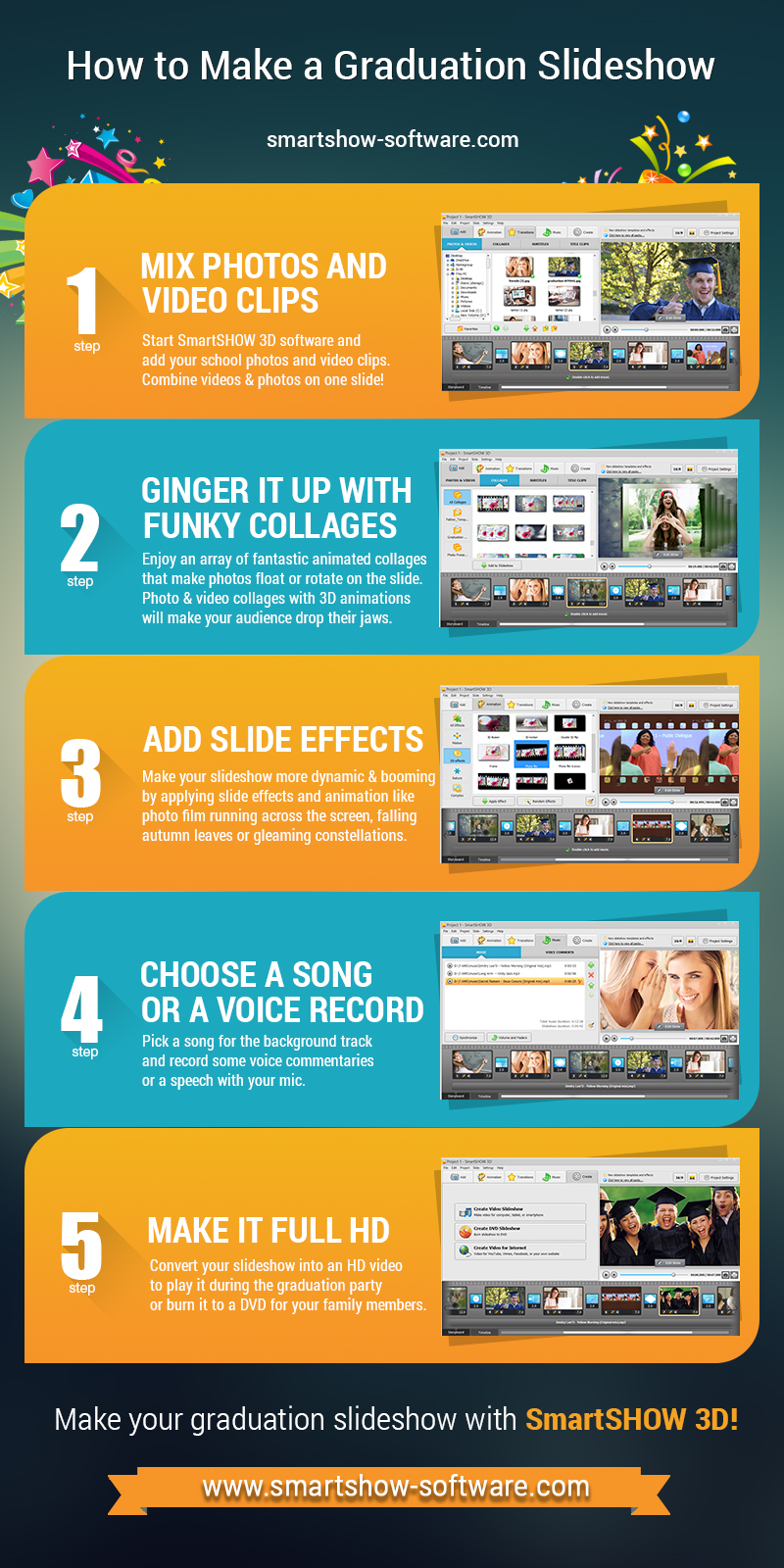 Mix Photos and Video Clips
By adding pictures and slides with text like intro and outro, you can quickly make a great slideshow. However, it will be quite much fun if you jazz it up with some video clips you shot with your smartphone during classes or even video interviews that you may take if your classmates or teachers can spare you a couple of minutes. Just imagine what a surprise his or her emotions or even confessions (great way to let someone know of hidden affections) will produce on the audience of the graduation party!
Ginger it Up with Funky Collages
SmartSHOW 3D offers a handy option for the busy ones: animated collages that allow several photos float, rotate, turn and perform all other kinds of 3D movements on the screen during one slide. All collages are pre-installed and the only thing you should do is to choose the ones you like and add your photos. For the ones who want to jolt the audience, this template set might be interesting: http://smartshow-software.com/graduation-slideshow-templates.php. It includes collages designed by professional digital artists precisely for graduation slideshows.
Add Slide Effects
How to make a graduation slideshow that will make your classmates, teachers and parents gasp when they are watching it? Slide animation and special effects is the answer! SmartSHOW 3D offers various kinds of animation: you can make a slide resemble a photo film running across the screen, you can add projector lights searching on a group photo or make one photo float in 3D on the slide. If you go to the Slide Editor, you can take advantage of slide effects that look stunning with outdoor photos: falling leaves, dancing snowflakes, gleaming constellations or burning hearts. You can add them to the videos too!
Choose a Song or a Voice Record
Or both! Select a song that will run as a background soundtrack for your slideshow. You can select several music tracks and cut them as you need. You may as well adjust the volume and fade-ins and outs. Then record a voice commentary if you haven't got a chance to take some video interviews as we have mentioned above and add it right where you need it to be in the slideshow. You can create a very moving presentation if each of your classmates says a couple of words throughout the slideshow and the music runs a bit lower than the voice records.
Make it Full HD
If you are planning to run this slideshow during the graduation party, it is better to make a Full HD video – this will help you to achieve the best possible quality necessary for a large screen. But if you wish to give this graduation video as a gift to your dear ones or close friends, opt for the DVD option and invest in some touching DVD box wrapping. SmartSHOW 3D has an intuitive export wizard that will convert your slideshow to any video type you need: AVI, MP4, 3GP, MKV, WMV, etc.
Since you now have learnt how to make a graduation slideshow, it is high time to start creating one! Surprise your child, friends or teachers with an engaging blend of pictures, video clips and animation effects. With SmartSHOW 3D, creating a multimedia project like that becomes simple and exciting. Commemorate the graduation day – the great day you start a new life with a photo slideshow full of emotions and memories!