Five Terrific Halloween Calendar Designs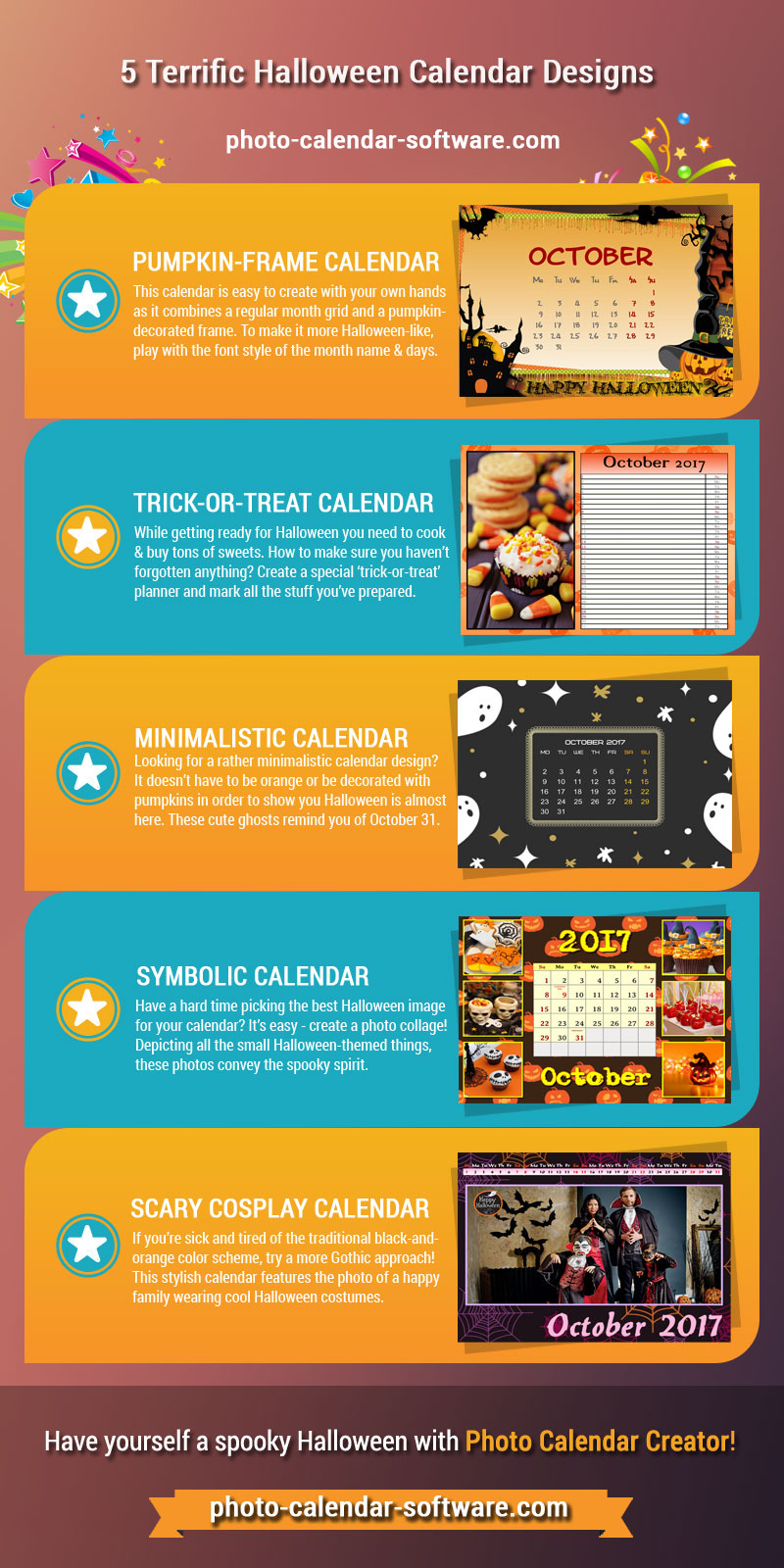 Are you here for your Halloween calendar 2017? Whether you want to decorate your fridge for the season, give it as a gift to your family members and friends, or enjoy it as a tool to plan your holiday preparations, there're designs to satisfy your needs. Below I've posted 5 Halloween-inspired calendars for you to love and choose from. Come browse through and pick the one you'd like to recreate!
Pumpkin-Frame Calendar
This printable Halloween calendar is easy to create with your own hands as it combines a regular month grid and a pumpkin-decorated frame. Quite informative, yet funny to look at, the design can be used as a stand-alone or within a calendar collection for the whole year. To make it even more Halloween-like, you can play with the font style of the month name and days, or decorate the calendar page with themed clipart like bats, vampires, werewolves, skeletons and other spooky creatures.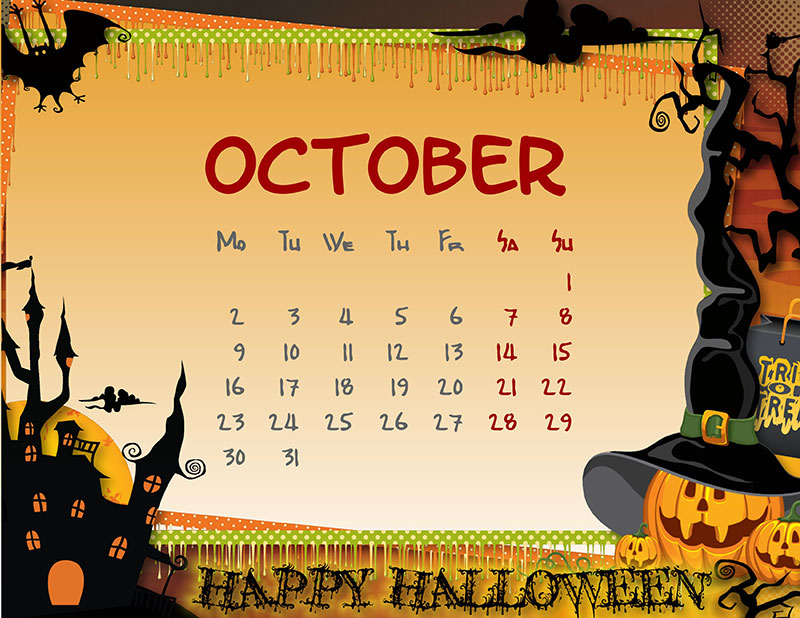 Trick-or-Treat Calendar
While getting ready for the Halloween party you need to cook and buy tons of sweets to share it with children wandering from one doorstep to another. So how to make sure you haven't forgotten anything? Create a special 'trick-or-treat' planner and use it to mark all the stuff you've already prepared for the occasion. Whether you've whipped up a batch of homemade candies and snacks or stocked up in a nearby supermarket, this Halloween themed calendar can be a great tool for monitoring all the festive must-dos.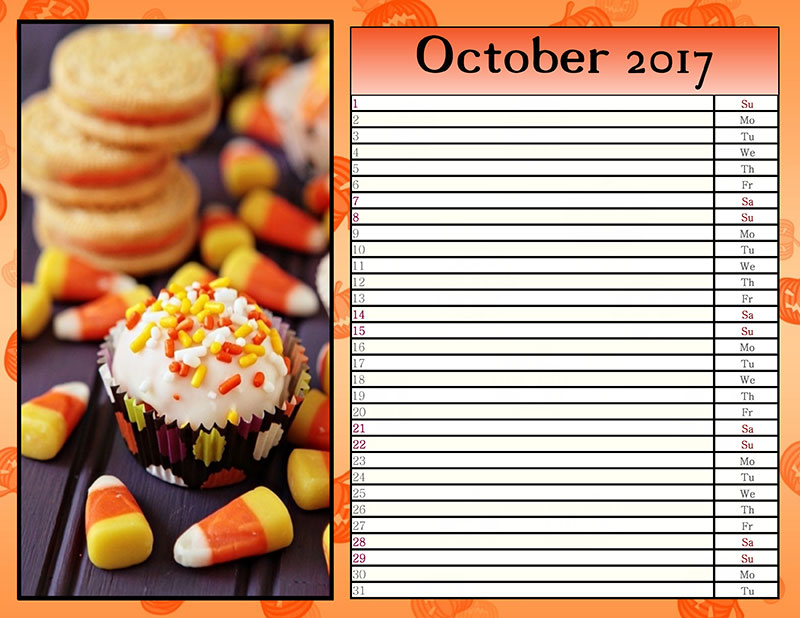 Minimalistic Calendar
Looking for a rather minimalistic Halloween calendar design that will stand out from the crowd? It doesn't have to be orange or be decorated with pumpkins in order to show you Halloween is almost here. These cute small ghosts remind you of October 31 in a more subtle way. While sent to the background, the image doesn't steal the viewer's attention from the month grid but is still instantly associated with the scariest holiday of the year.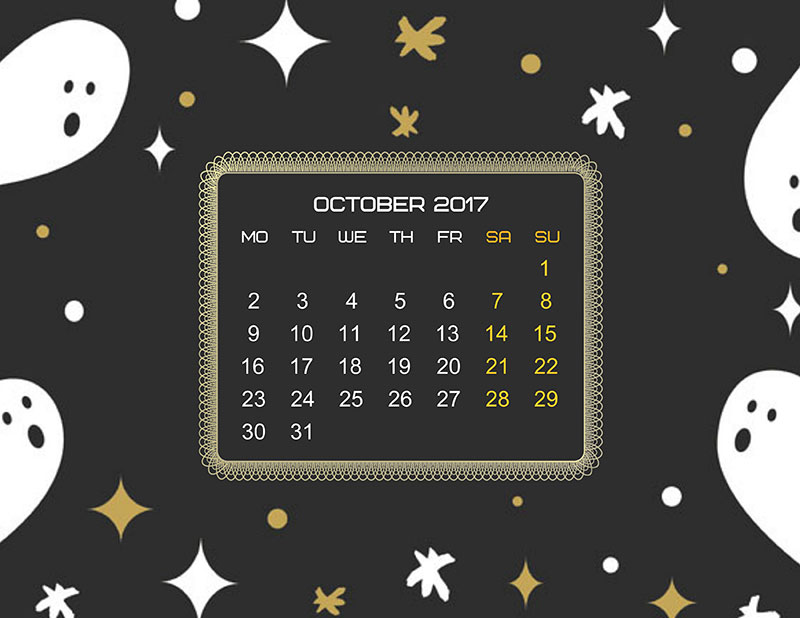 Symbolic Calendar
Have a hard time picking the best Halloween image for your calendar? There's a simple solution and you won't have to choose – create a collage of all the pictures that have caught your fancy! Depicting small Halloween-themed things, these photos help to convey the spooky spirit and make you love this holiday even more. The special pattern background adds style to this calendar, while the table month grid turns it into a useful planner.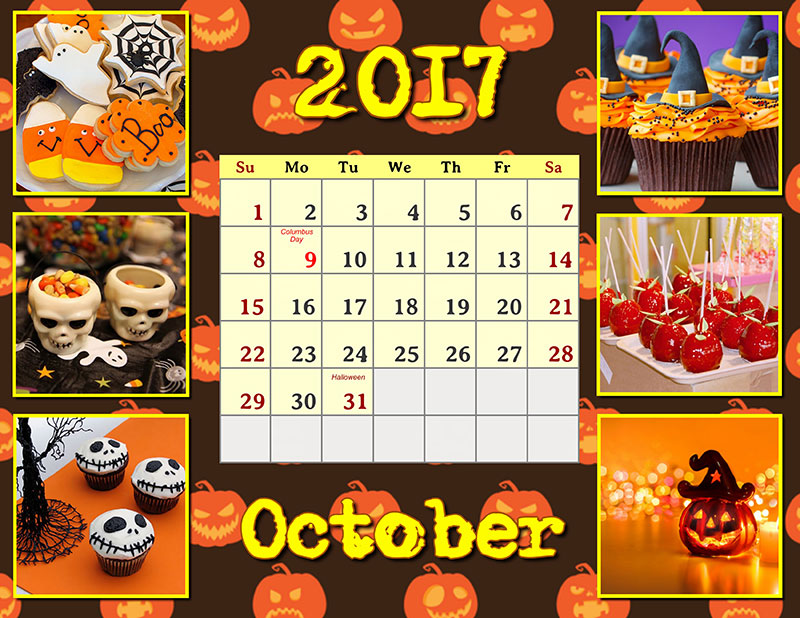 Scary Cosplay Calendar
If you're sick and tired of the traditional black-and-orange color scheme that is so typical of Halloween, try a more Gothic approach! For example, this spooktacular Halloween calendar features the photo of a happy family wearing cool vampire costumes. You surely have your own collection of such photos, so why not to use them in personalized calendar designs? What's more, this calendar can become a memorable gift for your friends and family.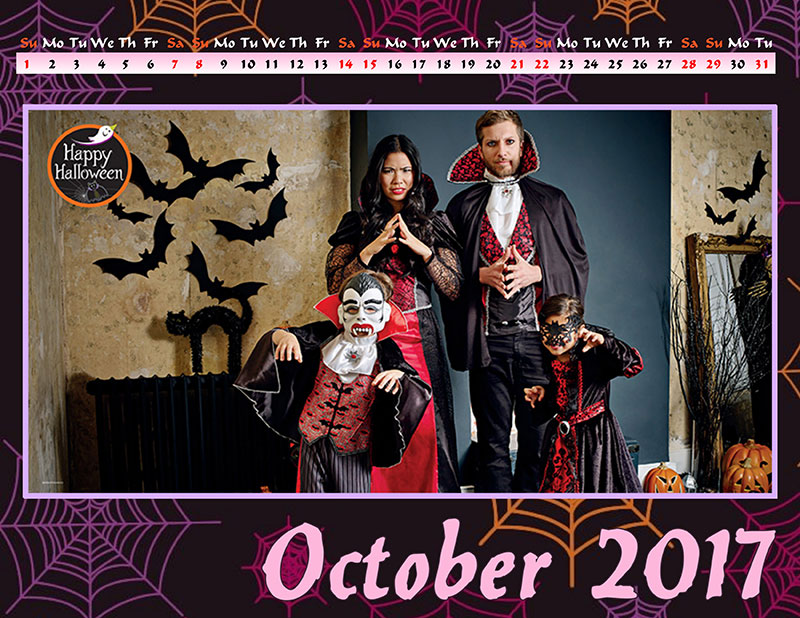 The Halloween calendars I've gathered in the post are definitely spooky, yet cute, so you'll be able to share them with your kids and hang to the wall of your living room. Print them off to use for your every day countdown till the Halloween party. Still in doubt what calendar making software to choose? Follow the link: http://photo-calendar-software.com/make-your-own-photo-calendars.php and you'll find a great calendar creating program as well as a detailed how-to tutorial and gorgeous designs!