How to Make a Collage Poster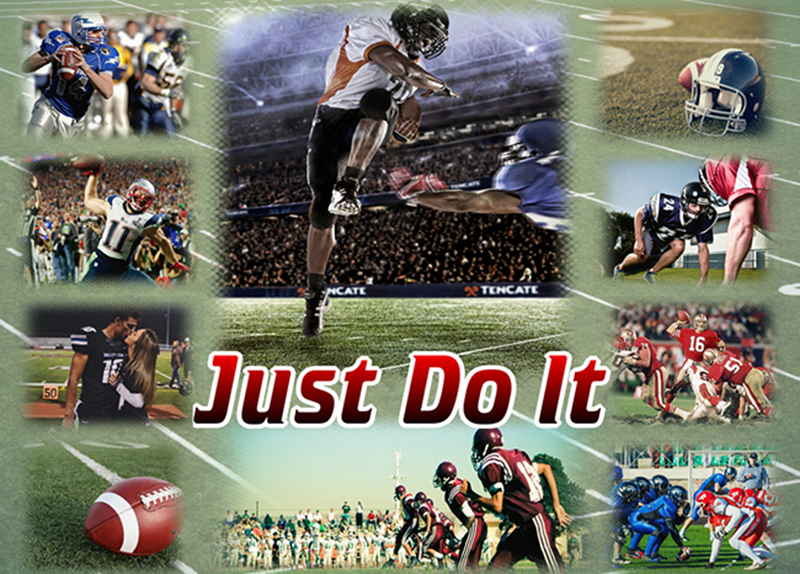 Collage posters are terrific tools to make a personal statement, celebrate your success or inspire people to achieve even greater things. You'd ask where to start? Or how to make a collage poster that will stand out among other designs? Here I've got an appealing and useful piece of infographics to provide you with necessary guidance on this creative way.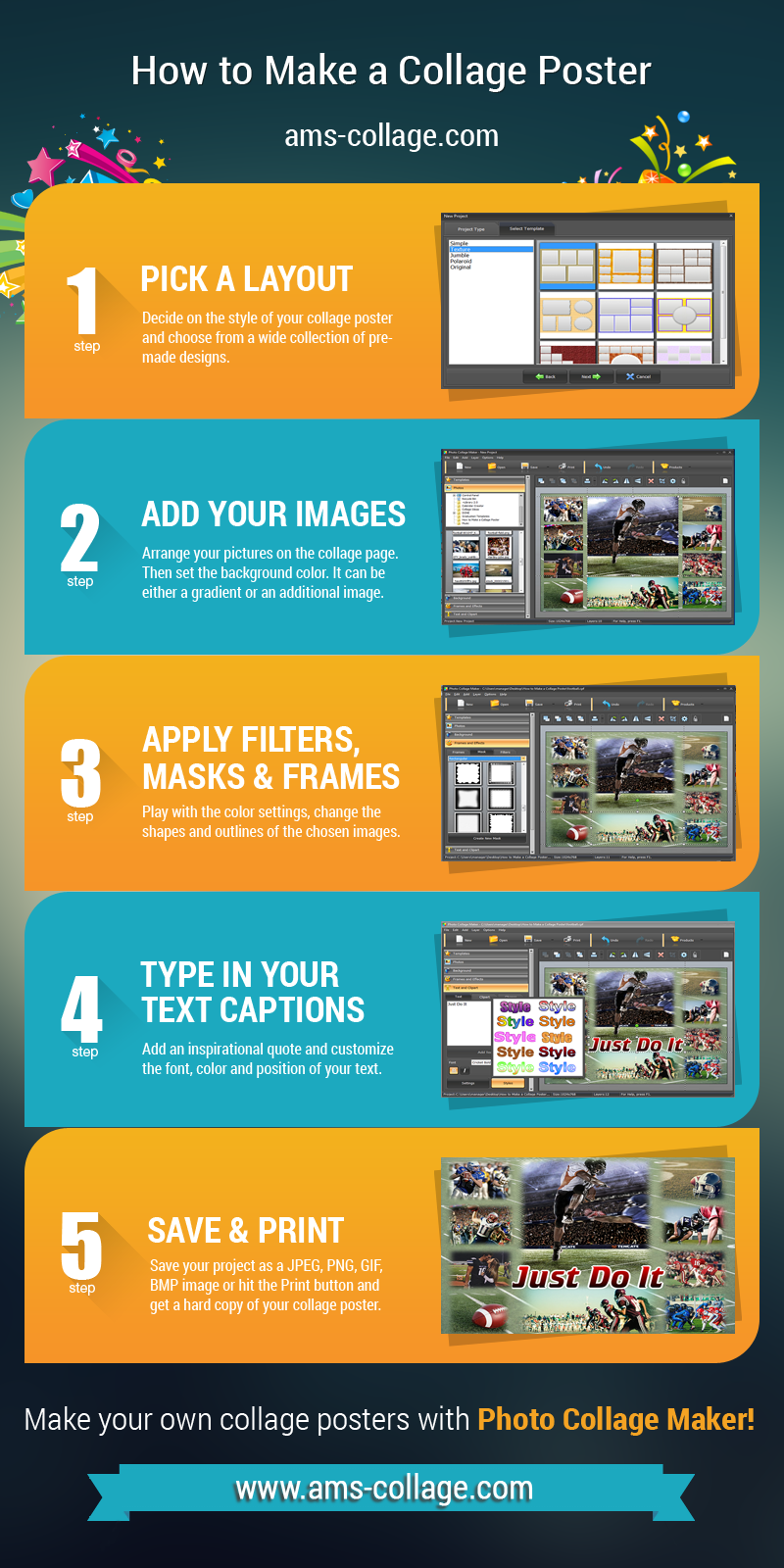 Easy and funny, isn't it? For those who prefer to study more expanded text tutorials, though, I've made the written step-by-step version that you can find below.
Step 1 – Pick the Best Layout or Template
Firstly, you'll need to get your hands on a proper app. I recommend that you to go for this photo editing software: http://ams-collage.com/download.php. I've taken Photo Collage Maker as my weapon of choice as it offers dozens of different templates & layouts. Decide on the style of your poster and select from a wide collection of pre-made designs: romantic, classic, vintage, etc. There is also a selection of ultra-modern collage layouts that will make a great base for your poster.
Step 2 – Add Your Images and Style the Background
If you asked me how to make a collage poster that will draw people's attention and become etched in their memory, I'd answer: "Fill your design with a personal story". Add favorite photos from your Facebook album or a sport chronicle and arrange them on the collage page. Then set the background to highlight the chosen pictures. It can be a regular color, a gradient or an additional image. Just don't forget that it should match the overall design.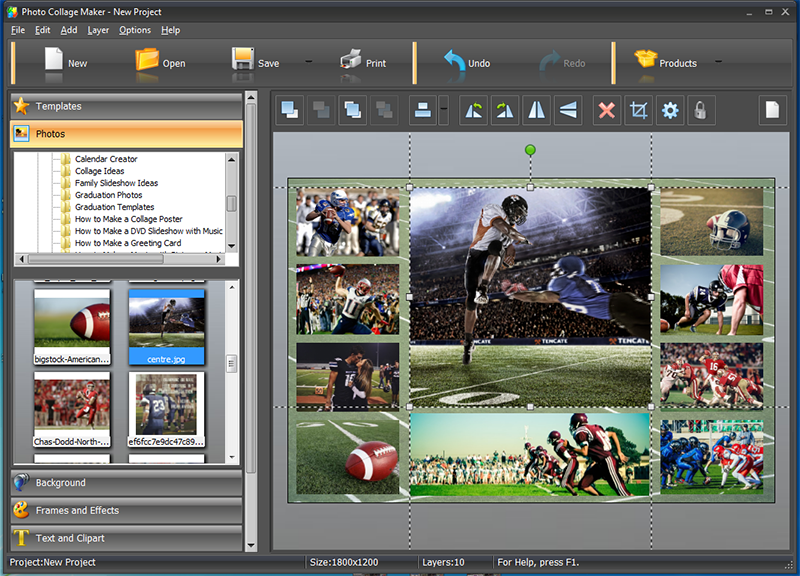 Step 3 – Apply Fancy Filters, Masks & Frames
It's always a good idea to play with the color settings, change the shapes and outlines of the chosen pictures. To attain this end, you can switch to the Frames and Effects tab and pick classy masks, filters or frames which are laid out in front of you. If you think that these stylish tools play a decisive role in creating an awesome collage, you're absolutely right! My only advice is, try not to get carried away and limit the number of effects in your design to two or three.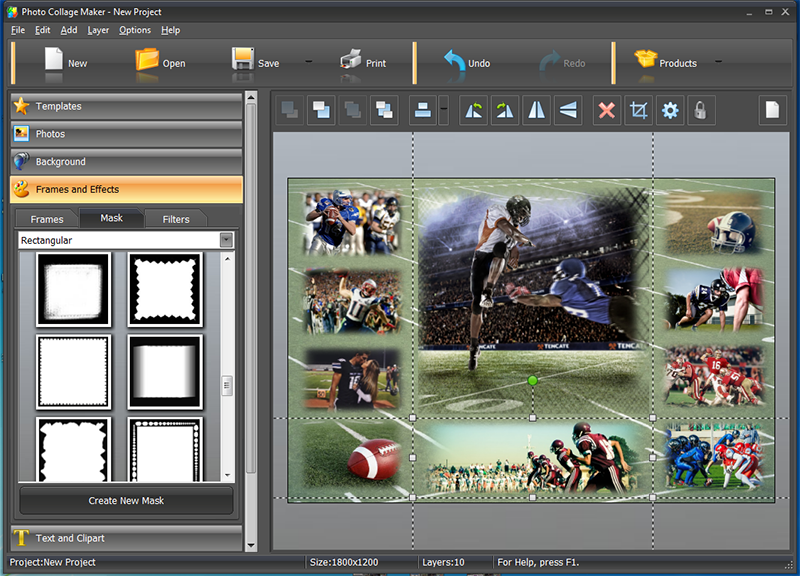 Step 4 – Type In Your Catchy Text Caption
Do you know what's the main difference between a collage and a poster? Collages revolve around bright pictures, and posters try to embrace images and letters in one creative compilation. While working on your collage poster, pay special attention to text captions. Add an inspirational quote, a line from your favorite song lyrics or a well-known slogan. Then customize the font, color and position of your text to ensure the best-possible result.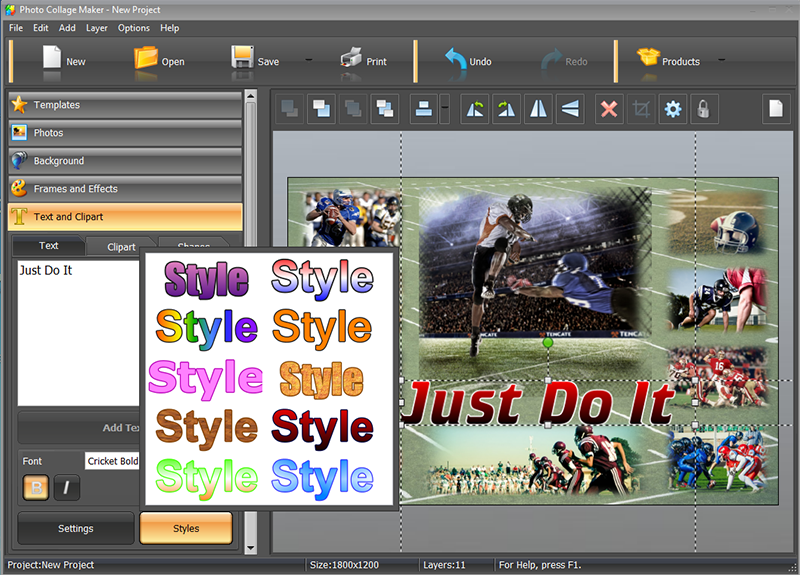 Step 5 – Save & Print Your Collage Poster
It's high time to present the fruits of your labor! Save your projects as JPEG, PNG, GIF, BMP image to share it with the online community. Another option will be to hit the Print button and get a hard copy of your collage poster to proudly hang it on the wall or send as a DIY present.
That's my piece of advice on how to make a collage poster to celebrate a memorable event, send an original invitation or impress your friends with great designing skills. Hope this step-by-step guide will come in handy when you decide to realize your bold ideas and craft a knockout print!