With spring in full blast and Easter steadily approaching, it's high time to prepare memorable gifts and little tokens of attention for your loved ones. You'll probably fill Easter baskets with sweets and dye plenty of eggs to give them to your family when everyone gathers together. But how about your dear ones who won't make it to the party? They can still feel the joys of the season with personalized video greeting cards you made just for them. Learn how to make an eCard for Easter that will stand out from the crowd and bring much happiness to its receiver!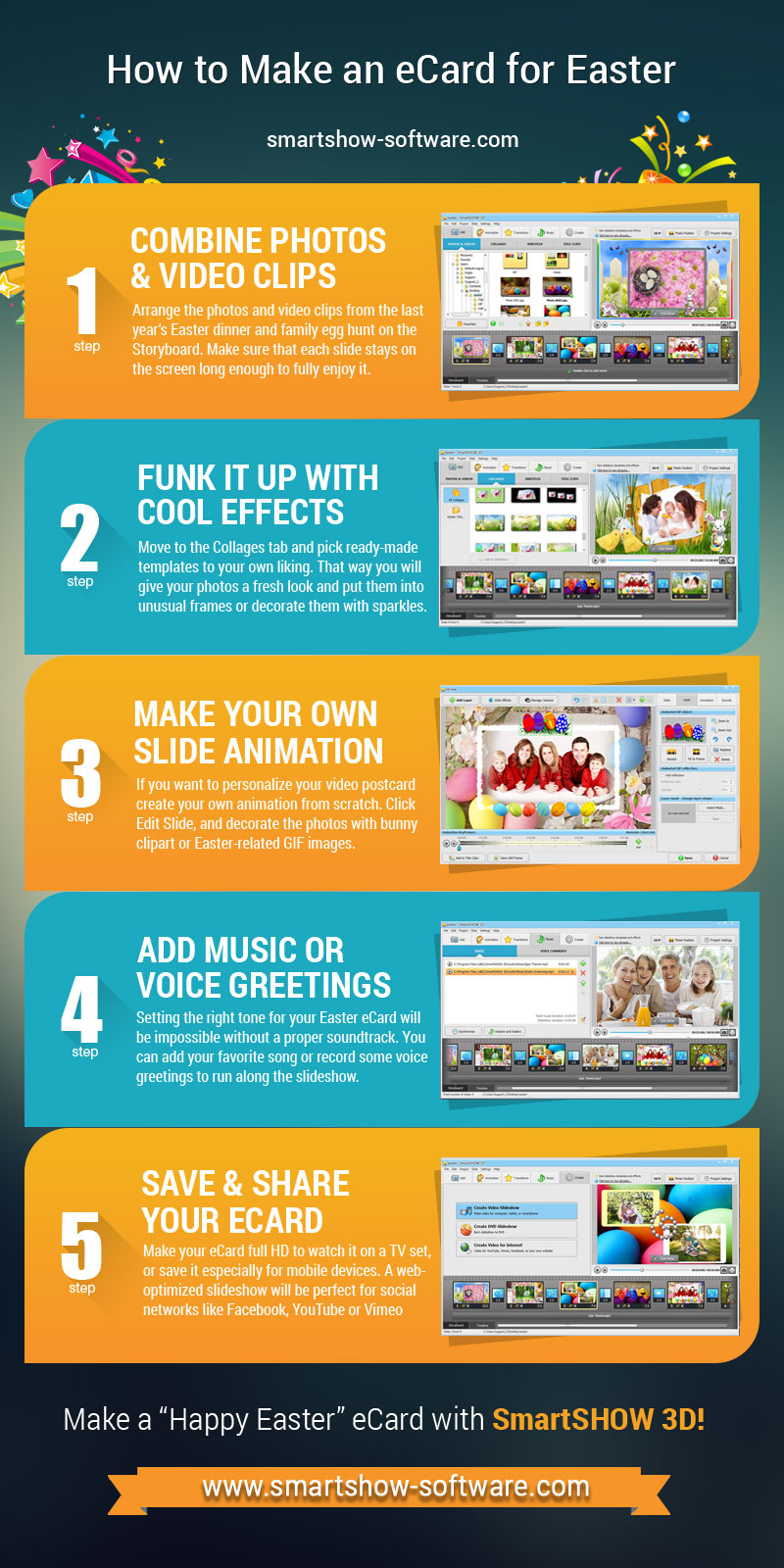 Step 1 – Combine Photos & Video Clips
With SmartSHOW 3D: http://smartshow-software.com, you can easily mix your family photos and video clips, and create a memorable eCard for Easter. Once you've chosen the pictures you want to use, arrange them on the Storyboard. They can depict the events of the last year's Easter dinner and family egg hunt, or just follow one another to blend into a gorgeous slideshow. Before applying any effects or creating stunning video collages make sure that each slide stays on the screen long enough to favorably showcase all the pictures and clips it holds.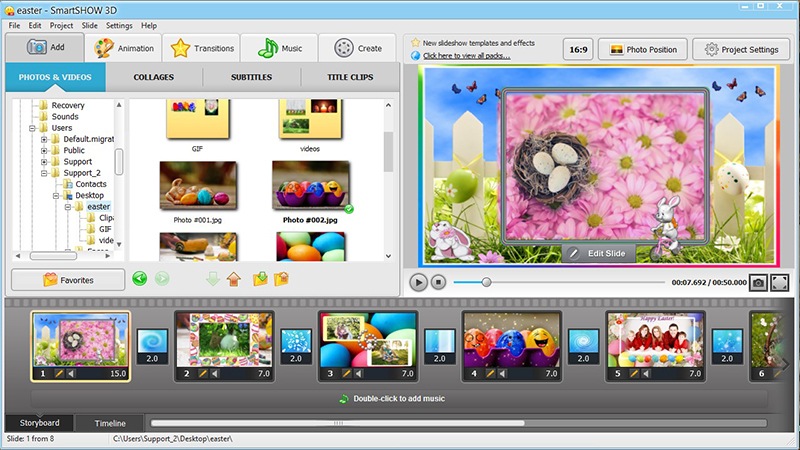 Step 2 – Funk It Up with Cool Effects
Creating a festive atmosphere is all about picking spectacular effects and applying them to your photos and video clips. To follow this tip on how to make an eCard, switch to the Collages tab and pick some slideshow templates that fit the occasion. If you're looking for more effects, move to the Animation tab and you'll find the best tools to give your pictures and video clips a fresh look – make them change colors, flip them vertically or horizontally, and decorate them with brilliant sparkles.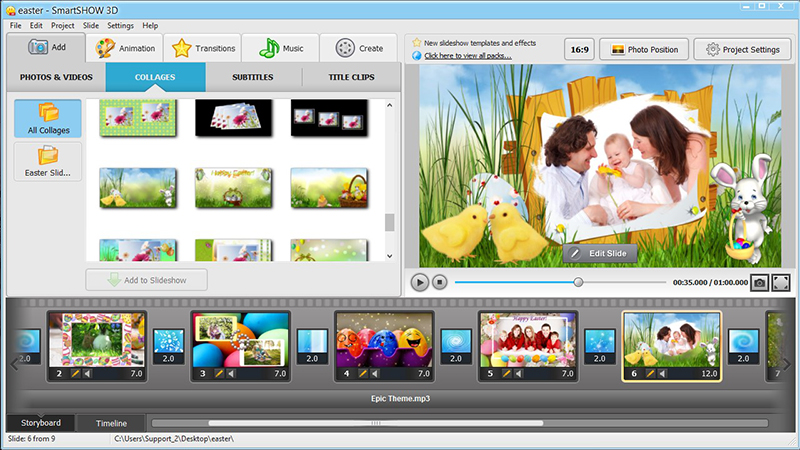 Step 3 – Make Your Own Slide Animation
Those who want to make a more elaborate eCard wouldn't settle for ready-made effects and predesigned slideshow templates. If you're ready to further personalize your video greeting card, create your own Easter-related animation. Click Edit Slide and make booming effects step by step. Position your picture or video clip on the slide, accompany them with bunny clipart or GIF images, apply some stunning photo filters, add animated text captions sending your kindest wishes, drop a shadow or reflection, and lay focus on the chosen fragments of your video collage by zooming them in.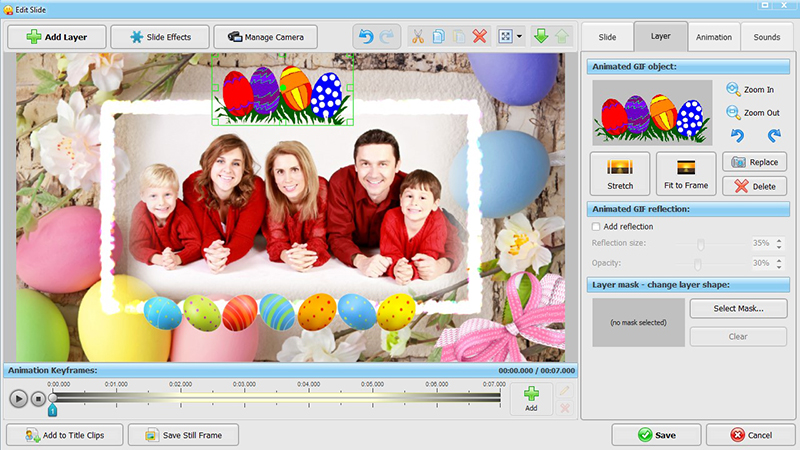 Step 4 – Add Music or Voice Greetings
The main difference between a regular postcard and a video greeting card is a chance to spice up the latter with some cool music. Don't waste this opportunity and add some soundtrack that you associate with Easter. Whether it's a lyrical melody or your favorite folk song, it'll make the footage more dynamic and the whole story behind the chosen pictures much more personal. As a finishing touch, you can record greetings via microphone and place them on the Timeline to accompany the photos in your eCard. Your family will be glad to receive seasonal wishes in the form of a musical video card.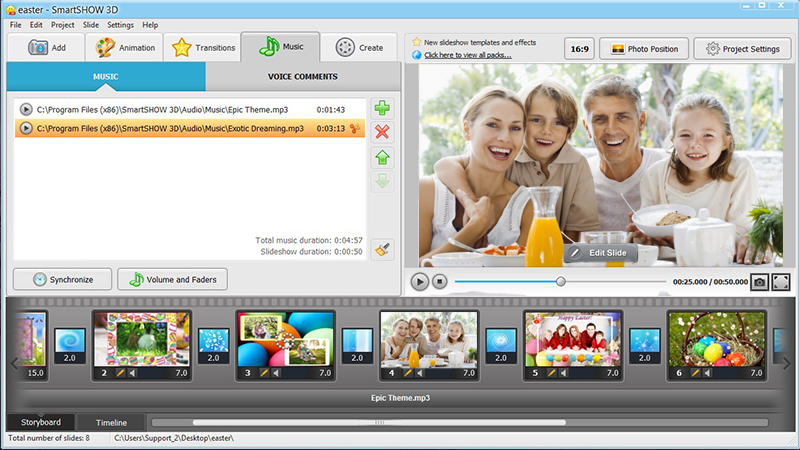 Step 5 – Save & Share Your eCard
Now that you've learned how to make an eCard for Easter, it's time to decide how to share it with your loved ones and choose a suitable format for the video greeting card you've been working on. Make it full HD so that your absent relatives will be able to watch it on a large TV set, or save it especially for mobile devices to play your gift on their smartphones. A web-optimized video slideshow will be perfect for social networks like Facebook, YouTube or Vimeo. You don't have to fiddle with any options, just choose the best video format, and the app will do the rest.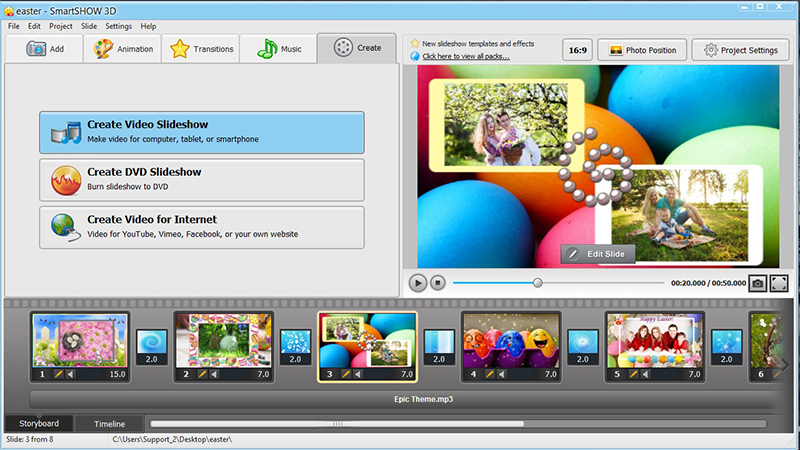 These are the tips on how to make an eCard with your family photos and share the beauty of the approaching holiday with your dear ones. Your family and friends are sure to adore these video greeting cards loaded with special Easter wishes and lots of love. Let them know eggs-actly how you feel with beautiful gifts made with your own hands!