Top 5 Personalized Gift Ideas for Father's Day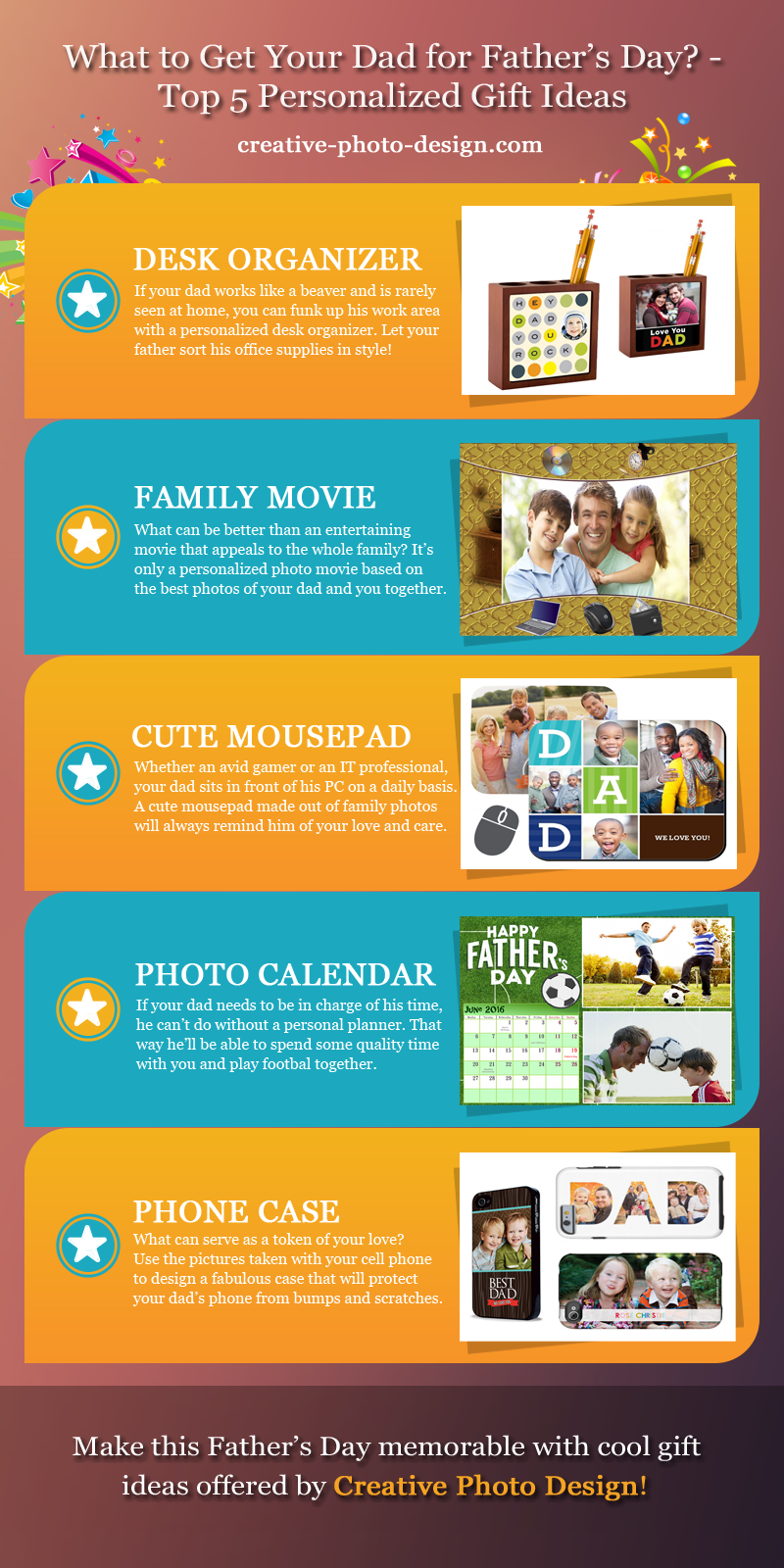 Preparing for Father's Day can become a real challenge. Sure thing, you can pick up your dad another tie that he'll never wear or "World's Best Dad" coffee mug, and he probably wouldn't make a fuss, but why not get him something special this year? After all, it's the guy who spoonfed you, built you a tree house, and told you sweet bedtime stories. To help you in the ideas department, I've put together the list of personalized gifts for Father's Day that your dad really deserves. Click the "Read More" button and see how to surprise your father in the best-possible way!
Desk Organizer
Nothing says Happy Father's Day like a handmade gift from the heart! If your dad is always fighting through the clutter on his working desk to find necessary office supplies, then present him a desk organizer so that he can keep pens and pencils close at hand! Using a cute family photo in the organizer design will certainly make your gift even more meaningful. Not only will your dad clean up his desk and arrange all the writing utensils, he will also beautify the work area and think about his loving family throughout long hours at the office.
Family Movie
This personalized gift idea for Father's Day will be perfect for those families who can't imagine their life without cinema. All you need is a bunch of photos, a couple of your dad's favorite tunes, and a quality slideshow application like SmartSHOW 3D. In just a few minutes, you can knock out a great holiday project using a set of Father's Day templates: http://smartshow-software.com/fathers-day-slideshow-templates.php. Gather in front of a TV set and play your slideshow gift, but make sure to grab a tissue box beforehand – there will probably be tears of joy when it's showtime!
Cute Mousepad
Here's another personalized gift idea for Father's Day, which will suit the tastes of a tech-savvy dad. He may spend a great deal of time sitting at his desk, so it's important that his workspace feels a little more like him. You can gift him a family photo in a beautiful frame, but a customized mousepad featuring the same picture is more likely to add a one-of-a-kind touch to your dad's working area. It seems like a small thing to present for Father's Day, but we use computers all day long – how much fun will it be to look at a favorite photo to remind of loved ones waiting at home?
Photo Calendar
Perhaps your father has his hands full at the office, and you miss all the quality time spent together. To help him navigate through numerous daily tasks, you can gift him a hand-made calendar created with special software like this one: http://photo-calendar-software.com. Be it a monthly or yearly planner, horizontal or vertical design, make sure it combines best shots and brings only positive emotions which are vital during long working hours. Armed with an awesome personal planner, your father will surely find some spare time to spend it with his family.
Phone Case
We live in interesting times when a cell phone is both a useful gadget and a part of one's individual style. These small tool comes everywhere with us, and being slung into various handbags and backpacks can take its toll. Among all other personalized gifts for Father's Day, a phone case is the greatest way to share favorite memories in a rather small form. If you want to dress your dad's smart phone in snaps for protection, at least make it with style! The nicest photos taken from your family album will help you create a unique and personal gift.
Make This Day Special for Your Dad
Whether you're a child of a super hero dad, an adventurous dad, a sports dad or a chef dad, they totally deserve to be treated to something special this year! Here I've tried to collect some perfect gift ideas for Father's Day that will help you create something memorable and unique. I hope I've shown you that you don't have to splash the cash to get your father an excellent keepsake, put your heart into a present, and your dad will appreciate your love and care.