5 Creative Calendar Designs for 2017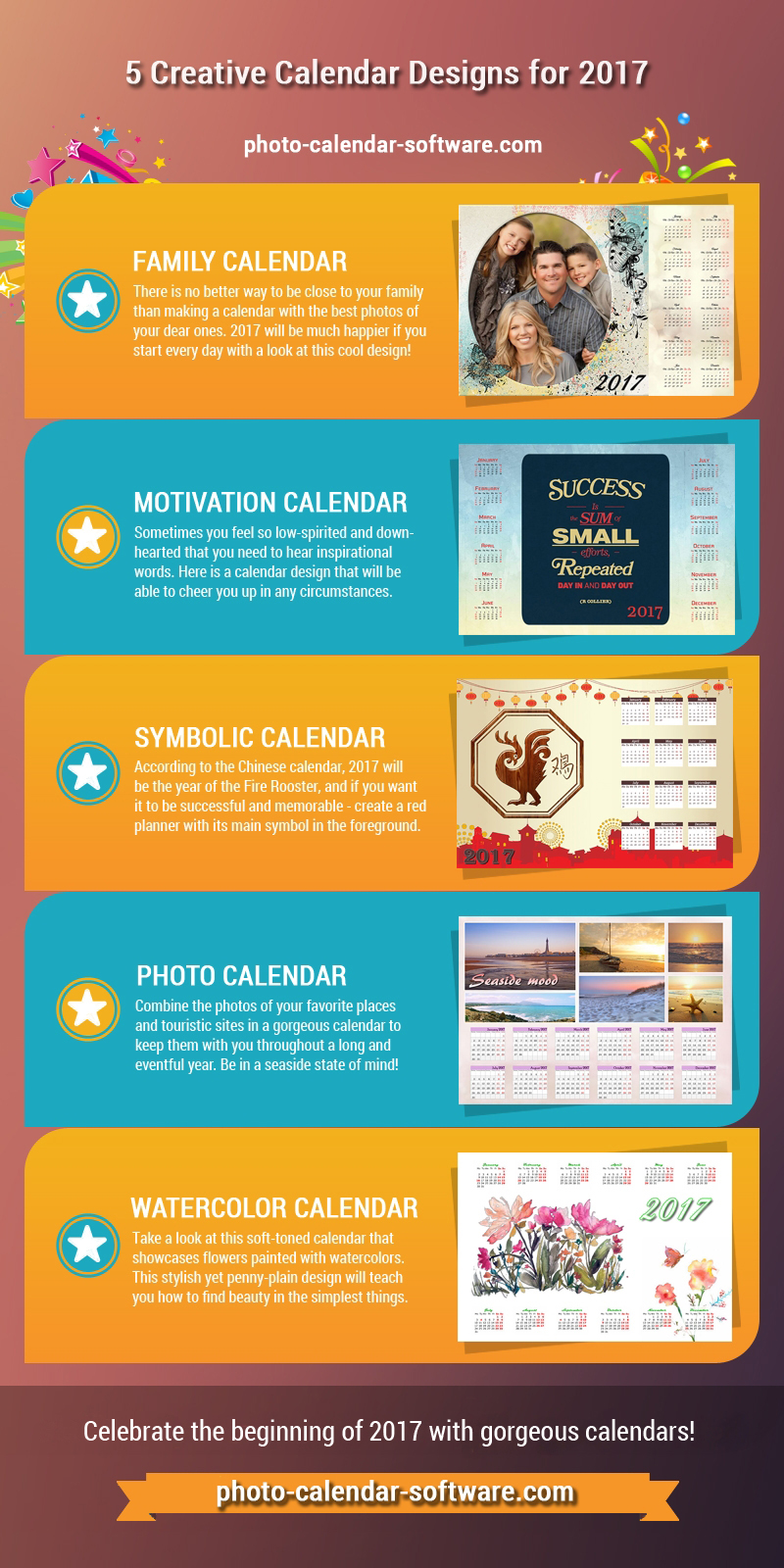 It's late December and we are near the end of this year, which means it's high time to make last-minute preparations for 2017. On that note, it'll be great to create personalized calendars to give to your family, friends and colleagues, or just to enjoy their beauty and efficiency yourself. If you're searching for inspiration, don't overlook the compilation of design ideas I've made for you. From minimalistic to funky and fabulous, these creative calendar designs for 2017 will make you look forward to a new year. Stick around to see beautiful calendar examples and get charged with enthusiasm!
In this showcase of great calendars I've tried to present unique and innovative approaches to one of the most traditional products. Today most calendars are designed in a standard fashion, and we can't see any creativity in them. Luckily, calendar making applications like http://photo-calendar-software.com give you a chance to realize your boldest ideas in the form of cool planners and share the resulting printables with your loved ones, colleagues or customers. From this post, you'll get a better idea of how to make a customized design that stands out from the rest.
Family Calendar
This collection of creative calendar designs opens up with a stylish family calendar. If you bring this design to your office, you'll be able to start every workday with a look at the best photos of your dear ones. This design combines a soft-toned background image, elegant frame and beautiful cliparts that highlight the chosen picture and make a great composition. What's more, such a calendar helps you keep all the appointments and commitments in one place, as well as control their accomplishment. Commit to using a family calendar as a way to be more organized!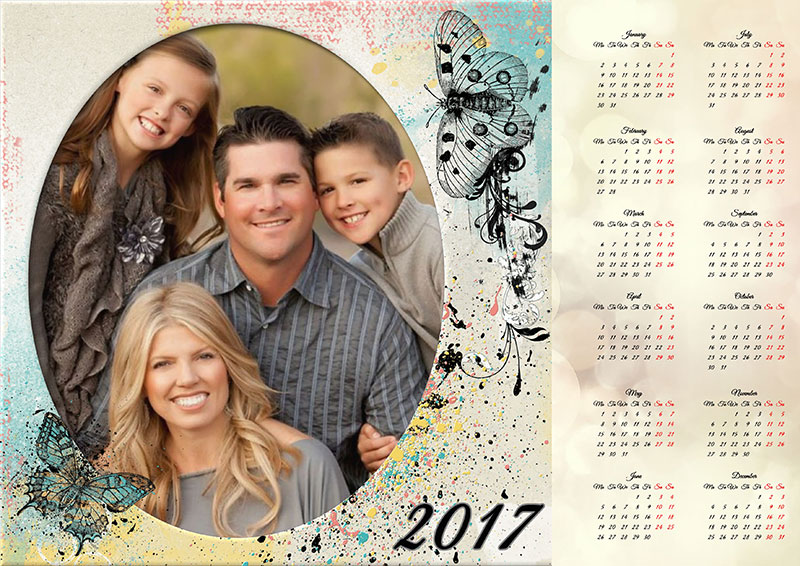 Motivation Calendar
Here's another calendar created in a more appealing manner. You should keep in mind though that a peculiar design isn't a recipe for success. However classy and stylish it may be, a great calendar should always remain usable. The bigger part of this motivation calendar is taken by an inspirational quote that can cheer you up even in a tough situation. If you've decided to make a similar design with your own hands, use contrast colors and bold fonts so that motivation words will instantly catch the viewer's attention and set them on the right path.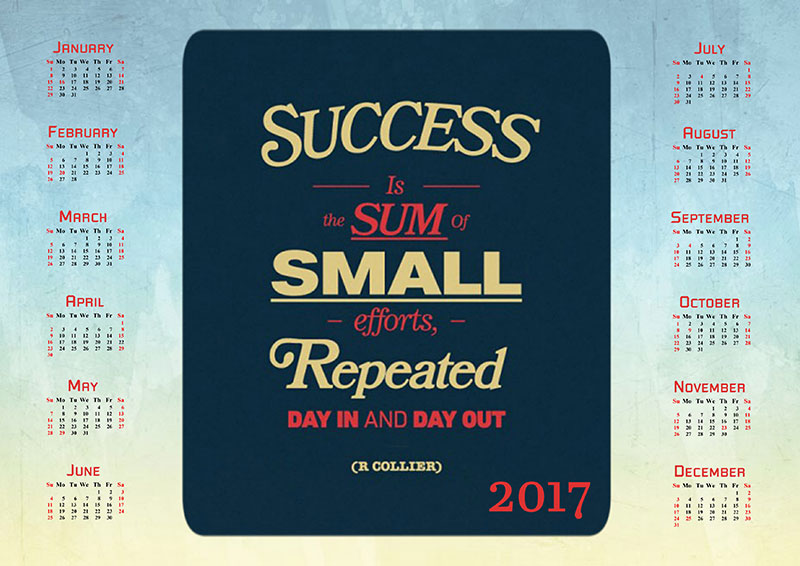 Symbolic Calendar
As the Chinese horoscope says, 2017 will be the year of the Fire Rooster which is the sign of triumph and success. If you follow Eastern traditions and want this year to be prosperous for you and your family, you should definitely make a calendar with the year's symbol. Like other tokens of the Chinese culture, this design blends different tones of red and yellow, and includes themed cliparts representing paper lanterns and the peculiar roofs of traditional houses. While working on your custom calendar, try to be moderate, though, and don't overfill it with distracting details.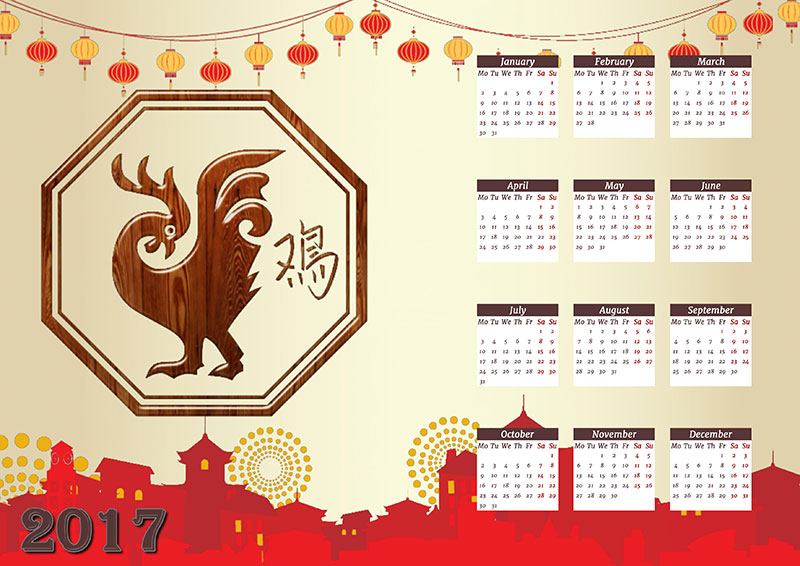 Photo Calendar
The list of creative calendar designs wouldn't be complete without a collage calendar made of some themed photos. This one revolves around a seaside vacation and creates a romantic mood. You need just to combine the pictures of your favorite places into a gorgeous calendar and keep them with you throughout a long and eventful year. You can also realize this idea in the form of different calendar types. Whether you choose a wall poster, booklet or desk calendar, the design you make will evoke the best memories and walk you through the sites holding a special place in your heart.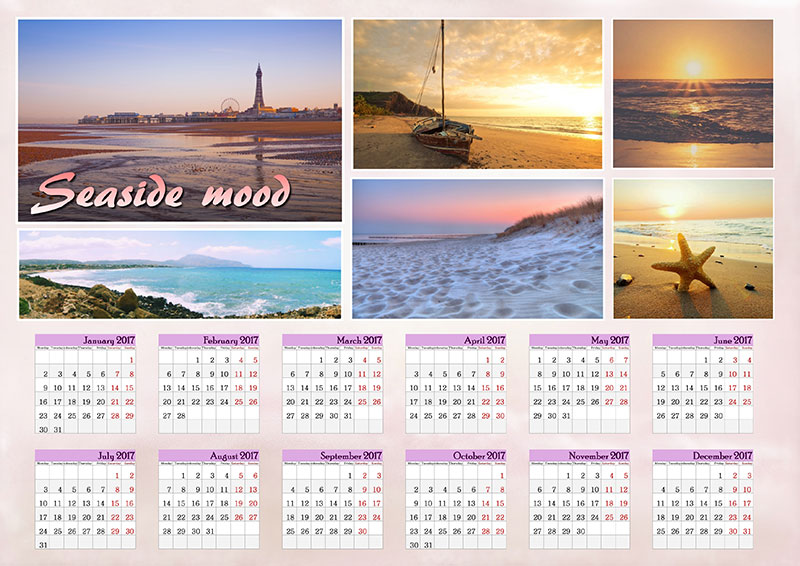 Watercolor Calendar
Looking for a softer and more elegant calendar design? Pick some watercolor pictures depicting flowers, landscapes or urban panoramas and send them into the background of your calendar. This way you'll get a refined design that perfectly fulfills its main function – helps you organize your time wisely and keep track of the most important events in your life. With such a penny-plain yet lovely calendar, you'll find beauty in the simplest things and share joy of planner design with others!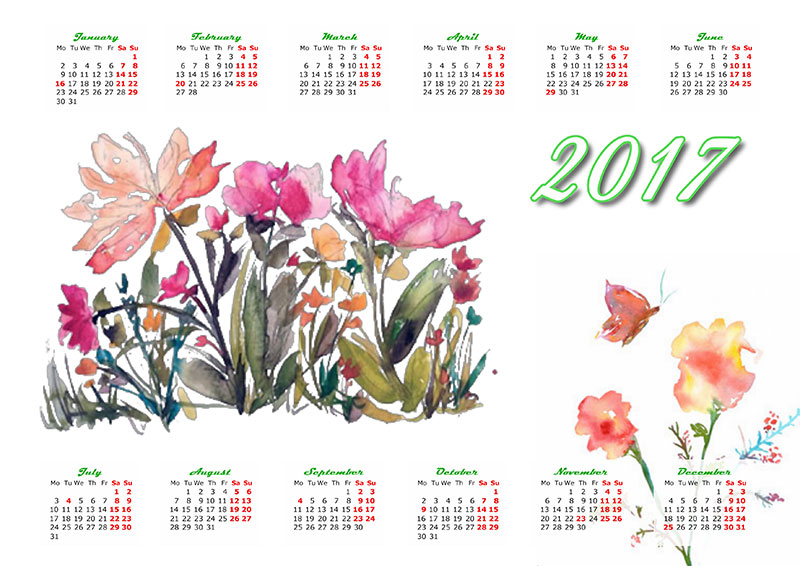 The creative calendar designs I made are just a small part of all the designs you can easily make yourself with the help of special applications like Photo Calendar Creator: http://photo-calendar-software.com. Feel free to experiment with calendar types, their sizes and color palettes, and share your custom designs via social networks or present them to your dear ones. Hope you've found this post helpful and managed to whip up your own calendar for 2017!