5 Tips for Killer Travel Slideshows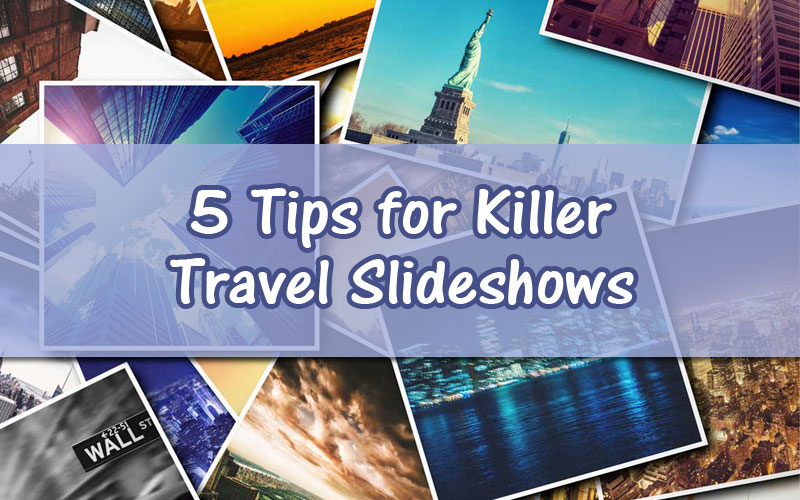 Getting home from a holiday trip you bring new emotions and memories captured in photos. It's only natural that you want to share your joy with friends and family, and what's a better way than making it with a cool slideshow? Here you'll find many useful tips on how to make a killer travel slideshow to impress your audience and showcase your photos in an entertaining way. Keep on reading, and in the end you'll see an eye-catching example of such a photo story made with SmartSHOW 3D software!
Tip 1 – Tell Your Photo Story in a Creative Manner
When you start working on your travel photo slideshow you should think over the story you want to tell and the emotions you plan to convey. It's really important as your viewers won't tolerate yet another meaningless footage of all the pictures you captured. So let's try to entertain them! The general rule of thumb is to avoid predictable chronological narrative and guide your audience's attention by mixing spectacular video clips and images the way they don't expect.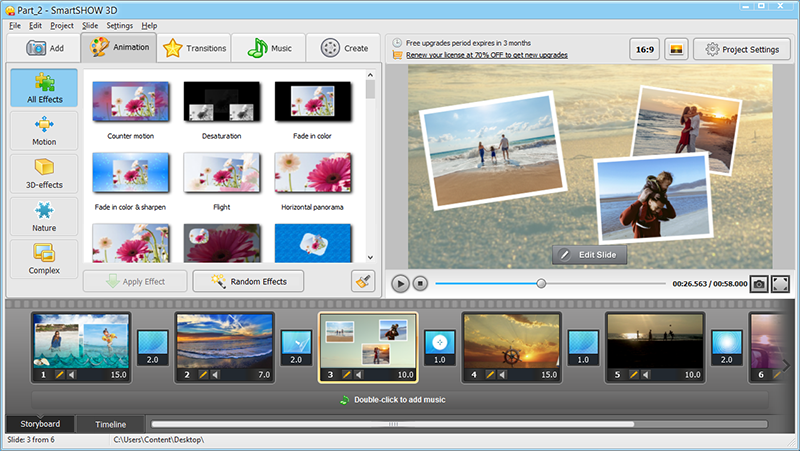 Tip 2 – Support the Storytelling with Transitions
You won't make a smoothly flowing slideshow without proper transition effects that bring together time lapses, photo collages, video clips and panorama shots. Play with various types of transitions to achieve the best result. For example, make it look like someone's invisible hand is turning the pages of your digital photo album, or blend your slides together by blurring the borders between them. A variety of transitions will also highlight the difference between the photos depicting people and sceneries.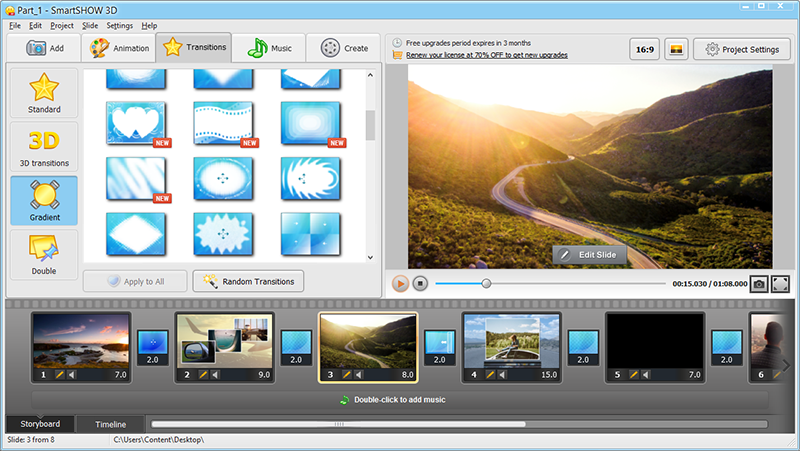 Tip 3 – Apply Special Effects to Brighten Up the Story
Special effects, when used in a balanced and elegant way, add a new dimension to your slideshow or photo movie. In this case, you can use some ready-made travel slideshow templates or create your own animation from scratch. Use GIF images to build an animated itinerary, add water drops to the screen like splashes coming from the sea, and recreate a camera flashlight to make all your shots look as fresh as if they were just taken. These little touch-ups will make the whole difference.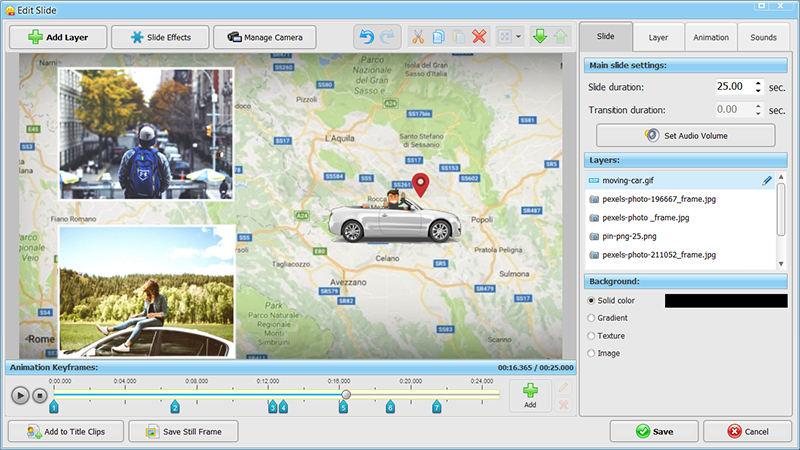 Tip 4 – Pick the Right Tune to Convey the Emotions
When choosing travel slideshow music, keep in mind that your soundtrack should play along with the photo story you're trying to tell. Pick energetic tunes to showcase photos of you climbing the mountains or sailing in the sea. Soft and calm music will be perfect for scenery photos and pictures of you walking the street of some town. You can also combine songs, voiceless melodies and various sounds on the Storyboard to achieve the best effect.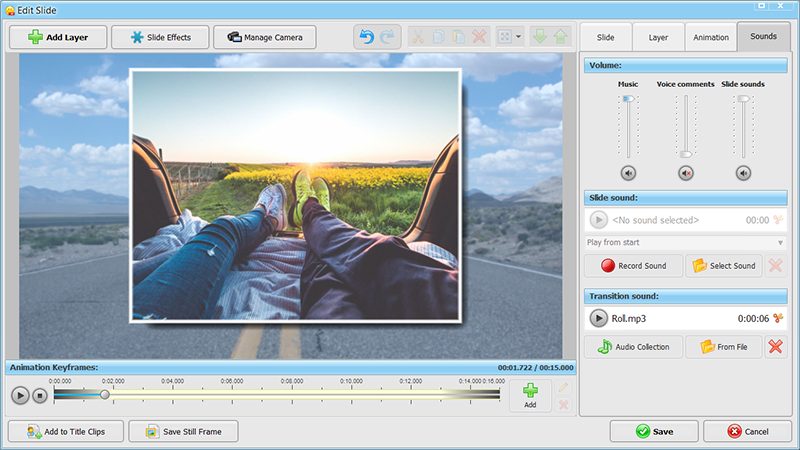 Tip 5 ­– Make Your Viewers Wait for More
When taking viewers to a virtual tour around the places you visited, think about the total duration of your travel slideshow. Shorter is definitely better so there's no need to repeat the same images as it ruins the effect they provide for the first time and bores your audience. Before showcasing your slideshow to the viewers, take one more look at the photos you've chosen and ask yourself a question – "are there any pictures I can store up for the next time?"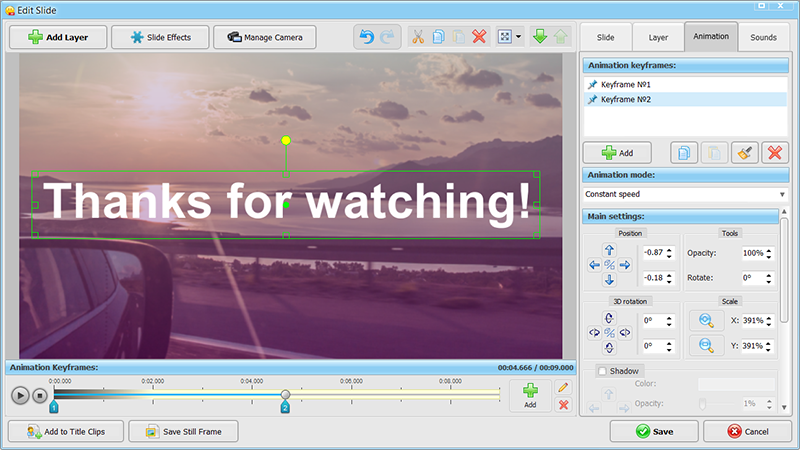 As I've promised you earlier, here's an exciting example of a travel slideshow made with SmartSHOW 3D software: http://smartshow-software.com. This application provides both professionally designed templates and tons of special effects that you can apply to pictures to your own liking. Click Play and set off on a virtual journey around Italy!
So how do you like this travel slideshow? Share your ideas and emotions in the comments!