Best Slideshow Making Software: Top 7 Programs to Get Started With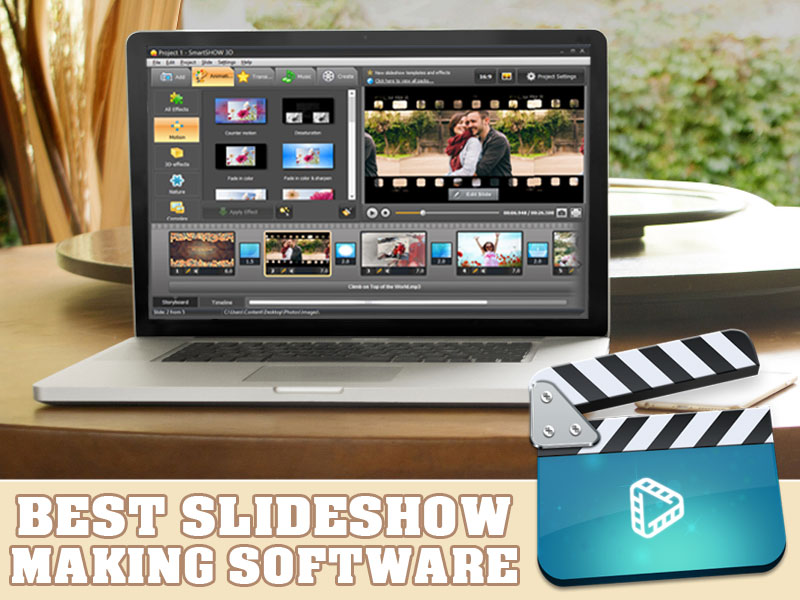 Have been to many places? Seen a lot of things and met interesting people there? Then you probably have tons of photos that captured these events in your life. These pictures don't have to end their days on your computer or in a photo album. Have you ever thought that they are a perfect base for an entertaining photo movie? Check out this list of the best slideshow making software for Windows and pick the one that will help you bring even the most daring creative ideas to life!
1. ProShow GOLD
This one is probably the best-known program for creating slideshows of different kinds. Providing powerful features, this software comes with additional mobile apps and is capable of turning bland pictures into stunning movies. Play with built-in effects and royalty-free music tracks, create 4K or Blu-ray videos and share them on popular social networks. Learn more about the software and get yourself a free trial: http://www.photodex.com/try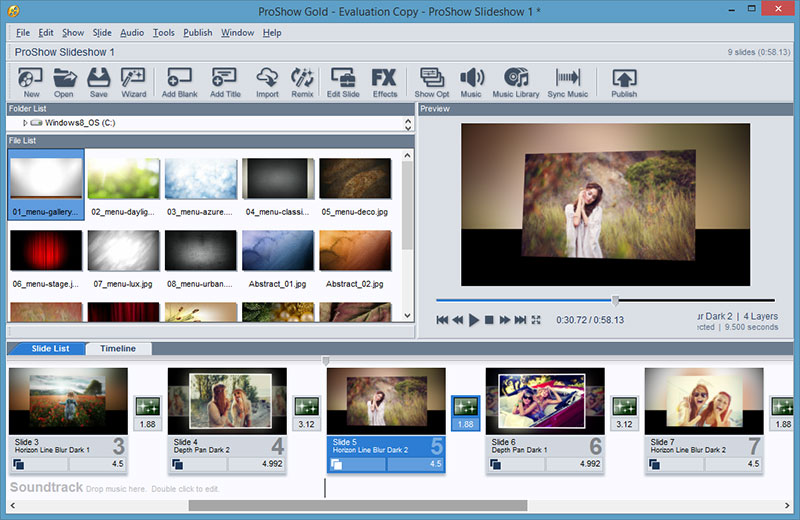 Pros
Photo editing tools
Great transitions pack
Vast collection of special effects
Built-in music library
HD output formats
Cons
Too small icons of the interface
Not so many text editing functions
2. iSkysoft Slideshow Maker
This program offers two modes – Standard with pre-designed templates and Advanced for picking your own effects. Once you've uploaded photos into the program, move to the Personalize tab to adjust their brightness, apply various filters, add credits and text captions. With the audio trimmer feature, you'll be able to change the duration of music tracks and record voice-overs with minimum fuss and bother. Check out a free version and make up your mind: https://www.iskysoft.us/slideshow-maker/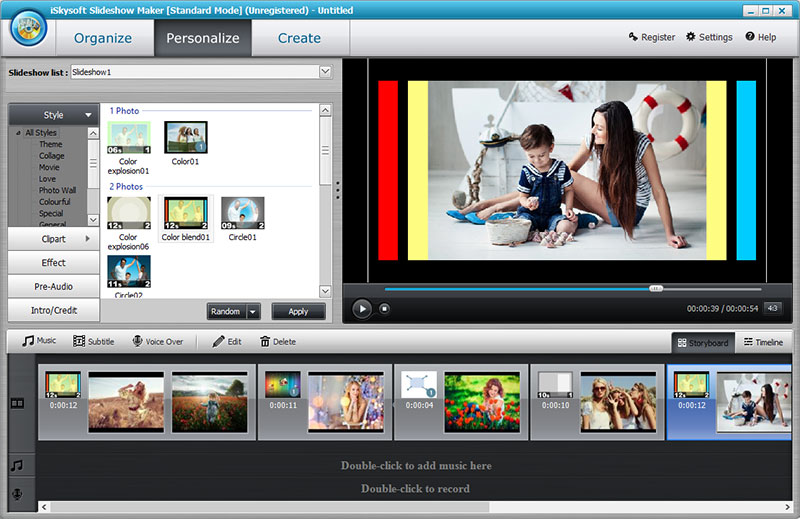 Pros
Two modes for newbies & experienced users
Self-explanatory interface
Wide collection of themed collages
A set of cute animated cliparts
Many sound and audio effects
Cons
No built-in music
Slow slideshow creation
3. SmartSHOW 3D
SmartSHOW 3D stands out from other slideshow making software as it's unbelievably easy to use and doesn't require hours to master. Even newbies will have no problems mastering its numerous functions and will be able to combine photos and video clips in their very first slideshow. There're plenty of 3D collages for various occasions, animation presets, a virtual camera, realistic snow and fire effects, built-in music tracks, and much more tools right at your fingertips. Get started with http://smartshow-software.com/download.php and see for yourself that slideshow creation isn't a challenge.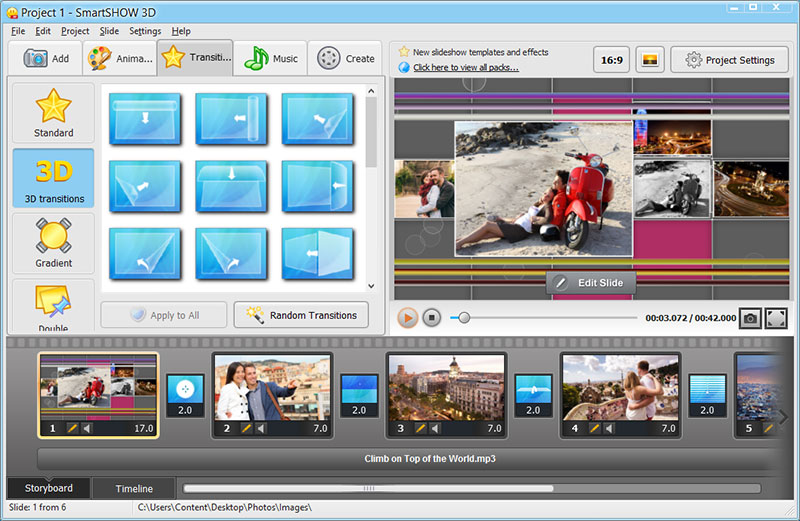 Pros
User-friendly interface
"Slideshow in 5 Minutes" option
Eye-catching 3D animation
Vast collection of themed titles
Watermark feature
Transfer slideshow projects to another PC
Cons
Some effects are a little bit old-fashioned
Slow creation of long & overstuffed slideshows
4. Movavi Slideshow Maker
This piece of software provides a handy timeline to position your photos and plenty of editing functions to touch them up. But what I like most about the program is its vast collection of transitions! Divided into several groups, these effects smoothen borders between the slides. What's more, you can upload your final video to popular social networks right from the program window. Download your trial version https://www.movavi.com/photo-to-dvd-slideshow/ and try your hand at slideshow creation.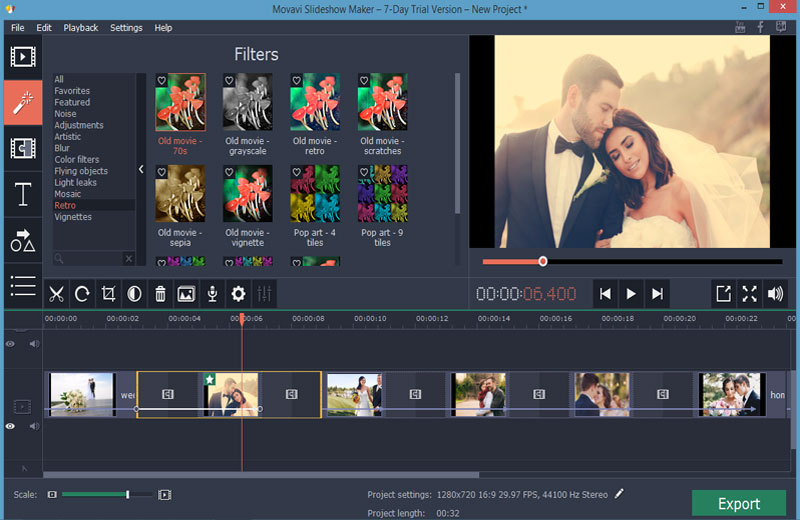 Pros
Lots of audio/video/image formats supported
Large gallery of transitions
Many callouts of different styles
Vertical video editing
Auto horizon leveling
Cons
Cranky full-screen functionality
Occasional text glitches
5. Magix Photostory
Magix is one of the top slideshow making software products as it offers lots of brilliant functions and still retains the fun aspect of creating a photo story. Its travel route animations are perfect for making a slideshow about your latest trip. Mark the default map with all the places you've visited or play with movie templates to add some dynamics. Get your free trial here: http://www.magix.com/us/photostory-on-cd-dvd/deluxe/
Pros
Powerful editing toolkit
Amazing slideshow presets in various styles
Travel route and map animations
Panorama montages and 360° footages
Import photos and videos from the Cloud
Supports all popular camera formats
Cons
Slow installation and export
An additional fee for phone tech support
6. PhotoStage Slideshow
Who says that the best slideshow making software must be overcomplicated? You'll catch more flies with honey than with vinegar, and PhotoStage Slideshow is more than true to this statement. Working with both photos and video clips, this app is equipped with all the essential and creative tools for adjusting the chosen materials and making them more eye-catching. Learn more about the program here: http://www.nchsoftware.com/slideshow/index.html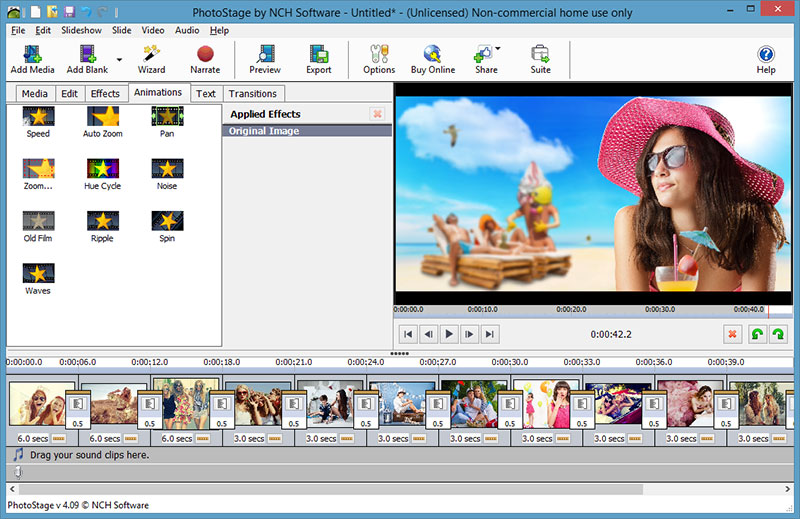 Pros
Easy drag & drop system
Quick slideshow creation
Vast collection of funny transitions
Record narrations and mix with audio tracks
Text caption layouts
Numerous input & output capabilities
Cons
Paid support
Not so many animations & effects
7. CyberLink MediaShow
This multi-functional program combines the basic functions of a photo editor and a slideshow maker, as well as provides its own unique features like FaceMe technology (portrait photography recognition) or Calendar view for your photos with timecodes. Thanks to fast folder browsing and an extensive media library you'll be able to get a proper look at your pictures right in the program and pick the best ones for telling your photo story. Get started with a trial version of the software and get the hang of its features: https://www.cyberlink.com/products/mediashow/overview_en_US.html?&r=1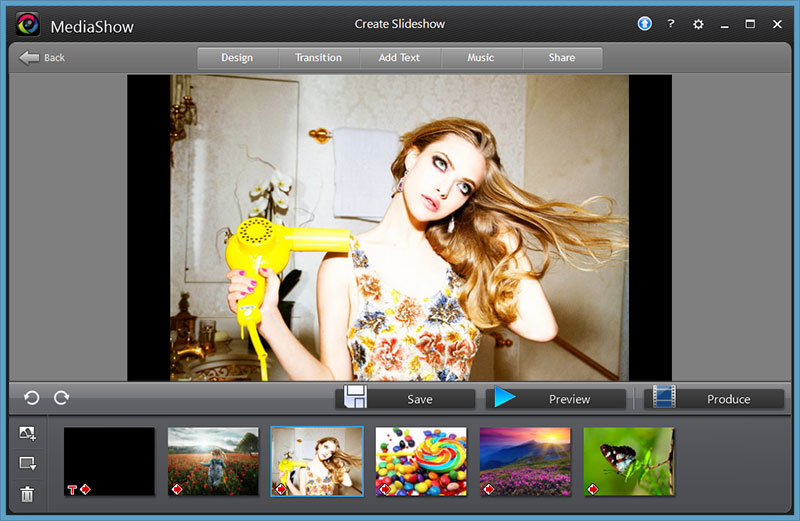 Pros
Convenient and intuitive interface
Sort your photos into tagged albums
Face recognition tool
Calendar view for timecode stamped photos
Advanced online sharing tools
Cons
Lack of built-in editing functions
2-month phone support for an additional fee
So that's my list of the best slideshow making software that can be of great help for a newbie who isn't quite sure where to start and a person who is working on their yet another photo project. Hope this review will back you up in your search for a perfect slideshow creator. Be creative, try these applications and share your impressions in the comments!