How to Create a Birthday Reminder Calendar
There can't be a worse situation than the one when you forget about someone's birthday. It certainly goes to the celebrant's heart and makes you feel extremely uncomfortable. So are you still trying to figure out how to remember all the important birthday dates? However great and useful smart phones really are, some of us still need a visual reminder. A great alternative to digital planners is a printable calendar for a month or a year that will help you get back on track. Keep on reading to learn how to create a birthday reminder calendar and treat you dear ones to well-deserved gifts.
The calendars you can buy in regular stores don't give many chances for customization. Probably you'll be able to write a reminder in a blank box or put a sticky note to its surface, but these add-ons will look rather cheap. What's more, retail planners lack a personal touch. With Photo Calendar Creator http://photo-calendar-software.com, you'll easily make colorful calendar designs, and get enough flexibility to enter names and dates for specific birthdays.
Birthday Reminder Planner
This kind of a birthday reminder calendar can often be seen on my grandma's fridge held with a magnet. She's well into her eighties and not as good at remembering things as she used to be, but she still doesn't want to miss the birthdays of her loved grandchildren (there're six of us, by the way). If you also have no time for memory training, this planner will keep you informed about the coming family events. Since it has a simple structure, you won't have troubles making a new one for the next month. The birthday dates can be added in the application or written after you've printed out the calendar.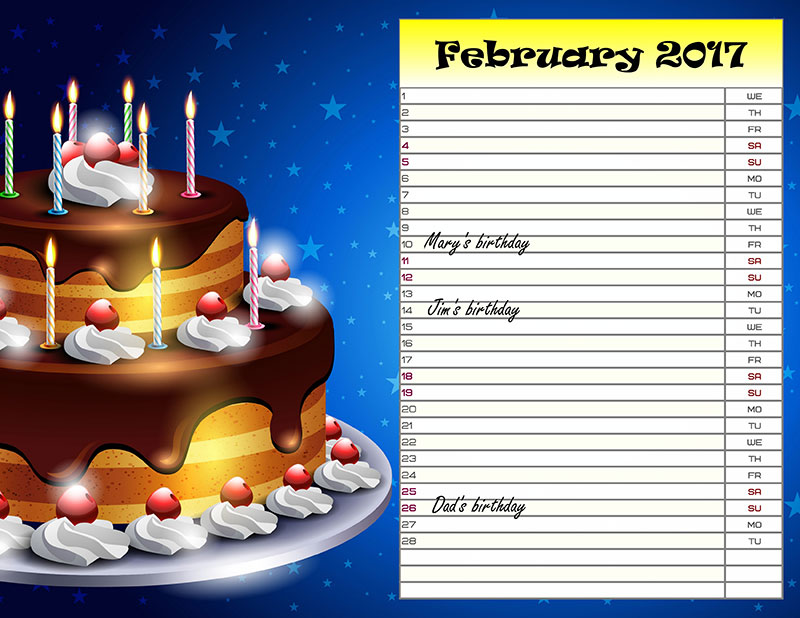 Birthday Calendar with Celebrants' Photos
The birthday calendar with a table grid can also get a permanent spot in your house. It looks fancier than the previous one, but is no more challenging to make with your own hands. Instead of dull written notes you can use the photos of celebrants to mark these family events. Put the chosen pictures into calendar boxes and display whose birthday it is. Once your family start using this birthday reminder calendar you'll never forget about someone's big date, and will have enough time to plan in advance and get the celebrant a gift that will make a 'wow' effect.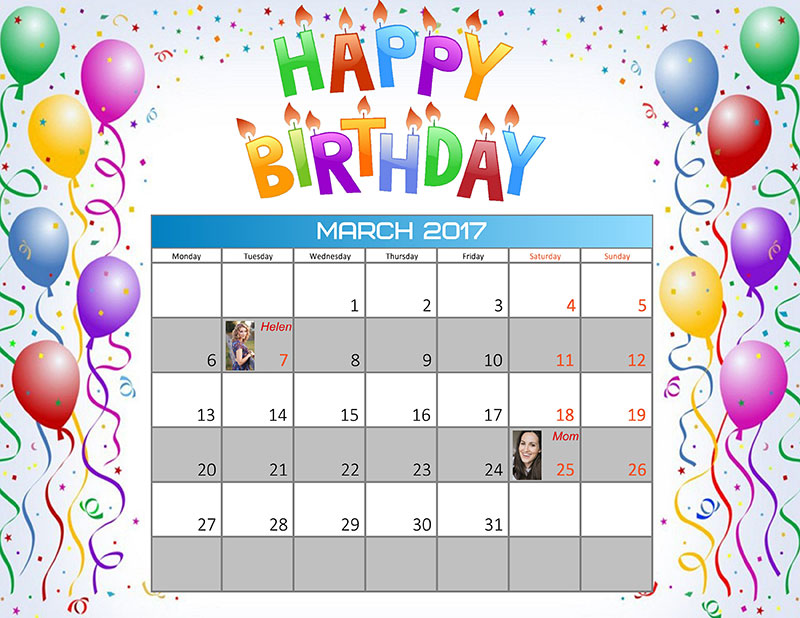 Birthday Reminder Calendar for a Quarter
If you want to create a birthday calendar for several months at once, the best solution is to keep it simple. An exquisite design and plenty of images will make it hard to grasp important information. For example, this quarter template is highly efficient, but still preserves the festive nature thanks to the color scheme and themed background. Organized by months, it tracks birthdays and anniversaries during this time period. The planner can also be used as perpetual. You just need to remove the names of weekdays. If the year is not specified, your birthday calendar will never go out of date.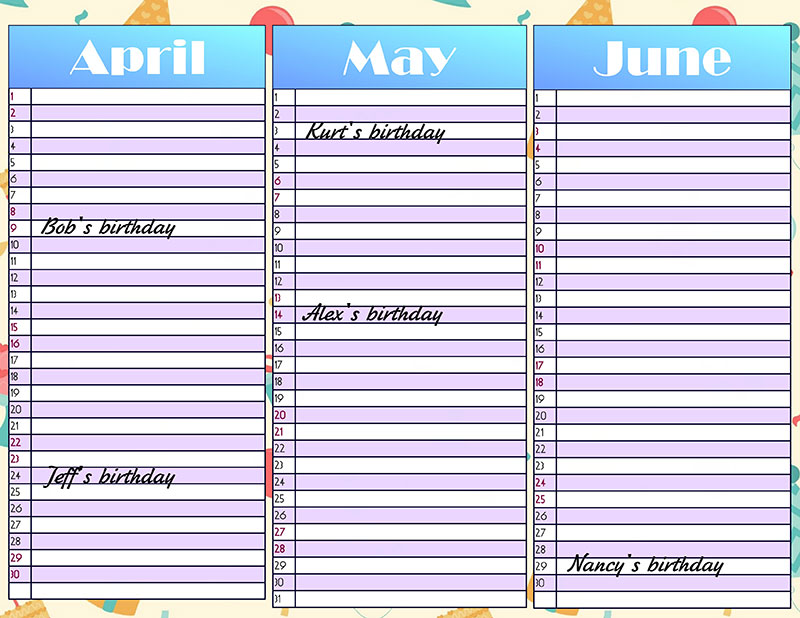 Perfect for recording the birthdays of family and friends, work colleagues and classmates, these birthday reminder calendars help you stay close to your loved ones and never forget such an important event again. Review the planners each month to be reminded to purchase gorgeous holiday cards or even make them yourself. Check out these creative birthday card designs: http://www.creative-photo-design.com/2016/11/28/10-creative-birthday-card-ideas/ and get inspired to make personalized gifts for the most important people in your life!