Valentine's Day Surprise Ideas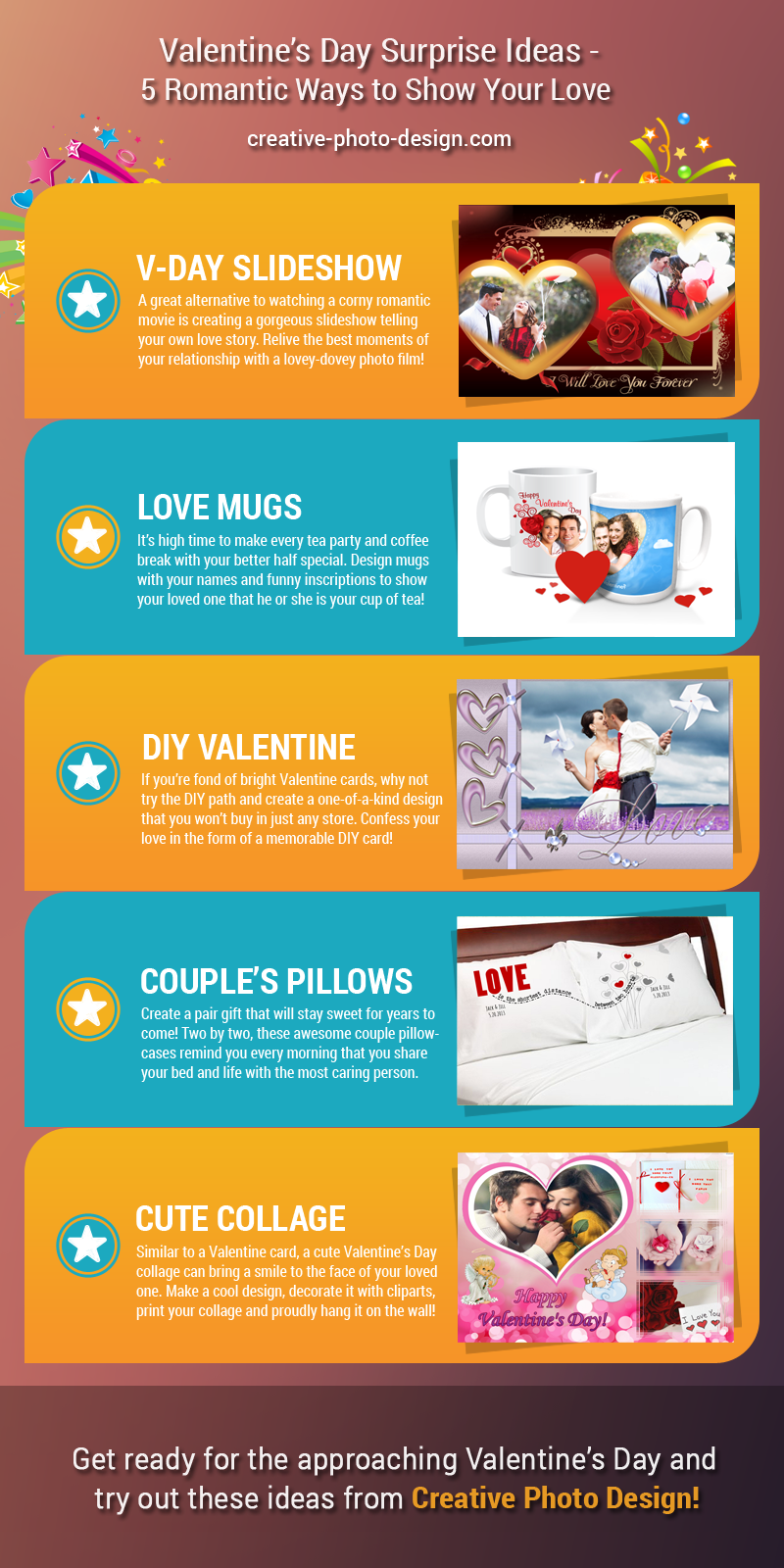 Love is in the air. Chocolate hearts, roses and greeting cards take up the store shelves. It means that Valentine's Day is almost here, and it's time to start searching for yet another gift for your better half. If you really want to be romantic, try to avoid commercial products. Buying a card or a bunch of flowers only shows that you're doing what's expected while going the extra mile to be creative proves that you do care. Here's a piece of infographics that spills five out-of-the-box Valentine's Day surprise ideas. Click on "Read More" and find useful tips on how to realize them.
V-Day Slideshow
For those couples who're captivated with the magic of Hollywood, a Valentine's Day slideshow will be a perfect treat. Before you start asking how to realize this fresh Valentine's Day surprise idea I'd say that there's no better way to awake your inner Steven Spielberg than to get the hang of this creative tool: http://smartshow-software.com. With the help of SmartSHOW 3D software, you'll make romantic and lovely photo movies like a pro!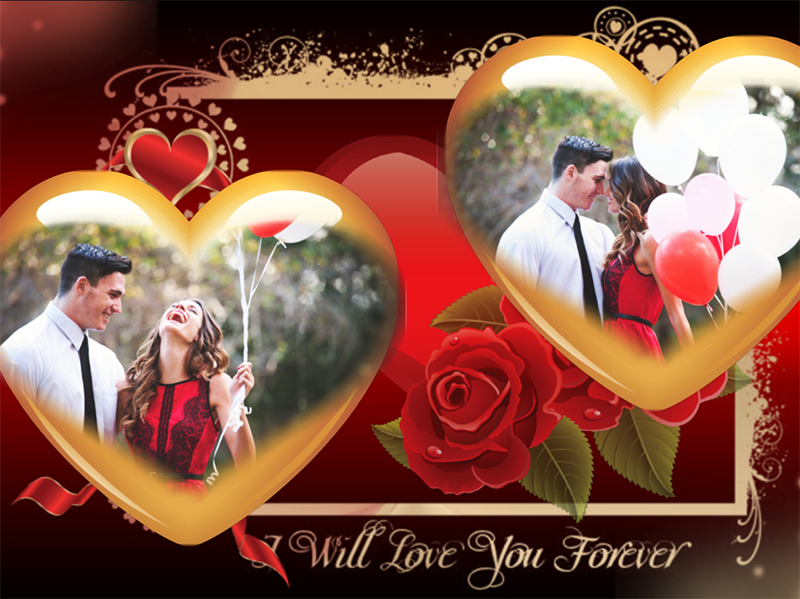 Choose the photos depicting the best moments of your life as a couple, pick themed animated collages, funk up your future movie with stylish effects, add customized text captions and favorite tunes, and be sure that your romantic slideshow will touch the heart of your significant other.
Love Mugs
Who says that you can't enjoy true romance all year round? Sometimes even common things can serve as great tokens of love. Imagine how nice it will be to spend a chill February evening rolled in a warm blanket and holding in your hands a personalized coffee cup, commuter mug or even a frosted stein. As a big fan of custom gifts, I'd still fancy mugs with personal photos as they're fabulous and functional at once. By the way, tea in such a cup is always tastier.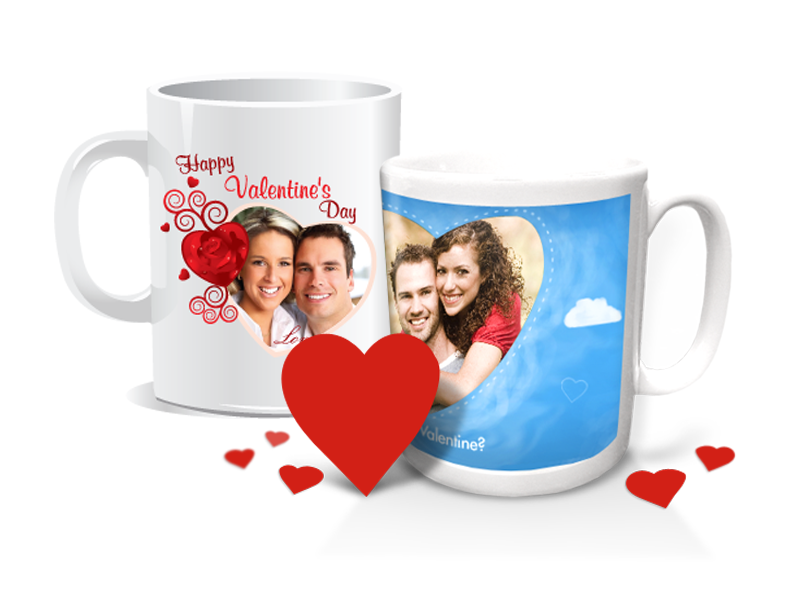 Along with the chosen photos, you can also customize your picture cup with a festive design, border color or title. Whether you decide to do it yourself or go to a special design studio, sweeten the hot cocoa, coffee or tea of someone special with a personalized photo mug!
DIY Valentine Card
February 14 is a very special day designated for loved ones to mark their continuing affection, and there's no better way of doing this than gracing the occasion with arty Do-It-Yourself Valentine cards. Even if you're not a computer savvy person, Home Photo Studio software will easily turn your images into unconventional greeting cards.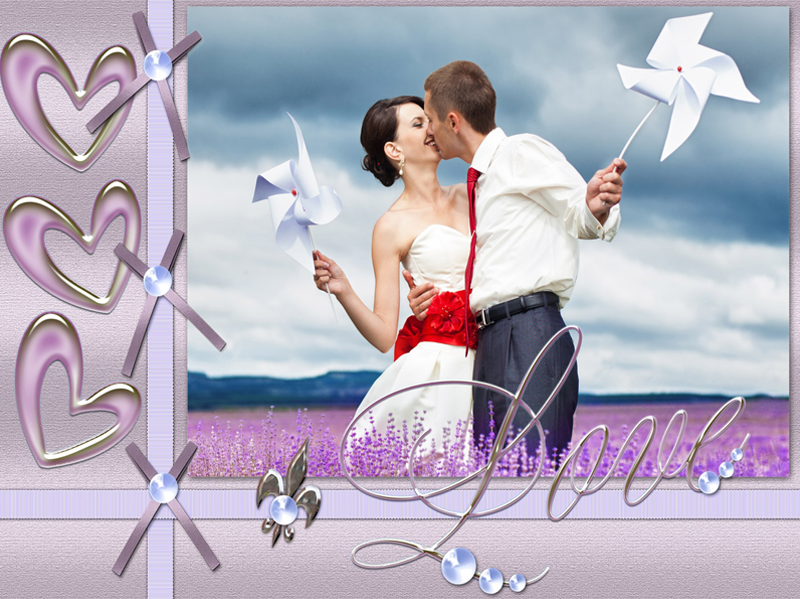 Never before has there been such a user-friendly program to bring to life your boldest Valentine's Day surprise ideas. All it takes is to install Home Photo Studio, insert your pictures into suitable templates decorated with lovely embellishments and enjoy the reaction once you present this DIY card to your Valentine in digital or printed form.
Couple's Pillowcases
If you want to kindle a spark or even a flame in your relationship, you should take into consideration cute Valentines gifts for couples that can spice up the bedroom and express your love. Perfect for girlfriend, boyfriend, husband or wife, the pillowcases with your printed image kill dullness and make life exciting again. Create your design in any photo editing tool and print it on fabric. Give your better half the sweetest dreams with cool bed clothes!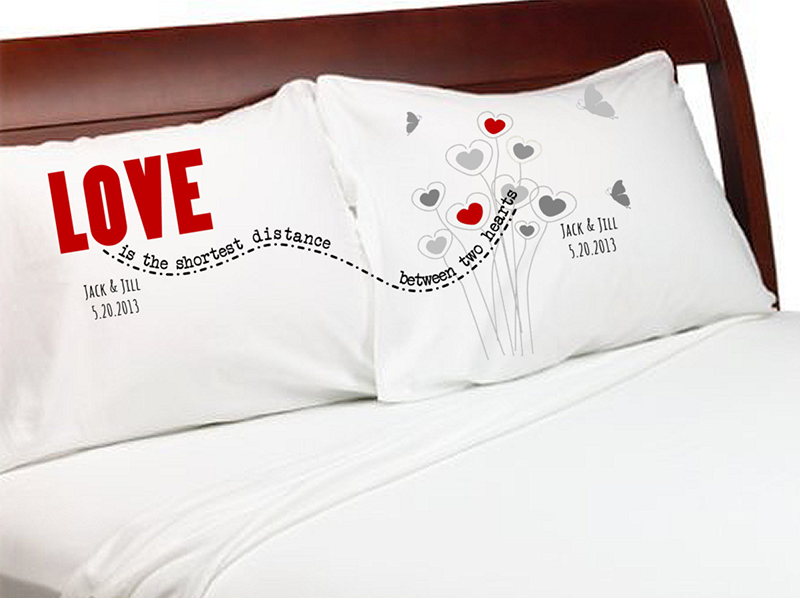 Cute Valentine Collage
Like a Valentine's Day card, a romantic collage can be sent to your loved one via email or handed to him or her in the middle of your date. Created with Photo Collage Maker: http://ams-collage.com, this gift proves that you can go the distance and put a lot of effort into finishing your own design. As it's a collage, it combines several photos, cute cliparts and traditional text captions into a shining present for Valentine's Day. Unleash your creativity and give a new life to your old pictures!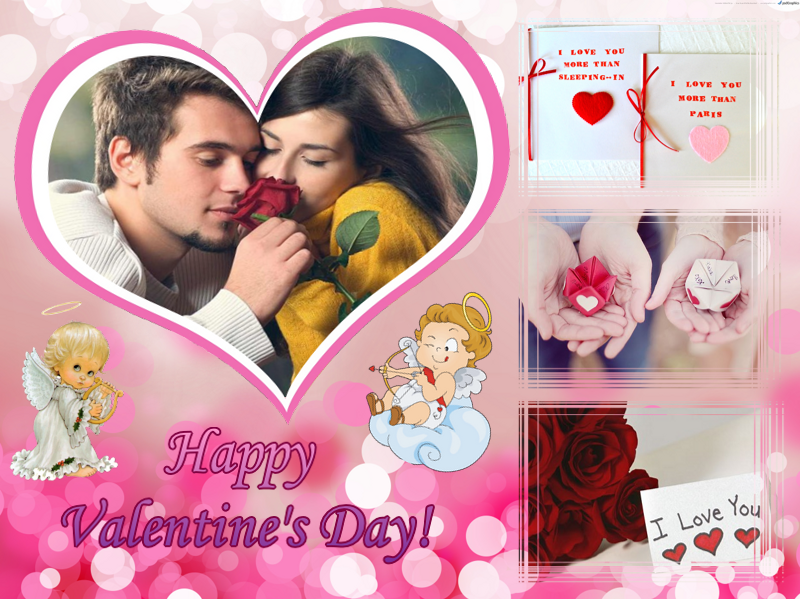 Hope that these Valentine's Day surprise ideas will come in handy in pre-holiday days when city stores get filled with dull cards and trite chocolate boxes. Save up some time to create original yet moving designs, and show your dear ones how you feel about them in a truly unique way!