Best Photo Gift Ideas for Mother's Day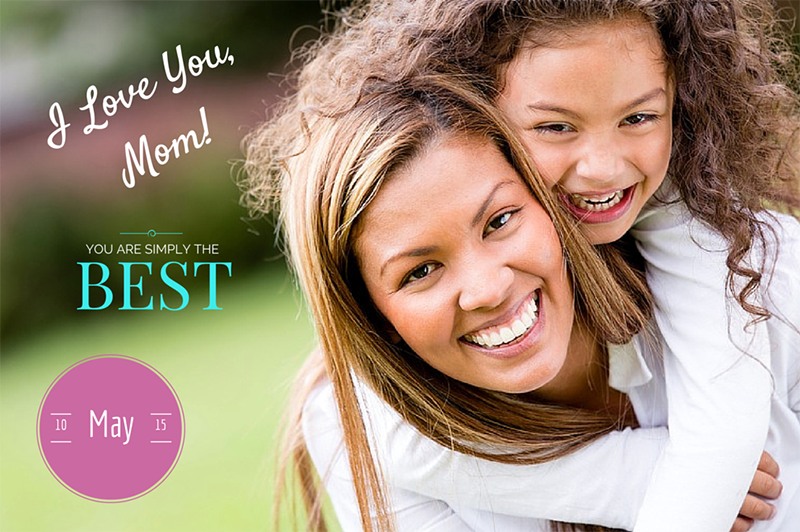 Tired of pompous store-bought gifts? Looking for some unique gift ideas for Mother's Day that will bring joy to your mom's face? Personal and DIY – that's a winning combination, and a photo gift is one great example. Today, I invite you to try one of the five best photo gift ideas that will surely make that special woman in your life happy and moved.
---
1. Family Photo Collage
The first gift idea is to create a family photo collage for Mother's Day. You can use the photos of yourself, your mom and your dad, your brothers and sisters. You can also make a collage devoted only to your mother – in this case, make sure to select the best portraits of her you can find!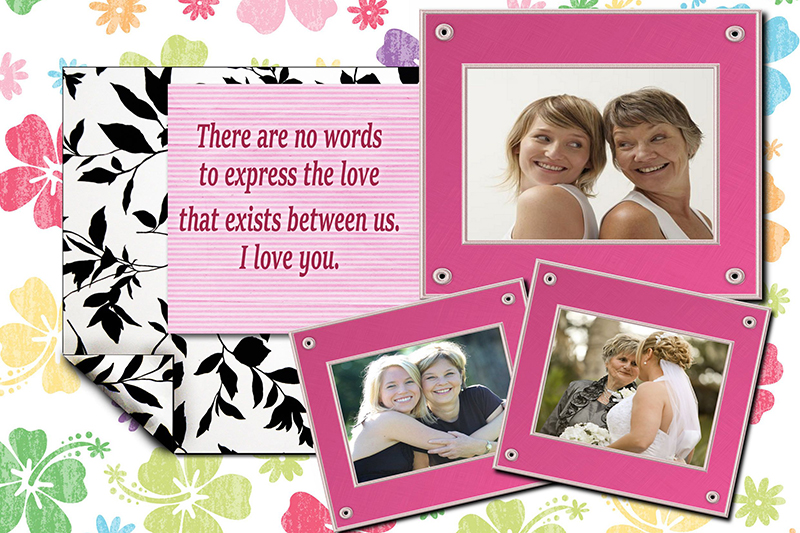 If you want to save time and get a high quality photo collage as a result, make use of Photo Collage Maker. It is a smart application for Windows that is packed with ready-to-use templates and design embellishments like frames, clipart and masks. Just select the style you like, add your photos and type a sweet message for your beloved mom. You can print the collage and pin it to the fridge, or you can send it by e-mail or by snail mail if mom lives far away. Get more ideas for a Mother's Day collage here: http://ams-collage.com/mothers-day-collage.php.
2. Mother's Day Card
Here comes the next photo gift idea: perform some digital editing magic and give your mother a lovely greeting card with her portrait as a present!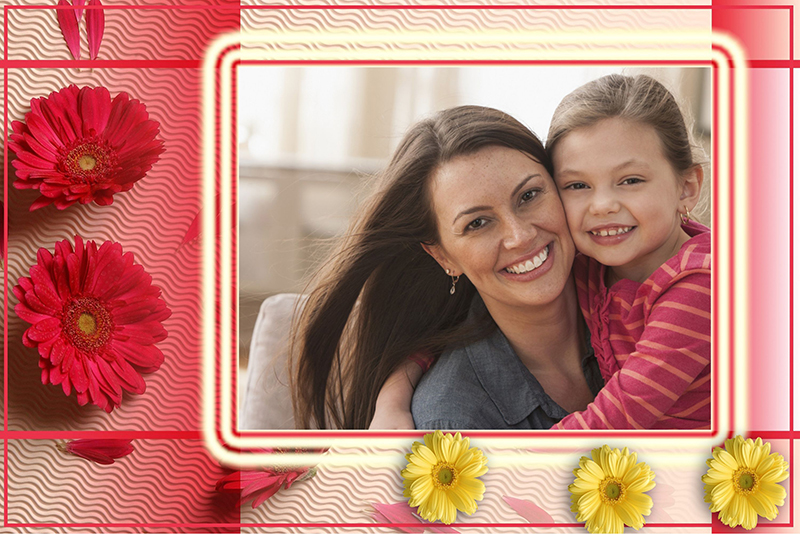 How to make a Mother's Day card? Try Home Photo Studio software: http://home-photo-studio.com – it offers its users a pack of card templates with stunning classic, modern, fantasy and flower designs. Start the software, add the photo you want to use and select a card style you like. You can also edit the photo to make it more vivid, remove red eyes, improve the colors in one click. Create several Mother's Day cards with different designs and photos of your mom, print them and put them all around the house. Let this Mother's Day be unforgettable and full of pleasant surprises!
3. Framed Portrait Idea
Another great idea, easy to realize with Home Photo Studio, is a framed portrait of your mom.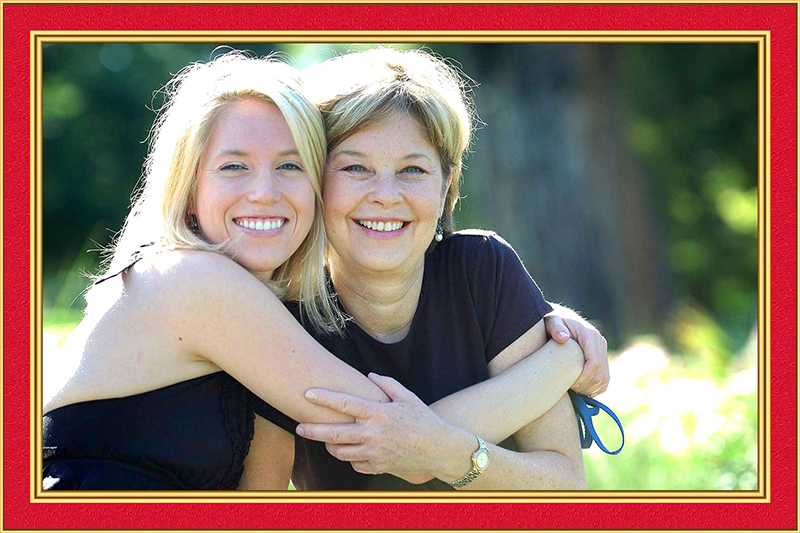 Do you remember those walls in movies filled with portraits of somber men and women? No, we do not invite you to create anything like that! Home Photo Studio offers you a selection of stylish modern and classical picture frames that will highlight the photo. Select the color of the frame that matches the main colors in the shot. For instance, if the photo shows you and your mom sitting on the green lawn in the park, try applying some red or brown frame. It is also a good idea to blur the background of the photo so that the faces are in perfect focus. You can publish the portrait on Facebook or print and hang it on the wall.
4. Mother's Day Slideshow
This idea will take a bit more of your time, but it is worth it. All you need to do is to find the best family shots you have and your mom's favorite song.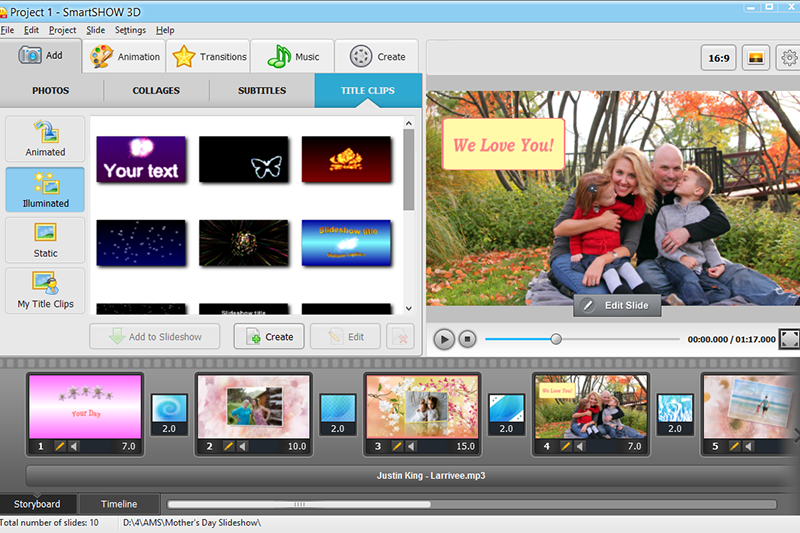 SmartSHOW 3D slideshow maker offers a solution for the busy ones: use the Mother's Day slideshow template to make a photo movie in 5 minutes. No need for editing – just add the photos and the song; spectacular transitions and animation effects will be applied automatically. Just don't forget to open the title slides and type the most tender words you wish to tell your mother. Now you only need to save the slideshow in Full HD and play it during the Mother's Day party!
Get more Mother's Day slideshow ideas here: http://smartshow-software.com/mothers-day-slideshow-ideas.php
5. Family Wall Poster
This idea is somewhat similar to collage making; however, posters tend to be large and have some eye-catching text. Take a look at this one: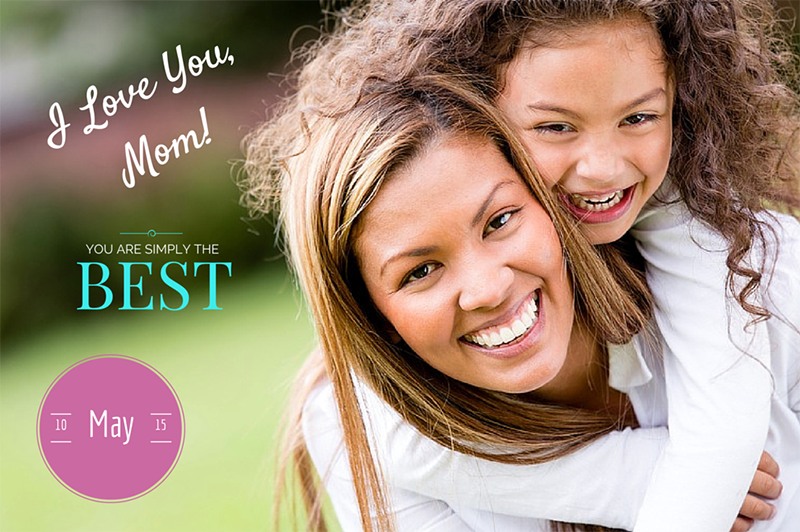 For designing a poster, you can use Photo Collage Maker or any other photo editor with rich text options. It is important to decide beforehand where you are going to place the poster. Depending on how much free space there is on the wall, choose a photo with portrait or landscape orientation. Type your caption and try different fonts to select the best-looking one. I advise you to take the final design to a printshop, because only there can you print a large poster in high quality.
I encourage you to choose one of these photo gift ideas for Mother's Day and try it this year. Your mother will surely appreciate all the efforts you spent making this present. Show her how much you love her with a unique and personal gift!